Animal Juiced Aminos Muscle Recovery + Hydration Orange - 30 Servings *New Improved Formula
Item #: UV310
UPC: 039442030665
ANIMAL JUICED AMINOS
BCAA/EAA Amino Acid Blend for Muscle Recovery

The Intra/Post Workout Formula in Animal Juiced Aminos replenishes key nutrients lost during exercise, enhances blood flow, optimizes ATP production, decreases muscle fatigue, and more in our powerful essential amino acid supplement. Our formula includes 6g of BCAA's and EAA's, 4g of our Amino Acid Blend, patented hydration and endurance support, and comes in mouth-watering flavors. And it's stimulant-free, making it perfect for any time your muscles need extra recovery.
6 grams of BCAA's and EAA's plus Amino Acid Blend
Promotes maximum muscle recovery faster
Improve hydration and endurance with patented ingredients
Animal Juiced Aminos is a powerful essential amino acid supplement formulated to boost training performance and speed up recovery and is ideal for intra and post workout support. With Animal Juiced Aminos you get a full, comprehensive EAA profile designed to deliver the correct ratios of key essential amino acids supporting increased muscle protein synthesis and decreased muscle protein breakdown– our unique amino acid formula utilizes an anabolic BCAA (2:1:1 ratio) and EAA matrix that promotes fast recovery times.
Six grams of BCAA's (branched chain amino acids) and EAA's (essential amino acids) make Animal Juiced Aminos perfect for pre-workout, post-workout, or any time your muscles need extra recovery–and it's caffeine-free making it perfect for any time of the day or night.
Our comprehensive formula also includes Improved hydration and endurance with the patented ingredients L-Glutamine, L-Taurine, and Citrulline Malate. Made for men and women who are looking to maximize their workout performance and recovery, Animal Juiced Aminos is so much more than a regular branched chain amino acid powder.
In a variety of delicious flavors, when you need to take your workouts to new heights and maximize your results, great tasting Animal Juiced Aminos has the perfect blend of ingredients to help boost your overall performance and recovery.
FREQUENTLY ASKED QUESTIONS
What's the difference between Animal Juiced Aminos and Animal Nitro?
Animal Juiced Aminos gives the consumer an option for a powdered amino product that contains BCAA, EAA, and additional performance and recovery aminos. Animal Nitro is for the customer who only wants the benefits of straight EAA in capsule form.
Do you need to cycle off Animal Juiced Aminos?
Animal Juiced Aminos does not need to be cycled and can be taken continuously year round.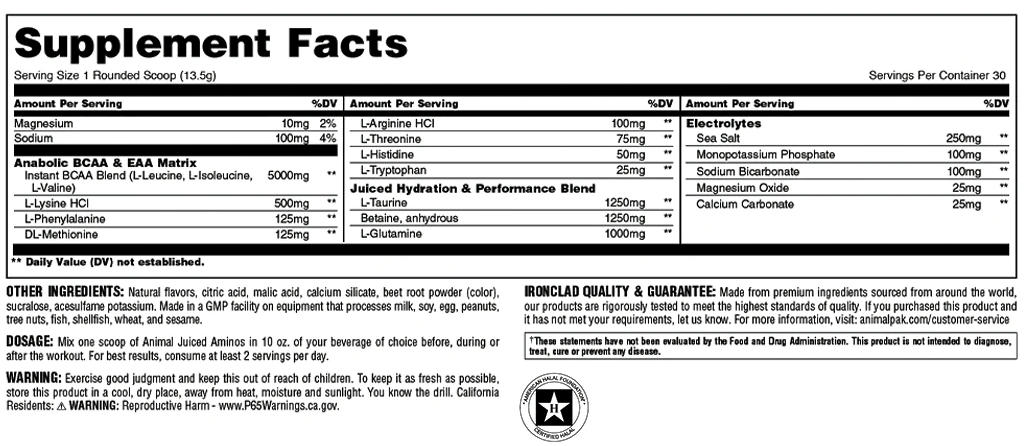 † These statements have not been evaluated by the Food and Drug Administration. This product is not intended to diagnose, treat, cure, or prevent any disease. When used over time in combination with an appropriate diet and training program.
More items you might like
Loading...