Bsn NO-Xplode Blue Raz - 60 Servings
Item #: BS242
UPC: 834266001545
The Original Pre-Workout Igniter Just Got Better.

275mg of caffeine, 1.8g of Beta-Alanine, and extreme focus.* Get ready to slam plates longer and workout harder. BSN has re-ignited N.O.-XPLODE, the first complete pre-workout that launched in 2004 and has been helping athletes break through barriers ever since. Now with more energy, more feel, more focus, and amazing taste.* The weights won't know what hit them.
If you're ready to PUSH harder and longer than before, N.O.-XPLODE will help take your workouts to new levels.
HOW WILL N.O.-XPLODE ENHANCE MY WORKOUT?
To achieve the most effective training session, both mental and physical energy are a must. Focus is then needed to harness this energy and drive a strong mind-muscle connection. This mind-muscle connection will help you achieve a greater workout and help push your body past previous limits. At BSN, we know that a pre-workout supplement should support all of these benefits. We designed N.O.-XPLODE, our complete pre-workout igniter, to help deliver increased energy and endurance, support mental focus and muscular strength, and provide second-to-none intensity to help athletes of all levels maximize workout performance.*
ADVANCED INGREDIENT TECHNOLOGY
BSN has enhanced N.O.-XPLODE to provide the formula you need to take your workout to new levels.*
Explosive Energy*
Now with 275mg of caffeine, N.O.-XPLODE will give you the energy and focus needed to help maximize every minute of your workout. BSN has enhanced the Thermic Energy blend so you can push your workout intensity to new levels.*
Enhanced Endurance*
Whether you're in slammin' weights in the gym or killin' it on the field, the Endura Shot blend, now with 1.8g of Beta-Alanine, will help you go longer and harder than ever before.*
Maximum Performance*
Muscular strength, power and endurance are supported by creatine in the body.
The innovative ingredient technology of our Myogenic Matrix, featuring an advanced creatine blend, helps every athlete reach their goal of maximizing performance.*
Our Best Tasting N.O.-XPLODE Ever
Effective product AND amazing taste? That's BSN. You can try N.O.-XPLODE in 5 delicious flavors: Fruit Punch, Blue Raz, Watermelon, Grape and Green Apple.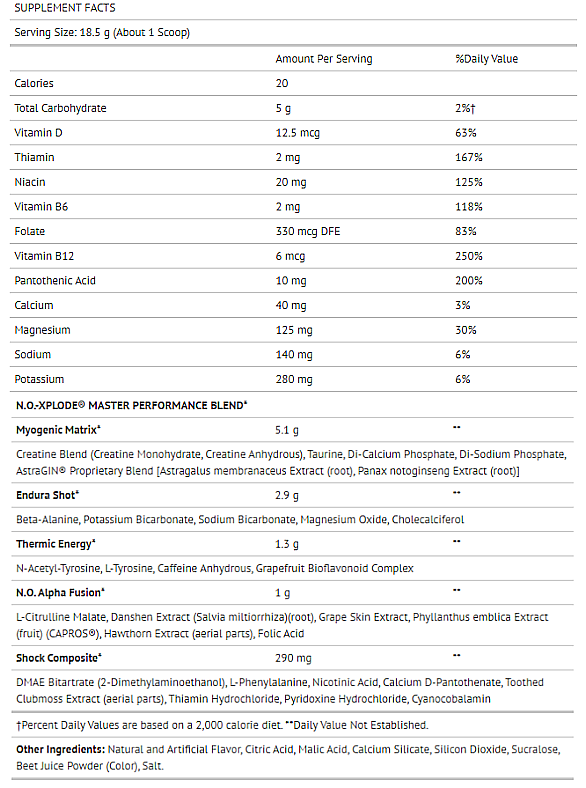 QUALITY & SAFETY
Quality and safety is the cornerstone on which all BSN products are formulated and manufactured. Our stringent ingredient and manufacturing requirements are best in class. From the raw materials we select, to our state-of-the-art manufacturing facilities, this unrelenting commitment to superior quality ensures the safety and potency of every product we produce.
More items you might like
Loading...