Nuts n More Peanut Spread - 15 Oz
Item #: NM002
UPC: 609132002427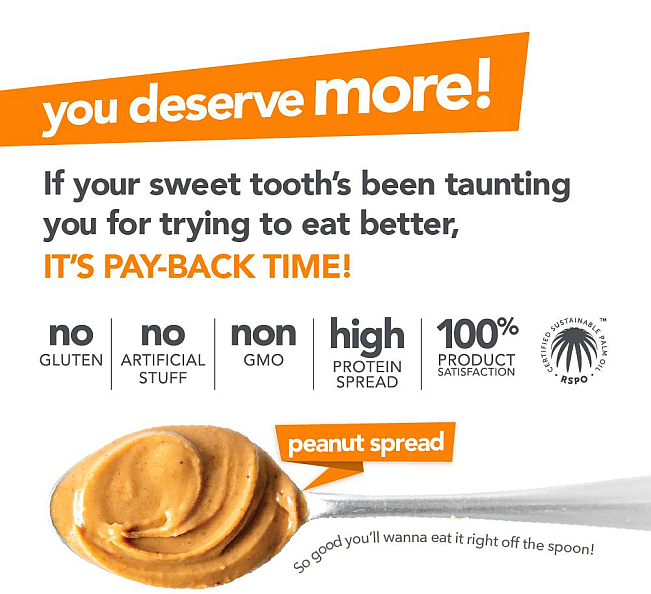 PEANUT BUTTER HIGH PROTEIN SPREAD
The originator, the og, the worlds first high protein peanut butter introduced on the ABC's hit TV Series Shark Tank back in 2012. Our original flavored high protein peanut butter is made from only the freshest peanuts, packed with whey protein isolate and flax for added protein and Omega 3's.
Created as the perfect snack/meal replacement, 1 serving of this power packed pb contains all the protein, essential fats and just the right amount of carbs for anyone serious about unleashing their health and fitness potential.
All natural, gluten free, non-gmo, high in protein, low in sugar and high in fiber.
High protein peanut butter spread.
HIGH PROTEIN PEANUT BUTTER SPREADS
All the irresistible flavor of scraping the cookie batter from the bowls, without the guilt. Because, like all our flavors, it's made from our own peanut butter base with no artificial ingredients or hydrogenated oil and fortified with high quality whey protein from happy cows.
Our small batch process never introduces external heat in order to expedite the production process in any way whatsoever. Our proprietary filling methods fill our nut butters at low heat, reducing and/or eliminating oil degradation.
Gluten free, non-gmo, high in protein and fiber.

More items you might like
Loading...