SNS Serious Nutrition Solutions Bulbine - 60 Cap
Item #: SN089
UPC: 899773000108
Natural Testosterone Optimizer!
Bulbine is commonly used in combination with other ingredients in some natural testosterone boosters in proprietary blends so that you don't know the actual dosage of Bulbine you are getting. With SNS Bulbine Caps, you know that you are getting 350 mg of Prolensis™ Bulbine Natalensis per capsule for maximum results.
SNS Bulbine Caps can be stacked with Optimize-T, DAA Caps or Powder, Tribulus-750, or other select Serious Nutrition Solutions products for improved, synergistic results.
The Goals of the Serious Nutrition Solutions Baseline Series are simple ones – to provide top quality products at the most cost effective prices, and to provide a straight forward approach to the consumer about what the products are, and what they are used for.
Serious Nutrition Solutions – Baseline Series
Straight Forward, Top Quality, Cost Effective Sports Nutrition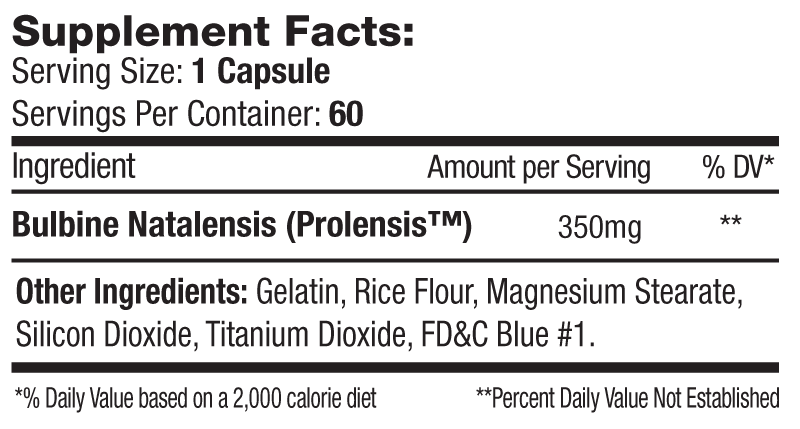 Directions:
As a dietary supplement, take 1 capsule twice per day spaced out 8 to 12 hours apart. Individuals weighing over 200 lbs. can take 1 capsule 3 times per day spaced out evenly throughout the day. Do not exceed 6 weeks of continuous use without at least a 4 week break.
Warnings:
This product is intended for healthy adults males over 21 years of age. Consult with a physician before using this or any dietary supplement. Do not use this product if you have any medical condition, including but not limited to prostate, liver, kidney, or heart disease. Keep stored in a cool, dry place away from children.
More items you might like
Loading...