Bsn Amino X Watermelon - 70 Servings
Item #: BS239
UPC: 834266063260
20% Off Special Offer
Out of Stock
Unleash Your Performance Potential!
AMINOx is a stimulant free, BCAA formula designed to support endurance during your workout and aid in muscle recovery post training, so you can push your performance to the next level.* Featuring a 10 gram blend of essential BCAAs and the amino acids, L-Alanine, Taurine and L-Citrulline, AMINOx® will help your body recover from today's workout and prepare for tomorrow's.* Offered in five refreshing flavors, AMINOx® provides you with versatile, nutritional support for any type of workout regimen.

BCAAs and the Body
Amino acids are the building blocks of protein, and therefore, the building blocks of lean muscle. Branched Chain Amino Acids (BCAAs) refer to three specific amino acids - Leucine, Isoleucine, and Valine - that the body must obtain from either food or BCAA supplementation. BCAAs can be used by muscle cells as an energy source, which may help offset muscle breakdown during endurance exercise and help support recovery and repair after weight training.* As a result, BCAAs are a popular and relevant supplement among those who exercise regularly*.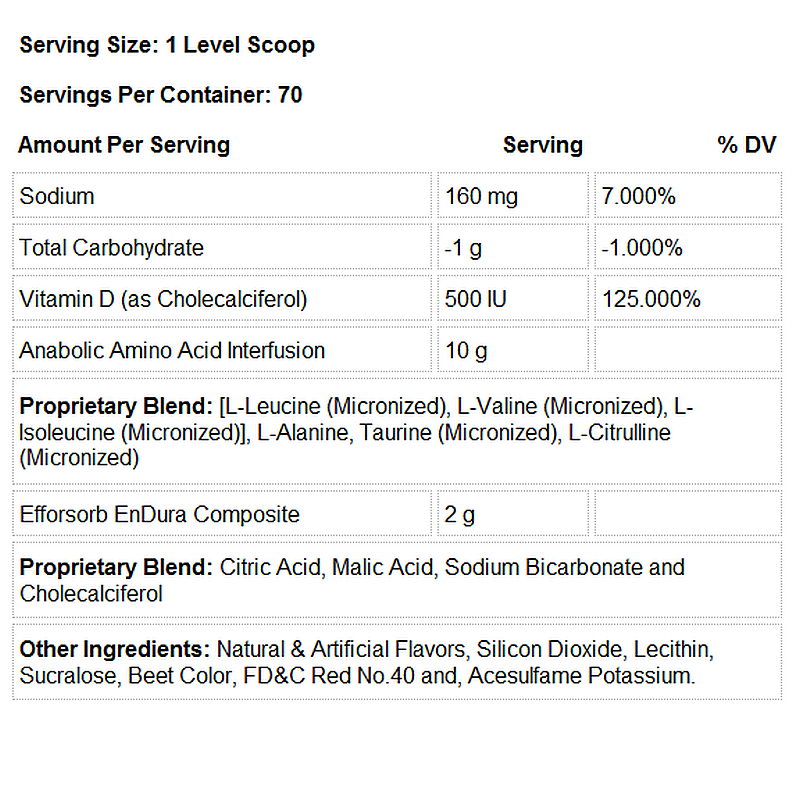 †Percent Daily Values are based on a 2,000 calorie diet. **Daily Value Not Established.
Other Ingredients: Natural & Artificial Flavors, Silicon Dioxide, Lecithin, Sucralose, Beet Color and Acesulfame Potassium.
Allergen Information: Contains Soy (Lecithin) ingredients.
Allergen Warning: Manufactured on equipment, which processes products containing milk, egg, soybeans, wheat, and tree nuts.
‡Due to settling, a natural occurrence with powders, variations in the powder height level may vary from bottle to bottle. Additionally, powder density may be affected as a result of the settling which may cause slight variations in the scoop serving size.

This product has been manufactured by a Good Manufacturing Practices (GMP) facility.
More items you might like
Loading...