Molecular Nutrition Lipid Stabil - 90 Cap
Item #: MN027
UPC: 834601001223
Don't take chances with your cholesterol!
Designed by William Llewellyn specifically for the enhanced athlete, Lipid Stabil™ is a comprehensive and targeted cholesterol support formula. It contains a full array of natural ingredients that help maintain healthy total cholesterol, HDL (good) cholesterol, LDL (bad) cholesterol, and triglyceride levels, already in the normal range. This clinical formula is also high in antioxidants. With a large body of clinical research backing its individual ingredients, Lipid Stabil is the most complete daily supplement available for supporting cholesterol and heart-health!*
90 Capsules. Dietary Supplement.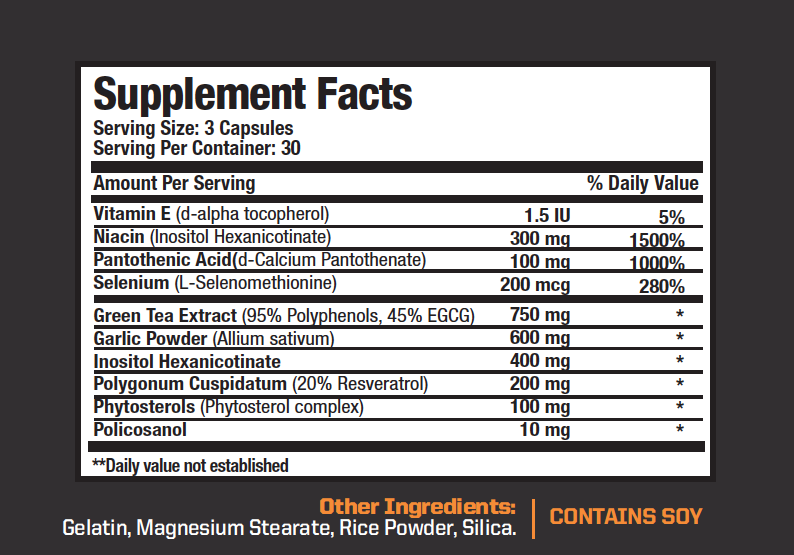 Nutritional Facts†
Serving Size: 3 Capsules
Servings Per Container: 30
Amount Per Serving
Serving
% DV
Pantothenic Acid (D-Calcium Pantothenate)

100 mg

1000.000%

Vitamin E (D-Alpha Tocopherol Succinate)

1.5 IU

5.000%

Selenium (L-Selenomethionine)

200 mcg

280.000%

Inositol Hexanicotinate

400 mg

Policosanol

10 mg

Niacin (Inositol Hexanicotinate)

300 mg

1500.000%

Green Tea Extract (95% polyphenols, 45% EGCG)

750 mg

Garlic Powder (Allium sativum)

600 mg

Polygonum Cuspidatum (20% Resveratrol)

200 mg

Phytosterols (Phytosterol complex)

100 mg

Other Ingredients: Gelatin, Magnesium Stearate, Rice Powder, Silica.
*These statements have not been evaluated by the Food and Drug Administration. This product is not intended to diagnose, treat, cure or prevent any disease.
†Nutritions Facts are a simulation of the product "Nutrition Label". For the actual Nutrition Label please refer to the product packaging.
More items you might like
Loading...