Cellucor C4 Original Pink Lemonade - 60 Serving
Item #: CE142
UPC: 810390024063
Product Overview
#1 Global pre-workout brand*: Our original pre-workout that started it all - C4 Original is built to take your energy, muscular endurance, and pumps to the next level.
Ranging from beginners all the way up to the elite competitors, C4 pre-workout products ignite your fitness journey. *Based on IRI market and Euromonitor International data.
EXPLOSIVE ENERGY — Take your training to the next level with explosive C4 Energy from 150mg of caffeine.
MUSCULAR ENDURANCE — Power tough trainings with CarnoSyn® Beta-Alanine, which helps combat muscular fatigue and support muscular endurance*
INCREDIBLE FLAVORS — With billions of servings of C4 branded products sold, the C4 brand has been setting the standard for great flavor for over a decade.*
PUMP BOOSTER — Enhance your pumps via a unique patented combination of Creatine and Nitrates.
*Based on global sales of all C4 branded products from 2015 to the present.
*Studies have shown benefits of CarnoSyn (R) beta-alanine to be correlated with cumulative use.
* Packaging May Vary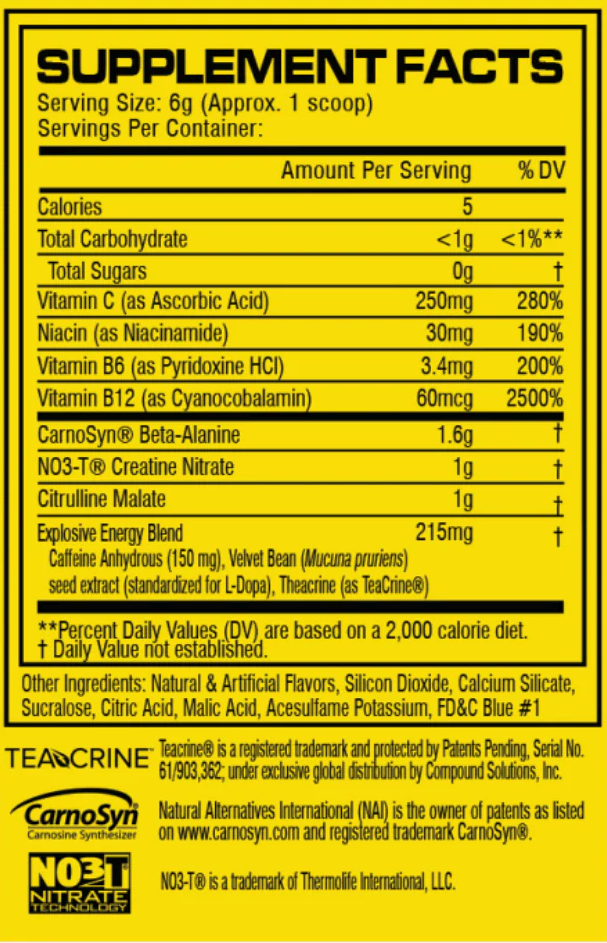 Use
Take one serving (1 level scoop) of C4® Original, mixed with 6 fl. oz of water 20-30 minutes before training. Some individuals may experience a harmless tingling sensation, which is attributed to beta alanine. USE ONLY AS DIRECTED.
Warning
"WARNING: THIS PRODUCT IS ONLY INTENDED TO BE CONSUMED BY HEALTHY ADULTS, 18 YEARS OF AGE OR OLDER. Do not use this product if you are pregnant, nursing, or are currently taking nitrates for chest pain or if you are taking medication used to treat erectile dysfunction such as PDE-5 inhibitors. Before using this product, consult a licensed, qualified, healthcare professional, including but not limited to, if: you are taking antidepressants such as MAOI (Monoamine Oxidase Inhibitor) or SSRI, blood thinners, nonsteroidal anti-inflammatory drugs, pseudoephedrine, or you are taking any other dietary supplement, prescription drug or over-the-counter medication; or if, you suspect you have or have been treated for, diagnosed with or have a family history of, any medical condition, including but not limited to: high or low blood pressure, diabetes, glaucoma, anxiety, cardiovascular, psychiatric or seizure disorders, cardiac arrhythmia, stroke, heart, liver, kidney or thyroid disease, or difficulty urinating due to prostate enlargement. This product contains caffeine and should not be used by individuals wishing to eliminate caffeine from their diet or in combination with caffeine or stimulants from other sources including but not limited to, coffee, tea, soda, or other dietary supplements and medications. Discontinue 2 weeks prior to surgery. Immediately discontinue use and contact a medical doctor if you experience any adverse reaction to this product. Do not exceed recommendations for Suggested Use. Use only as directed. Do not use if safety seal is broken or missing. Store in a cool dry place. KEEP OUT OF REACH OF CHILDREN."
More items you might like
Loading...