XTEND Original BCAA Strawberry Kiwi Splash - 30 Servings
Item #: PE190
UPC: 181030000311
THE OFFICIAL RECOVERY BRAND OF CHAMPIONS
Faster recovery is key to better results. For over 10 years, XTEND has been making the best recovery products in the world. Powered by 7 grams of branched chain amino acids (BCAAs), which have been clinically shown to support muscle recovery and growth, XTEND Original also contains hydrating electrolytes and additional performance ingredients to help you refuel, repair, and recover. Try all the sugar-free, mouthwatering flavors of XTEND to support your fitness goals.
7G OF BCAAS - Contains 7g of BCAAs in the nature-designed and research-proven 2:1:1 ratio

0 CARBS, 0 CALS, 0 SUGAR

3.5g of Leucine for Muscle Protein Synthesis

2.5g of L-Glutamine & 1g of Citrulline Malate

Stay Hydrated Pre-, During, and Post Workout with Electrolytes in XTEND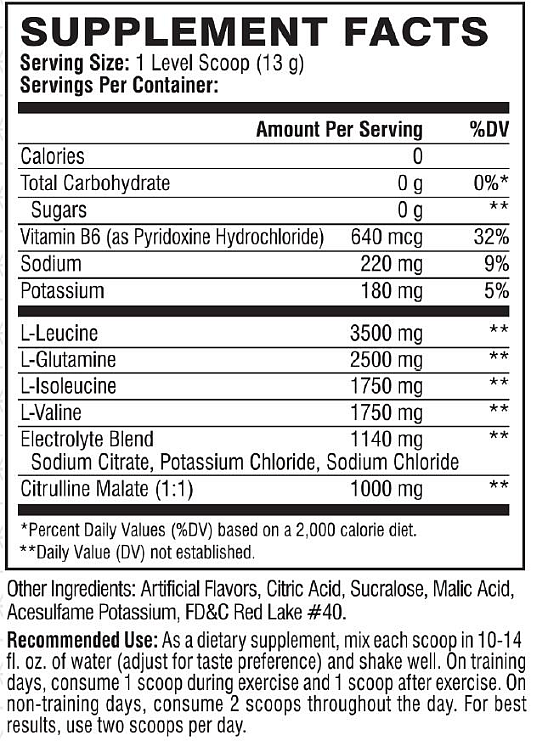 This product is only intended for healthy adults, 18 years of age or older. Do not use if pregnant or nursing. Consult with a licensed, qualified, healthcare professional before taking this or any dietary supplement product, especially if you are taking medication or have a medical condition. Discontinue 2 weeks prior to surgery. Use only as directed. Do not use if safety seal is broken or missing. Store in a cool, dry place. KEEP OUT OF REACH OF CHILDREN.
This product is sold by weight not volume. Some settling of powder may occur during shipping and handling, which may affect density of powder. This product contains the servings indicated when measured exactly by weight.
More items you might like
Loading...