Hi Tech Pharmaceuticals Stimerex Hardcore - 90 Cap
Item #: HT063
UPC: 853598003249
Stimerex Hardcore
Stimerex Hardcore is exactly what the names says it is - Hardcore Stimerex.
As you can see, Stimerex Hardcore has Stimulant effects unlike any other diet aid with an impeccable, diverse ingredient profile that contains only state-of-the-art ingredients designed to provide you with exactly what you need to launch a multi-directional attack to get a shredded physique. Stimerex Hardcore is Hi-Tech's most densely-dosed, jam-packed, jacked-up, hardcore stimulant yet!
SUPPLEMENT FACTS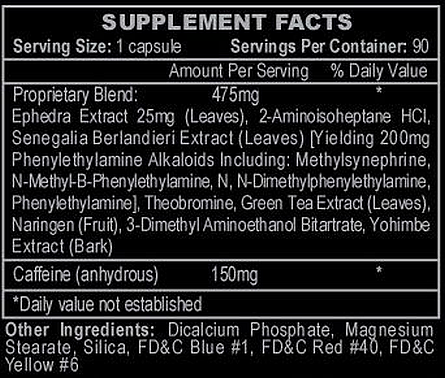 These statements have not been evaluated by the Food and Drug Administration. This product is not intended to treat, cure, diagnose, or prevent any disease. This product should not be used in place of or as a substitute for recommendations by your healthcare professional. No clinical study has been performed on Stimerex Hardcore. These statements are based upon the active ingredients: acacia rigidula, theobromine, caffeine, synephrine, phenylethylamine, green tea, and yohimbe. WARNING: this product can raise blood pressure and interfere with other drugs you may be taking. Talk to your doctor about this product.
More items you might like
Loading...