Gaspari Nutrition Real Mass Advanced Weight Gainer Chocolate - 12 Lb
Item #: GP185
UPC: 646511022645
20% Off Special Offer
Out of Stock
REAL MASS | ADVANCED WEIGHT GAINER
100% COMPLEX CARBOHYDRATE BLEND

The all new REAL MASS is yet another testament to Rich Gaspari's undying devotion to continual innovation and improvement. Most weight gainers are loaded with high glycemic index carbohydrates like maltodextrin added with low-quality protein sources. Gaspari's new REAL MASS is a scientifically engineered 3 stage macronutrient formula utilizing the highest quality ingredients.†
First is a 100% complex carbohydrate blend containing ultra-low and low insulinemic Pea Starch carbohydrate, Rolled Oats and Quinoa. These complex carbs ensure a lower and more sustained release of glucose into the blood stream. In addition, this advanced carbohydrate matrix is infused with Highly Branched Cyclic Dextrin (HBCD) and Carb 10™, a special low-glycemic carb from Compound Solutions. Second is an Ultra-Premium protein matrix containing Whey Protein Isolate, Milk Protein Isolate, and Whey Hydrolysates. Third is a specially formulated lipid complex made up of medium chain triglycerides (MCTs) and natural flax-seed oil to help increase your body's metabolic activity.†
The REAL MASS difference is more than just utilizing higher quality ingredients. Each serving provides a scientifically proven 5:1 Carbohydrate to Protein ratio. This exact ratio was validated by numerous clinical studies and gives users all of the calories & protein needed to maximize results. Follow Gaspari Nutrition and follow the science. This is the path to gaining REAL MASS! †
SUGGESTED USE:
SHAKE: Add 4 scoops of REAL MASS per 16-20 oz. of liquid to a shaker cup, secure the top and shake for 20-30 seconds.
BLEND: Add 4 scoops of REAL MASS per 16-20 oz. of liquid to a blender and mix. For a frosty shake, add a handful of ice cubes.
WHEN TO TAKE:
PRE: Before training, REAL MASS is a great tasting and easy-to-digest source of time released amino acids.
POST: After a workout, REAL MASS immediately starts repairing and building muscle.
ANYTIME: Use REAL MASS between meals, with meals or anytime you want delicious protein satisfaction
WHAT IS HIGHLY BRANCHED CYCLIC DEXTRIN?
Modifying the molecular structure of starches like the amylopectin found in waxy maize, creates designer glucose polymers known as highly branched cyclic dextrin's (HBCDs). Increased molecular weight reduces osmolality in solution, speeding up the gastric emptying process. This ideal carb source; one which can pass through the stomach at a rapid pace providing a quick but also contain a sustained release of glucose into the blood stream.†
WHAT IS CARB10?
Carb10 is a major advancement in healthy, low-glycemic carbohydrates from Compound Solutions. Unlike maltodextrin-based supplements—which can cause unnatural spikes in blood-sugar levels (and the crashes or bloating that typically follow)—Carb10 is a source of clean, sustained energy perfectly suited to the physical demands of dedicated athletes, busy professionals, and those attentive to maintaining a healthy weight.†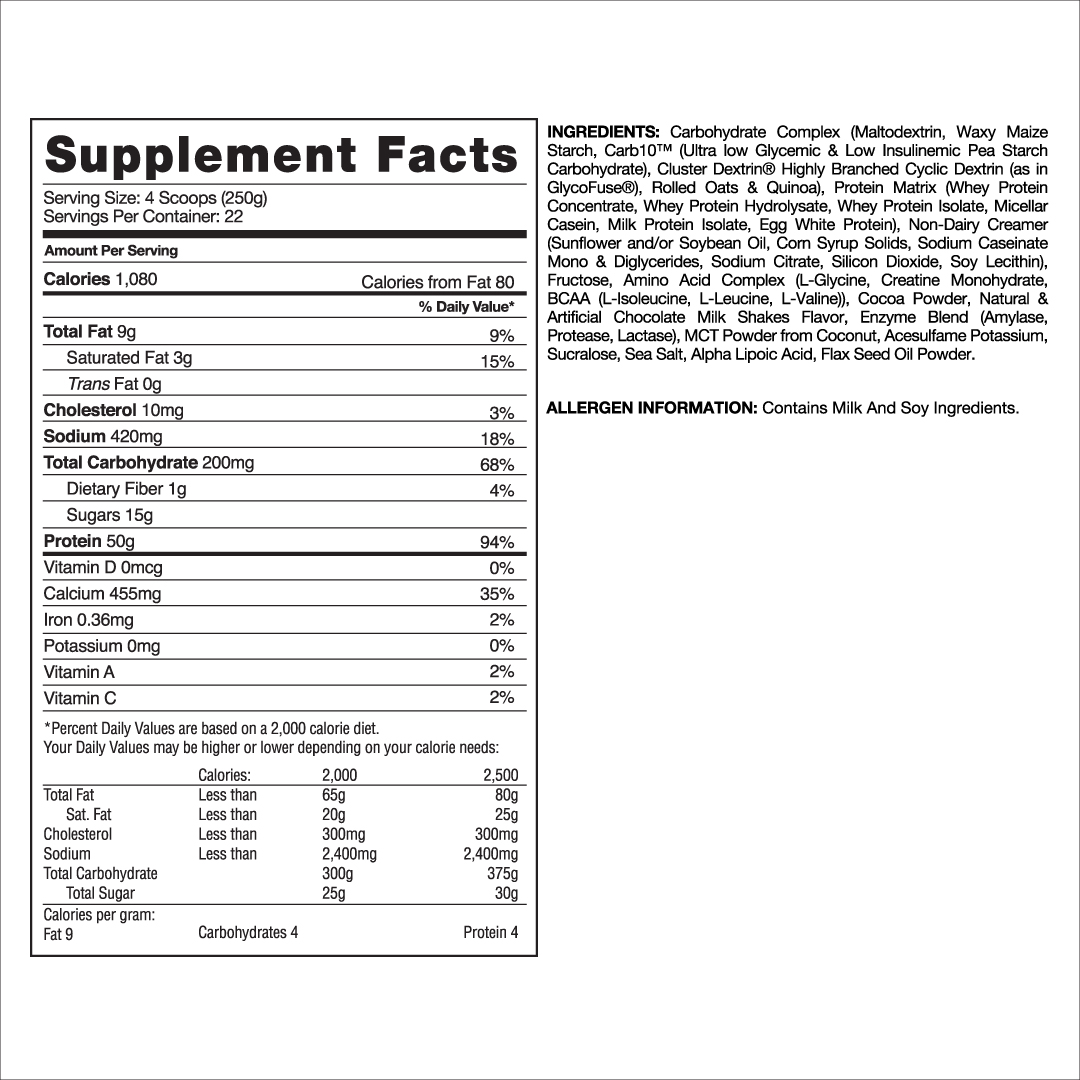 As with any dietary supplement, consult your healthcare practitioner before using this product, especially if you are pregnant nursing or otherwise under medical supervision.
KEEP OUT OF THE REACH OF CHILDREN.
STORE IN A COOL DRY PLACE. STORE AWAY FROM
HEAT AND MOISTURE.
TAMPER EVIDENT:
DO NOT USE IF SEAL UNDER CAP
IS BROKEN OR MISSING.
REAL MASS – MAXIMUM RESULTS! MAXIMUM MASS!
More items you might like
Loading...