Cellucor Super HD - 60 Cap
Item #: CE103
UPC: 842595112689
NEW AND IMPROVED FAT-BURNING FORMULA
The antioxidant and weight-loss support properties of GreenSelect® Green Tea Phytosome, a clinically studied green tea extract, leads the new and improved fat-burning formula of the legendary SuperHD
A SHARPER FOCUS ON THE BIGGER PICTURE…
When it comes to weight loss, the focus is on the body--what you eat and how you workout. While both of these are important for weight loss, if you take a step back, you'll notice there's more to it.
THE FORMULA FOR RESULTS: THE BODY + THE MIND
SuperHD has a multi-dimensional formula with ingredients to help you look and feel your best. Weight loss involves the body and the mind. You don't just love how you look when you lose weight, you also love how you feel.
Put each of these together and you've got a 'feel good' weight loss product.

Powerful Nootropics
High-Powered Energy
Helps Promote Fat Loss
Helps Increase Fat Metabolism
Helps Promote Better Appetite Control

SUPERHD THERMOGENIC & SENSORY BLEND KEY INGREDIENTS:
Amla Fruit Extract, also known as Indian Gooseberry, contains several active compounds that support mental energy and memory.
Toothed Clubmoss is a natural source of Huperzine A, an active compound that may help support memory, and concentration.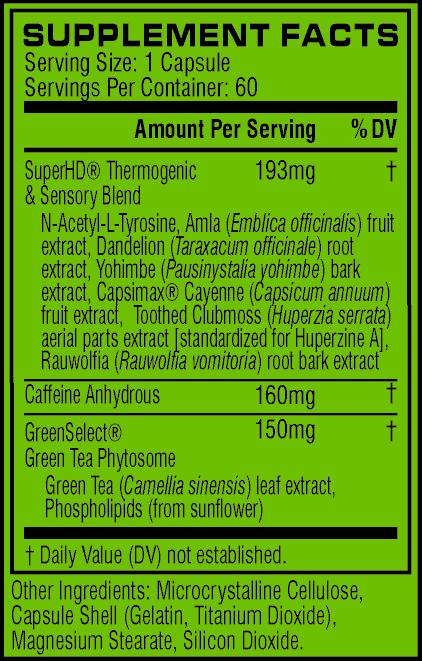 SUPERHD USAGE
Take one serving (1 capsule) with 8-12 fl. oz. of water in the morning, and one serving (1 capsule) with 8-12 fl. oz. of water 5-6 hours later in the mid-afternoon. Once tolerance has been assessed, if you are looking for an additional boost of energy, an additional capsule may be taken with your first serving of the day. Do not take this product within 6 hours of bedtime. DO NOT EXCEED 3 CAPSULES PER DAY. USE ONLY AS DIRECTED.
PRODUCT WARNING
THIS PRODUCT IS ONLY INTENDED TO BE CONSUMED BY HEALTHY ADULTS, 18 YEARS OF AGE OR OLDER. Do not use this product if you are pregnant or nursing. Before using this product, consult a licensed, qualified, health care professional, including but not limited to, if: you are taking antidepressants such as MAOI ( Monoamine Oxidase Inhibitor) or SSRI, blood thinners, nonsteroidal anti-inflammatory drugs, pseudoephedrine, or you are taking any other dietary supplement, prescription drug or over-the-counter medication; or if, you suspect you have or have been treated for, diagnosed with or have a family history of, any medical condition, including but not limited to: high or low blood pressure, diabetes, anxiety, cardiovascular, psychiatric or seizure disorders, cardiac arrhythmia, stroke, heart, liver, kidney or thyroid disease, or difficulty urinating due to prostate enlargement. This product contains caffeine and should not be used by individuals wishing to eliminate caffeine from their diet or in combination with caffeine or stimulants from other sources, including but not limited to, coffee, tea, soda, or other dietary supplements and medications. Discontinue use 2 weeks prior to surgery. Immediately discontinue use and contact a medical doctor if you experience any adverse reaction to this product. Do not exceed recommendations for Suggested Use. Use only as directed. Do not use if safety seal is broken or missing. Store in a cool dry place. KEEP OUT OF REACH OF CHILDREN.
More items you might like
Loading...