SNS Serious Nutrition Solutions Leucine - 500 Grams
Item #: SN059
UPC: 899773000740
25% Off w/code DPS10
Out of Stock
Leucine – 500 grams
Branched Chain Amino Acid

Build Lean Muscle*

Improve Recovery*

Retain Strength & Lean Muscle While Dieting*

100 Servings Per Container!
Supports Lean Muscle, Improved Recovery, Protein Synthesis, & Retention of Lean Muscle While Dieting*
5 Grams per Serving – 100 Servings per Container
Leucine is a branched chain amino acid that is commonly used by those looking to improve recovery and/or build lean muscle. L-Leucine also supports protein synthesis and exerts anti-catabolic effects, which makes it ideal for individuals looking to increase or retain lean muscle & strength while dieting.
Leucine is a staple supplement in the regimens of many weight lifters, bodybuilders, fitness, Cross fit, & endurance athletes.
L-Leucine Powder is Commonly Used for:
Building Lean Muscle*
Improving Recovery*
Retaining Strength & Lean Muscle While Dieting*
SNS Leucine powder contains 100 servings, which makes it ideal for those trying Leucine for the first time and also for those who use Leucine as a staple in their ongoing supplement regimens.
Stacking & Synergy:
SNS Leucine can be stacked with SNS Agmatine XT, VASO6, Citrulline Malate, Creatine, or other select SNS products for improved, synergistic results.
SNS Leucine Powder –

Dose It How You Want, When You Want!!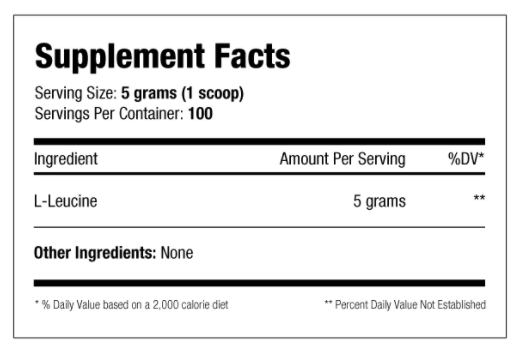 Suggested Use:
As a dietary supplement, consume 1 scoop pre and post workout. An additional scoop can also be consumed first thing in the morning upon waking, and prior to bedtime.
Warnings:
Not recommended for anyone under 18. Do not use if pregnant or nursing. Consult a health care provider if you have been treated for or diagnosed with a medical condition, or if you are using any medication. Keep stored in a cool dry place away from children.
* These statements have not been evaluated by the Food and Drug Administration. This product is not intended to diagnose, treat, cure, or prevent any disease.
More items you might like
Loading...