SNS Serious Nutrition Solutions Caffeine 200 Mg Capsules - 501 Caps
Item #: SN057
UPC: 899773000672
20% Off w/code DPS10
Out of Stock
Mental Alertness, Fat Loss, & Energy!
Ahhhhh…..Caffeine ……..
Caffeine – the thing that many of us spend dollars a day trying to get from energy drinks, gourmet coffee, or other sources – Available for pennies per capsule!!
SNS Caffeine capsules contains 200 mg. of caffeine per capsule!
Caffeine is commonly used for:
- Mental Alertness*
- Fat Loss*
- Energy*
- Nootropic (Cognitive Enhancing) Properties*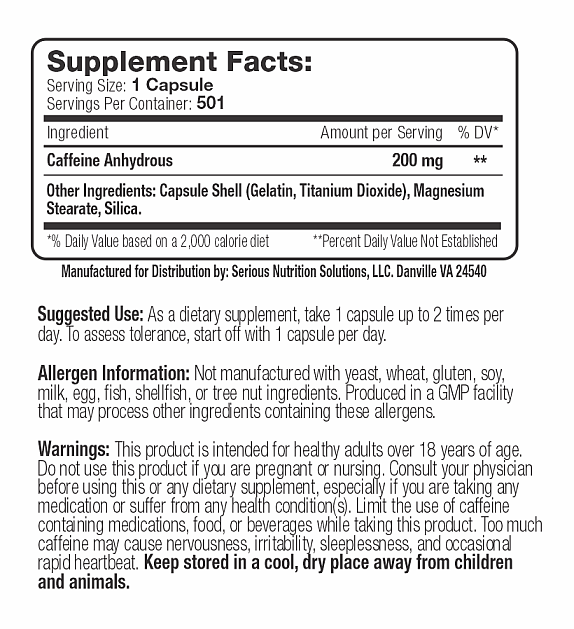 Warnings:
Limit the use of caffeine containing medications, foods, or beverages while taking this product. Too much caffeine may cause nervousness, irritability, sleeplessness, and occasional rapid heartbeat. Do not use if you are diabetic. Do not use if you may be pregnant or nursing. Always consult a physician prior to using any dietary supplement. Keep stored in a cool, dry place away from children.
More items you might like
Loading...