Betancourt Ripped Juice EX2 Caps - 60 Cap
Item #: BC138
UPC: 857487005048
ALL THIS, WITH JUST ONCE CAPSULE!
THE EVOLUTION OF FAT-LOSS - Melt away fat while giving yourself the energy and alertness you need to own each and every day. Supercharge thermogenesis, boost focus, hold off cravings, and give yourself the motivation you need to achieve your best.
INDUCE THERMOGENESIS - When you burn calories, your body heats up - and Betancourt Ripped Juice?? thermogenic is fuel for the fire. Burn fat faster by kickstarting your metabolism.
PROMOTE APPETITE CONTROL - Regulate your cravings, suppress your appetite, and attain your fitness goals.
BOOST ENERGY - Give yourself supercharged motivation and laser-like focus, all while burning fat and keeping cravings at bay.
OUR MISSION - Betancourt Nutrition? is the premier online health and wellness destination dedicated to offering only the best bodybuilding and sports supplements. We cater to customers who want to push the limits of what sports nutrition can do for their physique, and we know that no level of flare or marketing can replace products that truly taste good and work!
KEY INGREDIENTS:
N - Acetyl L-Tyrosine: more bioavailable than tyrosine with a higher absorption rate. This leads to a lower dosage to receive the benefits of L-Tyrosine. Tyrosine is an amino acid required for the production of epinephrine and norepinephrine (adrenal hormones) as well as dopamine.
Capsimax: the capsaicinoids in Capsimax support energy production by promoting healthy metabolism, the mobilization of fats for energy production (a process called lipolysis), and thermogenesis by generating heat in the body.
Green Coffee Bean (Chlorogenic Acid): The hype surrounding Green Coffee Bean is a result of its chlorogenic acid content, which is reportedly responsible for fat loss. Chlorogenic acid may help to reduce glucose absorption in the body thereby leading your body to tap into its fat stores for fuel.
DIRECTIONS FOR USE:
As a dietary supplement, take 1 capsule in between meals. Advanced users can take 1 capsule in the morning and 1 capsule in the afternoon. Do not take within six hours of sleep. Do not exceed two capsules in a 24-hour period.

STORAGE:
Product is packaged by weight rather than volume, some settling of the contents may occur.
KEEP OUT OF REACH OF CHILDREN. STORE IN A COOL, DRY PLACE. TAMPER EVIDENT - DO NOT USE IF OUTER SEAL IS BROKEN OR MISSING. MADE IN THE USA WITH DOMESTIC AND IMPORTED MATERIALS.
WARNING:
Not intended for use by persons under the age 18. Do not exceed recommended dose. Do not use if pregnant or nursing. Do not consume synephrine or caffeine from other sources, including but not limited to, coffee, tea, soda and other dietary supplements or medications containing phenylephrine or caffeine. Contains caffeine. Do not use for more than 8 weeks. Consult with your physician prior to use if you are taking medication, including but not limited to MAO inhibitors, antidepressants, aspirin, nonsteroidal anti-inflammatory drugs or products containing phenylephrine, ephedrine, pseudoephedrine, or other stimulants. Consult your physician prior to use if you have a medical condition, including but not limited to, heart, liver, kidney, or thyroid disease, psychiatric, epileptic disorders, difficulty urinating diabetes, high blood pressure, cardiac arrhythmia, recurrent headaches, enlarged prostate or glaucoma. Discontinue 4 weeks prior to surgery or if you experience rapid heartbeat, dizziness, severe headache or shortness of breath.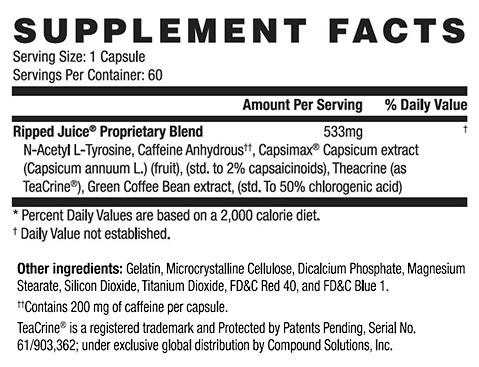 More items you might like
Loading...