Ast Multi-Pro 32X Multi Vitamin - 200 Tablets
Item #: AS152
UPC: 705077002871
The World's First Multi-Vitamin / Multi-Mineral Supplement Designed To Exceed The Needs Of The Hard Training Athlete! As an athlete you need a multi-vitamin designed to meet the needs hard training. Only MultiPro 32X is designed to support the metabolic demands athletes require.
High-Potency • High In Anti-Oxidants • Easy To Swallow • Designed For Hard Training Athletes • Special Coating For Precision Release
MultiPro 32X is a Powerful Multi-Vitamin Designed Specifically for Hard Training Athletes.

All vitamins are not created equal. And if there is one supplement that's an absolute necessity for all hard training athletes to take on a daily basis – every single day – it's a high-performance multi-vitamin, multi-mineral supplement.
Most people don't realize that building muscle requires a dizzying array of metabolic processes with each process dependent on the efficiency of the others.
At the very heart of all these critical processes – every single one – are essential vitamins, minerals and co-factors. Deficiency in just one can disrupt muscle growth before it even starts.
To say a daily multi-vitamin, multi-mineral supplement is critically important to your daily success is an understatement. It's paramount! Now here's the most important thing you need to realize . . .
Not just any multi-vitamin will do . . .
It's easy for companies to throw together a multi-vitamin, but it's not easy to scientifically engineer a high-performance – precision balanced multi-vitamin, multi-mineral for the high demands and specific metabolic needs of hard training, high intensity athletes.
And no, mega doses just for the sake of mega doses is not the answer. Quite the contrary. In fact, the mega dose approach, with its micro-nutrient imbalance, is detrimental to muscle growth and performance.
MultiPro 32X Precision Formula delivers key vitamins and minerals . . .
Optimized Formula – MultiPro 32X provides you an optimized formula delivering you precise ratios of vitamins, minerals, anti-oxidants and co-factors scientifically formulated to support the metabolic demands of intense training.
Potent and Balanced – MultiPro 32X is a high-performance supplement scientifically balanced to deliver a precision amount of vitamins and minerals for perfect nutrient synergy. Bombarding your system with indiscriminate mega-doses creates a distorted nutrient divergence counterproductive to enhancing performance and health.
Free Radical Quenching – free radicals are the enemy of health, aging, recuperation and muscle growth. MultiPro 32X gives you an array of potent anti-oxidant substrates to help you reduce exercise induced free radical damage and tissue inflammation to help speed recovery and accelerate muscle growth.
Hormone Supporting – optimal hormone production and activity are critical to high-level athletic performance. MultiPro 32X is engineered to support and meet the complex needs of important anabolic hormone production.
MultiPro 32X is the Serious Athlete's Multi-Vitamin.
MultiPro 32X is a high-performance multi-vitamin, multi-mineral dietary supplement rich in potent antioxidants and supplies demanding muscles with a precision formula of vitamins, minerals and co-factors needed for you to perform optimally under intense training conditions.
You are an athlete and you are different – your body's different, your nutritional demands are different. Multi-Pro 32X is designed specifically for you and the critical nutritional demands your intense training requires. Don't go another day without it!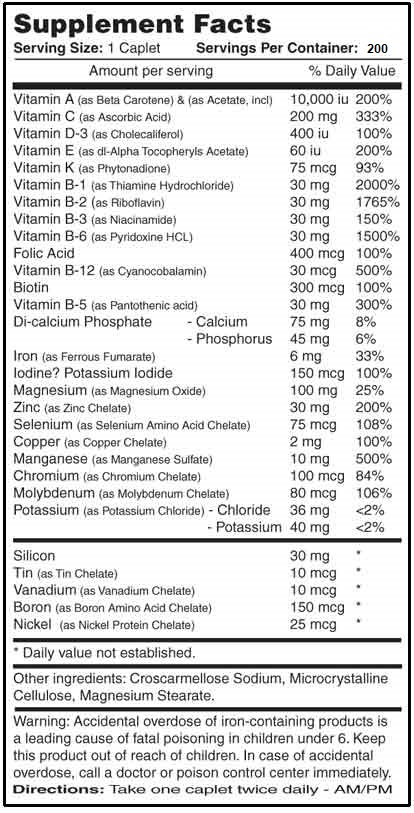 More items you might like
Loading...