Vpx Redline Rtd 8 Oz Triple Berry - 24 Btls *Expiration date 3/21
Item #: PD193
UPC: 610764120342
Just recently VPX launched the technology of fat burning and energy enhancement into a new era with the introduction of Redline. This VPX breakthrough is the first physique-transforming matrix to coax your body to burn fat through the "shivering response." It is a physiological fact that when you shiver, your body releases a large amount of stored body fat in an attempt to bring body temperature back to normal. Redline induces this effect quite efficiently.
However, the power of Redline does not stop there, as its radical combination of novel ingredients will also have you sweating up a thermogenic storm, and thus burning fat through yet another unique mechanism. With this 1-2 fat melting punch, Redline® has rendered fat burners of the past obsolete! When it comes to energy, Redline will "amp" you to the max within minutes, ready to tear apart the weights and wear out the treadmill like a tiger released from its cage!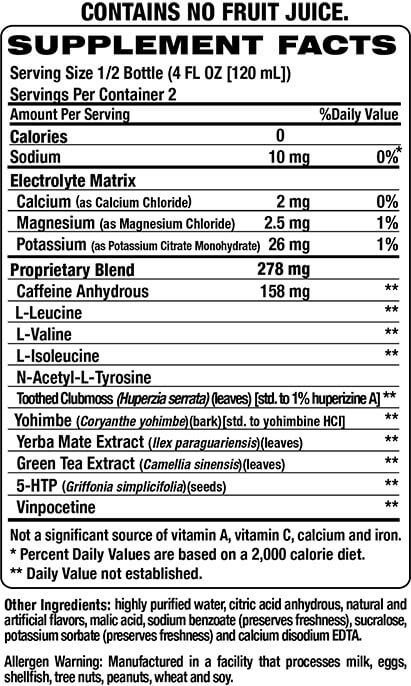 Shake well. Always begin use with one-quarter bottle (2 ounces) or REDLINE daily to assess tolerance. Never exceed more than 4 ounces per serving or more that one bottle daily. Use the gauge on the bottle to find your ideal dose.
Warning statement:
Not for use by individuals under the age of 18 years. Do not use if pregnant or nursing. Consult a physician or licensed qualified health care professional before using this product if you have, or have a family history of, heart disease, thyroid disease, diabetes, high blood pressure, depression or other psychiatric condition, glaucoma, difficulty in urinating, prostate enlargement, or seizure disorder, or if you are using a monoamine oxidase inhibitor (MAOI) or any other dietary supplement, prescription drug, or over-the-counter drug containing ephedrine, pseudoephedrine, or phenylpropanolamine (ingredients found in certain allergy, asthma, cough or cold, and weight control products). Do not exceed recommended serving. Exceeding recommended serving may cause adverse health effects. Discontinue use and call a physician or licensed qualified health care professional immediately if you experience rapid heartbeat, dizziness, severe headache, shortness of breath, or other similar symptoms. Individuals who are sensitive to the effects of caffeine or have a medical condition should consult a licensed health care professional before consuming this product. Do not use this product if you are more than 15 pounds over weight. Keep out of reach of children.Maufactured in a facility that processes soy.
More items you might like
Loading...