Storm Pre-Workout Wild Berry - 25 Servings
Item #: STM11
UPC: 850034567150
Special
Offer
20% Off Special Offer
The sickest formula to hit the pre-workout and active-living scene, is absolutely stuffed full of clinically studied and proven branded ingredients. Featuring powerful and long lasting energy & strength enhancers, you'll have everything you need to make sure your next gym session is as sick as it gets, throwing out PR's and never bailing on another rep again.
L-Citrulline (Kyowa Quality)
A Nitric oxide that helps improve blood flow and nutrient delivery. This is something you want more of rather than less.
L-Arginine (Kyowa Quality)
Helps to increase blood flow and is a killer combo with citrulline for greater synergy and bioavailability. This ingredient is also a nod at early 2000s supplements.
AstraGin® (Nuliv)
Helps boost bioavailability of Citrulline and Arginine to experience even more of their benefits.
Beta Alanine
One of the most studied and safest ingredients. This helps buffer lactic acid, so that you can delay muscle fatigue and prolong your endurance. If you're looking to increase volume to help quantify your growth over time, we got you.
VitaCholine®
An important neurotransmitter that helps improve cognitive function such as focus, learning, awareness, and memory by facilitating communication between neuros. This will help improve that mind muscle connection.
What is Storm's Pre-Workout used for?
Our pre-workout is for those who are looking for extra power, energy, and pumps before their workout without being overly stimulated. Our flavors include Steazy Sour Peach, Blue Raspberry Rage, Gnarly Grape and Wicked Wild Berry.
Why use our pre-workout over other pre-workouts on the market?
While there are many pre-workout options, our pre-workout proves to be effective due to high quality, clinically backed dosages. As a double whammy factor, our flavors are a one-of-a-kind treat and are something to look forward to in including in your routine. This pre is key in helping you push more weight, bang out more reps, and reach your goals quicker than ever before. Just think about it, an energy drink is $5 a pop, our pre has 25 servings with each serving costing you under $2!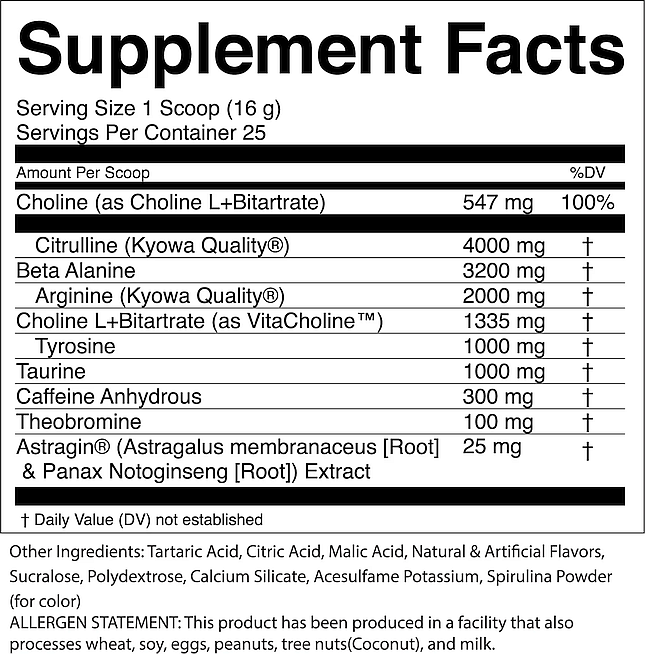 *These statements have not been evaluated by the Food and Drug administration. These products are not intended to diagnose, treat, cure, or prevent any disease.