Rule 1 Player1 Gummy Grenade - 40 Servings
Item #: R1031
UPC: 837234109557
PLAYER1
Cognition, Reaction, Performance

We designed PLAYER1 with cutting-edge nutrients to help you stay at the top of your game. Its combination of ingredients boosts alertness and level-headed focus to help put you in the zone.^
FLAVOR GUMMY GRENADE
R1 PLAYER1
WHAT IT IS
Performance, Alertness & Focus
Nootropics support cognitive performance while carotenoids help guard against the unfavorable impacts of prolonged blue light exposure. Its combination of amino acids, mental energizers, and cofactors boost alertness and level-headed focus.^
WHAT'S IN IT
Game On!
With tongue-tantalizing flavors, R1 PLAYER1 has been designed to help you take your gaming to the next level.
800mg patented noolVL® bonded arginine silicate†
500mg acetyl-l-tyrosine†
400mg choline (from 1,000mg choline bitartrate)†
125mg TeaCrine® (40%)†
100mg l-theanine*
75mg caffeine (from coffee bean and delayed release zumXR®)†
Lutein and zeaxanthin (from 15mg Lutemax® 2020)†
5mg huperzine extract†
B-complex and antioxidant C vitamins

ZERO Sugar
ZERO Prop Blends
ZERO Banned Substances
ZERO Limitations
HOW TO USE IT
Before Game Play
PLAYER1™ is best taken 20-30 minutes before game play.
Mixing Directions
Mix one (1) scoop with 8-10 oz. of cold water. Power up with 1-2 scoops when gaming.
Alternate Suggested Use
Try using one (1) or two (2) scoops of PLAYER1™ to sharpen cognitive function before your next big exam, study session, or presentation. Doubly Effective: Try a double scoop before workouts, practices, and competition to help boost mental energy and reaction time.^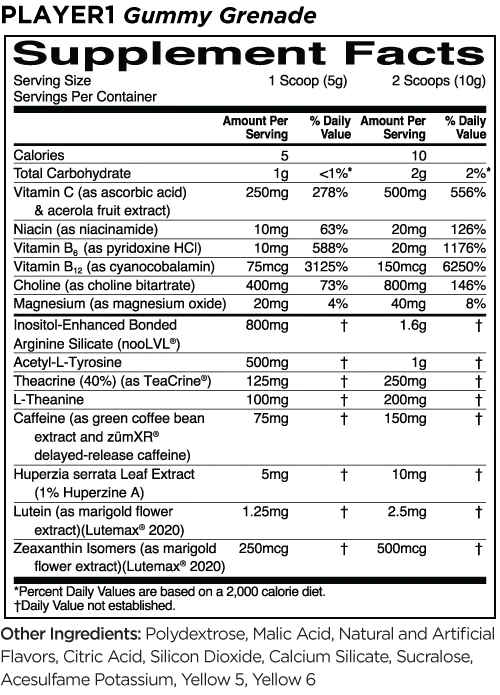 ^ These statements have not been evaluated by the Food and Drug Administration. This product is not intended to diagnose, treat, cure, or prevent any disease.
† Per serving