Primeval Labs Epibolic - 60 Cap
Item #: PL319
UPC: 850044753222
SALE
30% Off Special Offer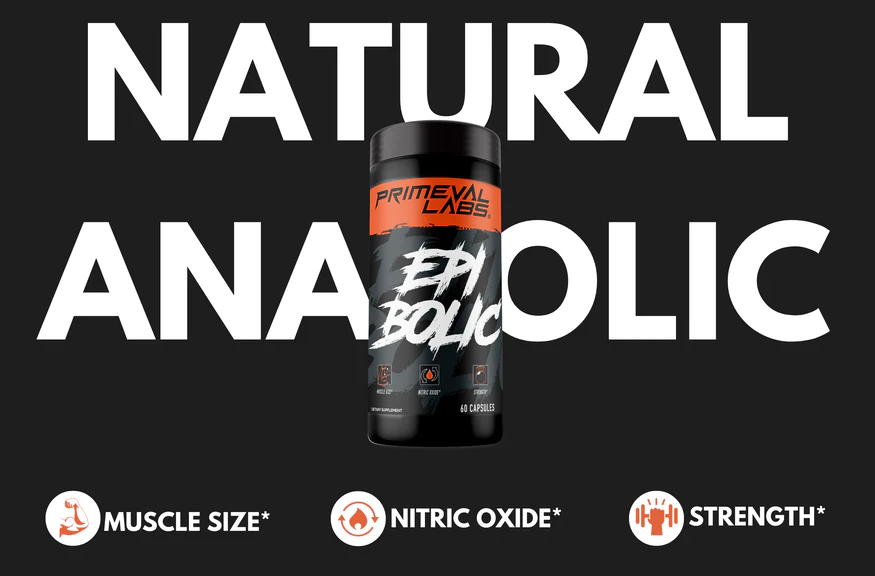 What is Epibolic?

Train hard. Eat right. Sleep. Repeat.
PRIMEVAL LABS EPIBOLIC NATURAL ANABOLIC

If you've been around the iron game long enough, you've heard this mantra repeated ad nauseum. While there is much truth behind it, serious athletes have been living it for years, if not decades.
The question becomes…what else can hardcore natural athletes do to further optimize, refine, and enhance their training, recovery, and results?
Epibolic offers a solution.
Epibolic is the premier hardcore natural muscle-building accelerator supplement available. Containing a trifecta of research-backed ingredients, Epibolic will help you realize increases in stamina, strength, force production, pumps, and hypertrophy when used in conjunction with proper diet and training.*
Supports greater muscle gains*
Supports increased strength & stamina*
Supports improvements in free & total testosterone levels*
Aids nitric oxide production and muscle pumps*
Helps reduce feelings of stress*
Supports an anabolic environment*
2 Capsules:
500 mg - TONGKAT ALI (LONGJACK)
100 Mg - Epicatechins 90% (Camellia sinesis) (leaf)
50 Mg - DEHYDROEPIANDROSTERONE (DHEA)
TONGKAT ALI (LONGJACK)
Tongkat Ali (Eurycoma longifolia or Longjack) has a long history of use in traditional medicine as an aphrodisiac and stress-support agent. Numerous clinical studies have investigated the potential of longjack and the results are incredibly promising. For example, one study noted that two weeks of longjack supplementation supported increased total testosterone, reduced fatigue, and an improved quality of life in aging men. Other research found that longjack supplementation resulted in significantly greater increases in lean body mass compared to placebo.*
EPIBOLIC ANABOLIC AGENT NATURAL SUPPLEMENTEPICATECHINS 90% (FROM GREEN TEA)
Epicatechin is a naturally-occurring flavonol found in many foods, including green tea and dark chocolate, prized for its potential to maximize performance and physique improvements! For starters, it has been found to benefit follistatin, thereby reducing myostatin, and increase markers of skeletal muscle myogenesis. Epicatechin also supports nitric oxide production and reductions in endothelin-1 (a potent vasoconstrictor). This encourages greater blood flow, vascularity, and muscle pumps, ultimately supporting harder training and subsequently greater growth!*
DEHYDROEPIANDROSTERONE (DHEA)
Dehydroepiandrosterone (DHEA) is a naturally-occurring precursor hormone used in the synthesis of the body's major sex hormones -- testosterone and estrogen.
Levels of DHEA peak in early adulthood and gradually decline as the years go by. With increasing age (and decreasing DHEA levels) comes worse recovery, muscle growth, and testosterone levels coupled with a greater risk of muscle breakdown and fat gain. Combining DHEA with resistance training workouts has been found to yield superior results in terms of muscle strength and size compared to resistance training by itself. Beyond supporting healthy hormone levels, DHEA supplementation has also been noted to support nitric oxide production, erectile function, and prostate health.*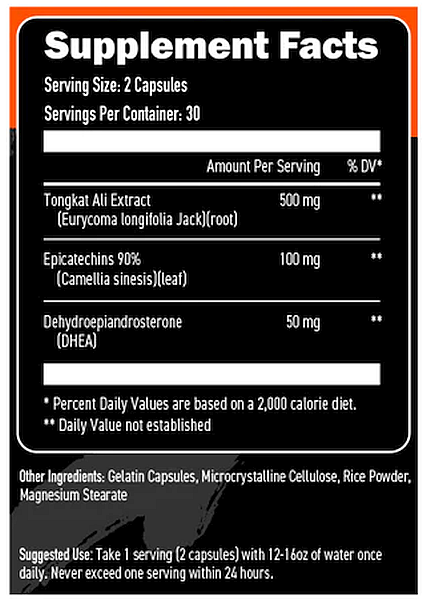 WHO IS EPIBOLIC FOR?
Epibolic is for the iron warrior seeking improved recovery, increased strength, and greater anabolic potential.*
CAN I STACK EPIBOLIC WITH OTHER PRIMEVAL LABS SUPPLEMENTS?
Yes, Epibolic is a non-stimulant, non-hormonal muscle accelerator that can be stacked with any other Primeval Labs supplements, including pre workouts (e.g. Ape Sh*t), protein powders, intra workouts, and amino acid supplements to help you reach your individual health and fitness goals.*
SUGGESTED USE
To support increased performance and strength, consume one serving of Epibolic pre workout. On non-training days, Epibolic can be taken whenever is convenient (e.g. with breakfast or lunch).*
DOES EPIBOLIC NEED TO BE CYCLED?
No, Epibolic does not need to be cycled.*
*These statements have not been evaluated by the Food and Drug Administration. This product is not intended to diagnose, treat, cure, or prevent any disease.