Glaxon Protos Whey Protein Pancake Syrup - 14 Servings
Item #: GN089
UPC: 810127670297
Closeout
20% Off Special Offer
GLAXON PROTOS - HUMANIZED WHEY PROTEIN - 14 SERVING
Velositol® - A combination of trivalent chromium and low-glycaemic amylopectin starch, clinically shown to improve amino acid absorption and utilization of amino acids by muscle tissue.
PeptoPro® - A form of hydrolyzed casein protein that can be rapidly absorbed due to the small size of the hydrolysates being 2-3 amino acids long.
ProHydrolase® - A proteolytic (protein-digesting) enzyme blend, clinically shown to boost amino acid availability.
NutriPro™ - A novel complex of protein and fats that has been clinically shown to support cognitive, immune, and cardiovascular health.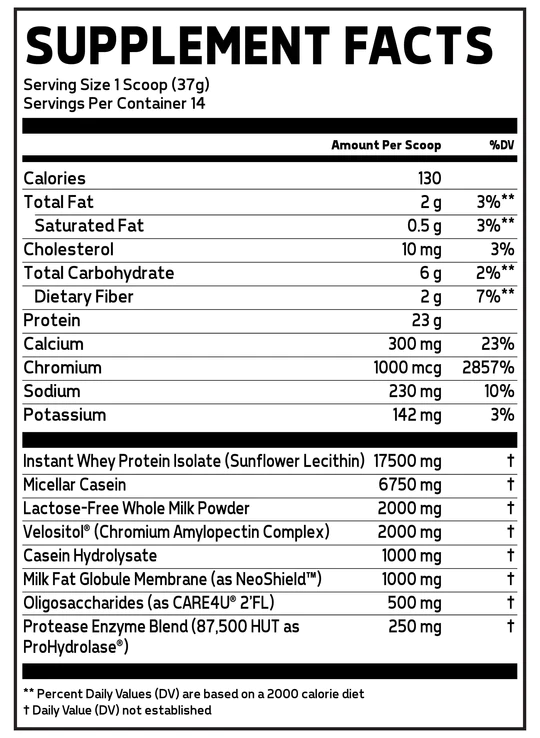 INGREDIENTS: Whey Protein Isolate, Micellar Casein, Amylopectin Chromium Complex (as Velositol®), Sunflower Lecithin, Non-Fat Dry Whole Milk, Natural & Artificial Flavors, Milk Fat Globule Membrane (as NeoShieldTM), Human Milk Oligosaccharides, Maltodextrin, Casein Hydrolysate, Protease Enzyme Blend 87,500 HUT (as ProHydrolase®), Inulin, Salt, Sucralose, Xanthan Gum, Acesulfame Potassium, Calcium Silicate.