NutraHeal w/HMB Recovery Formula - 120 Cap
Item #: NH100
UPC: 850026305005
20% Off Special Offer
Out of Stock
NutraHeal
NUTRITIONAL SUPPORT to OPTIMIZE RECOVERY after SURGERY, INJURY, SPORTS OR WORKOUTS.
NATURAL SUPPORT FOR A HEALTHY IMMUNE SYSTEM: Zinc supports the body's natural defense system. Vitamin D and Bromelain offer nutritional support for healthy immune function.
ENDURANCE: HMB has a natural role to strengthen your muscles and support endurance.
NUTRIENTS TO HELP WITH PAIN: Bromelain naturally supports a healthy response to pain.
NUTRITIONAL SUPPORT FOR HEALTHY TISSUE RECOVERY: Zinc and Vitamin D are nutrients that support healthy tissue recovery for wounds.
Description
Nutritional support with the original premium core ingredients , designed to optimize your recovery after surgery, injury, sports or workouts. The original formulation of core ingredients that replenish key nutrients, restore wellness and provide nutritional support as you recover.*
DIRECTIONS
Take two capsules of NutraHeal Plus twice daily preferably with meals for maximum absorption
If you are undergoing surgery:
Minimum Dose:
2 capsules twice a day for 1 week before surgery
2 capsules twice a day for 3 weeks after surgery
Optimal Dose:
2 capsules twice a day for 1 to 4 weeks before surgery
2 capsules twice a day for up to 3 months after surgery
If you are unable to take NutraHeal Plus before surgery, continue for a minimum of four weeks after surgery
For Sports, Workout and Injury Recovery
2 capsules of NutraHeal Plus twice a day for 4 weeks. Repeat another 4 weeks as needed.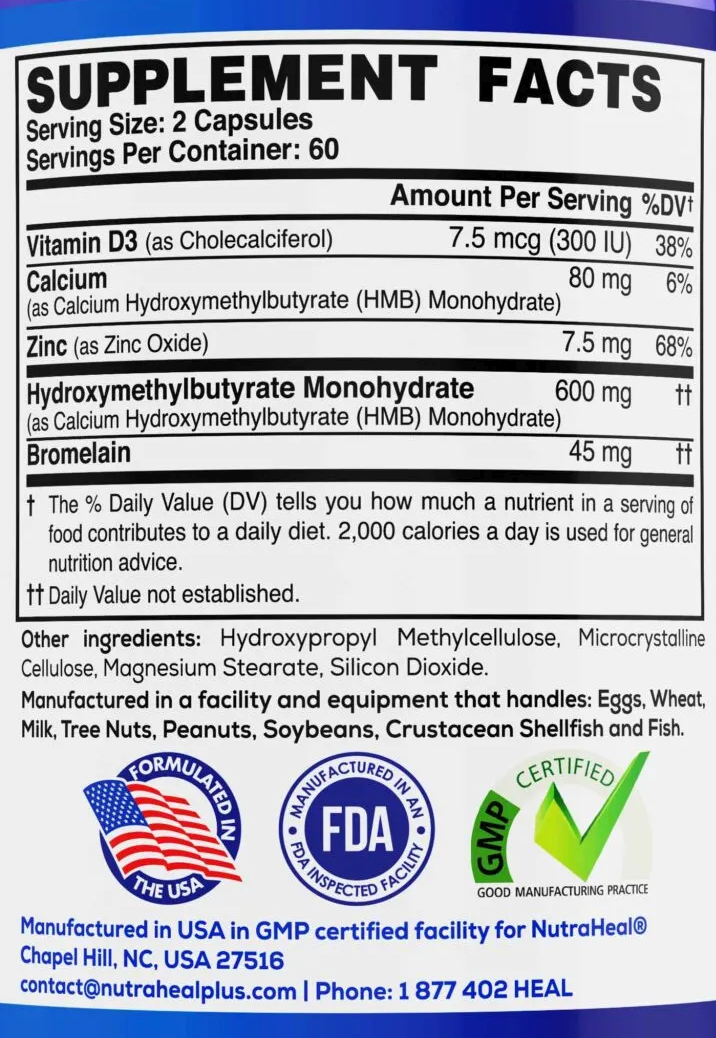 *These statements have not been evaluated by the Food and Drug Administration. The products and information on this website are not intended to diagnose, treat, cure or prevent any disease. Please speak with an appropriate healthcare professional before using any products. The information on this site is for informational purposes only and should not be considered medical advice. Please read our full Disclaimer here before you use any of the products sold by NutraHeal.