Axe & Sledge Home Made Whole Foods Meal Replacement Lemon Cream Pie - 25 Servings
Item #: AXS95
UPC: 750258226164
Free Shipping w/$45 A&S order -Excluded from coupons
Out of Stock
Home Made // Whole Foods Meal Replacement

Meal Replacement Shakes Have Been Around For Decades. As Per Their Name, They Are Designed To Replace A Meal. These Products Are Ideal For People With A Busy Lifestyle As Well As Gym Goers, And Health-conscious Individuals.
A Typical Meal Replacement Shake Like Home Made Provides You With The Necessary Nutrients That Will Support Your Healthy Lifestyle. Basically, Home Made Is A Meal In A Shake. It Contains Protein, Carbs, Vitamins And Minerals. The Protein Will Suppress Your Appetite, Keeping You Full Longer. It Also Increases Your Metabolism And Prevents Muscle Loss, Especially When You're On A Strict Diet.

To Reduce Your Calorie Intake, You Can Replace One Or More Meals With Home Made. Some People Swap Their Breakfast Or Snacks With A Home Made Shake. These Healthy And Delicious Shakes Can Save You Time And Money. Why Spend Hours Cooking At Home When You Can Drink A Home Made Meal?

Suggested Use
As A Dietary Supplement, Mix 1 Serving (2 Scoops) In A Shaker Cup With 12-16 Ounces Of Water Or Your Favorite Beverage. For Optimal Results, Consume Within 20 Minutes After Exercise.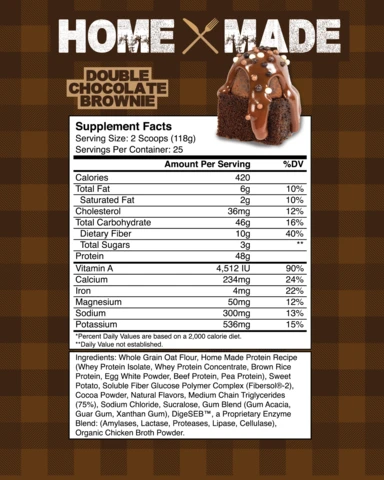 Warning: Consult With A Physician Prior To Use If You Have A Medical Condition. Don't Use If Pregnant Or Lactating. Keep Out Of Reach Of Children. Keep Container Tightly Closed In A Cool, Dry And Dark Place.
These Statements Have Not Been Evaluated By The Food And Drug Administration. This Product Is Not Intended To Diagnose, Treat, Cure, Or Prevent Any Disease.