Storm Focus Sour Peach - 40 Servings
Item #: STM06
UPC: 850034567082
When was the last time you felt truly focused? Dialed in. Completely ready for what's next. Nothing can stop you from achieving this next goal. Probably been a little longer than you'd like…and you're not alone. Since 2015, people in the US have increased their internet searches of "more focus" by a ridiculous 723%.1
More focus on its own would be great, but what about combining that with euphoric energy catalyzers alongside clinically proven cognitive boosters? No matter what you need it for; work, school, the weights, or your next trip to the park, STORM™ Focus is your secret weapon to hitting your next level.
Focus is an energy solution designed to help enhance cognitive performance. Focus consists of clinically proven ingredients that help with many areas of cognitive function to help support you to accomplish your goals.
Brainberry®
Clinically proven ingredient that has shown significant improvement in hand-eye coordination and concentration.
AstraGin®
A natural compound that helps boost absorption of vital nutrients while promoting a healthy gut environment, immune system, and athletic performance.
NeuroFactor®
A Non-GMO project verified cognitive ingredient that aids in brain function, learning, and memory.
When should I take Focus?
Whether you're looking to switch out your morning cup of coffee or in need of a midday pick me up, Focus will become your best friend. Skip the jitters and tune in to your work, craft, or the next level of your favorite video game.
What is the difference between Focus and other energy drinks/products?
Many energy drinks and products on the market consist of high caffeine and flavoring that ramp you only for you to crash hard. We're here to bio hack your ability to concentrate and unlock your potential with real science. And the best part it's under $1 per serving. Quite frankly, no energy drink in the world has clinically proven ingredients to push you to excellence.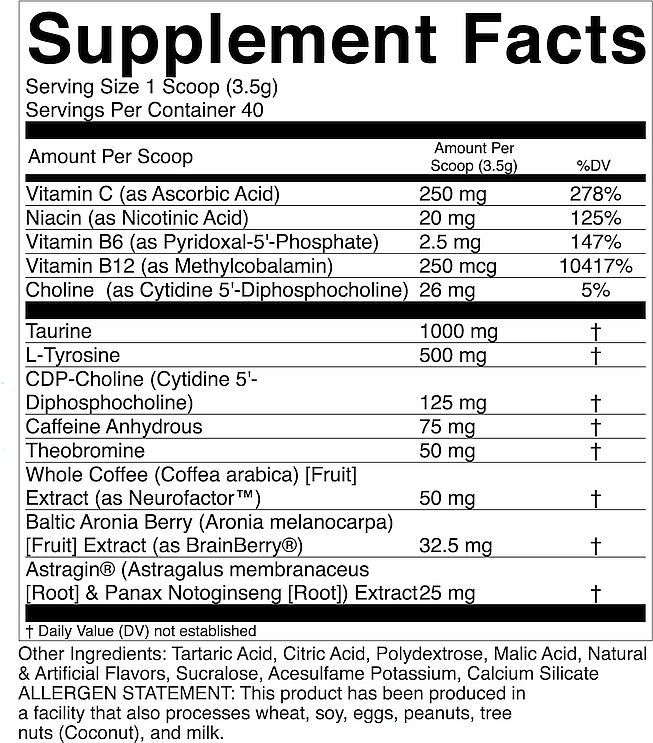 *These statements have not been evaluated by the Food and Drug administration. These products are not intended to diagnose, treat, cure, or prevent any disease.