Axe & Sledge Farm Fed Protein Grass-fed Whey Protein Isolate Dippin Dots Banana Split Ice Cream - 30 Servings
Item #: AXS89
UPC: 750258226263
Free Shipping w/$45 A&S order -Excluded from coupons
Farm Fed protein // grass-fed whey protein isolate
Axe and sledge farm fed, this 100% grass-fed whey protein isolate is the next generation in natural protein. Protein is an essential part of building and maintaining your muscle, and we at axe and sledge demand that our whey protein be of the highest quality! Farm fed is a protein in which farmers have feed their cattle naturally without the unnecessary use of synthetic hormones such as rbst and rbgh.
We didn't stop there. We wanted to make sure that you maximize this clean protein. So we added digeseb® plus. A digestive enzyme blend that contains two high-activity proteases for even better protein digestion. Supplementing the body's natural enzyme production with a digestive enzyme blend promotes digestion and the effective absorption of nutrients. Unlike antacids or some prescription drugs, digeseb® doesn't just neutralize stomach acid or slow the digestive process, it helps address the causes for digestive discomfort.
What you can expect in each serving of axe & sledge farm fed:
22g of isolate grass fed protein
Gluten free (*s'mores is not gluten free)
Performance based with naturally occurring bcaas
Antibiotic free, rbgh free
Non gmo
Naturally flavored
Low fat
Digesep plus digestive enzyme blend
As a dietary supplement, mix 1 scoop in a shaker cup with 12oz of water or beverage of choice. For optimal benefits, drink 20 minutes after exercise.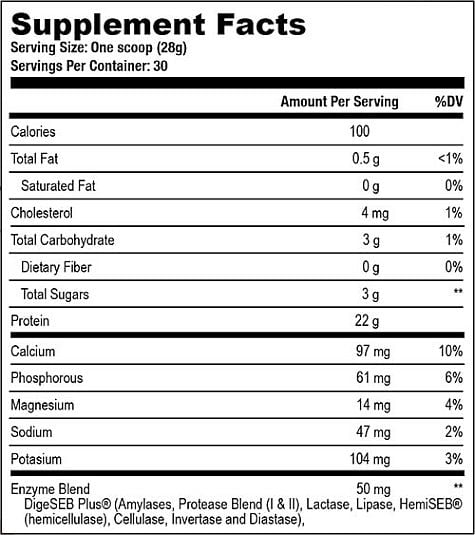 Warning: consult with a physician prior to use if you have a medical condition. Don't use if pregnant or lactating. Keep out of reach of children. Keep container tightly closed in a cool, dry and dark place.
These statements have not been evaluated by the food and drug administration. This product is not intended to diagnose, treat, cure, or prevent any disease.