Fit Butters Fluffernutter Peanut Butter - 1 Lb
Item #: FB016
UPC: 687408637702
Fluffernutter Peanut Butter
DESCRIPTION
Whether you're a kid or an adult, you can enjoy an American classic in Fluffernutter. Fluffernutter is a mix of peanut butter and marshmalllow fluff that will make a grown man grin.
Each jar of Fluffernutter starts with dry-roasted peanuts. For a healthy fat source we use coconut oil, which not only is healtheir for you, it limits the nasty oil separation you get with a lot of nut butters.
FIt Butters has partnered with VMI Sports to inject their high quality whey protein isolate Protolyte into the base of our butter. To learn more about VMI Sports click here.
It wouldn't be a Fluffernutter without real marshmallows, right? We add real marshmallow fluff AND mini-marshmallows to give you the experience you will scream to tell your friends about.
FIt Butter Benefits:
Made in small batches
Made with coconut oil
Made with quality and trusted protein sources
Made with name-brand inclusions
More Flavor. Less Gimmicks.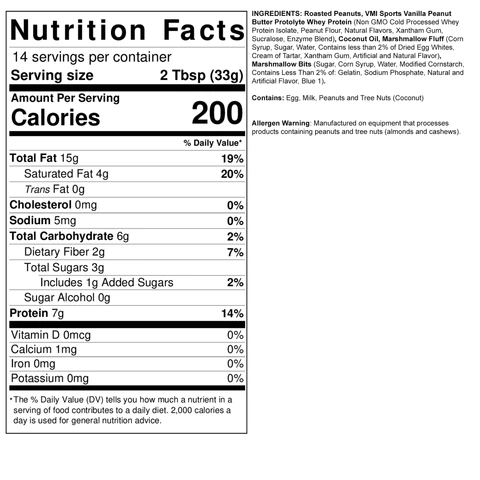 Storage Recommendations:
FIt Butters are not required to be refrigerated.
FIt Butters can be stored at room temperature. Avoid putting your FIt Butter in direct light to extend the shelf life. Storage in a dark pantry or room is best.
Refrigeration can extend the shelf life of your FIt Butter but it is not required. If you choose to refrigerate your FIt Butter please know it may harden, but will soften back at room temperature.