REPP Sports RAZE Energy Drink South Beach - 12 x 16 oz. Cans
Item #: RP132
UPC: 854531008840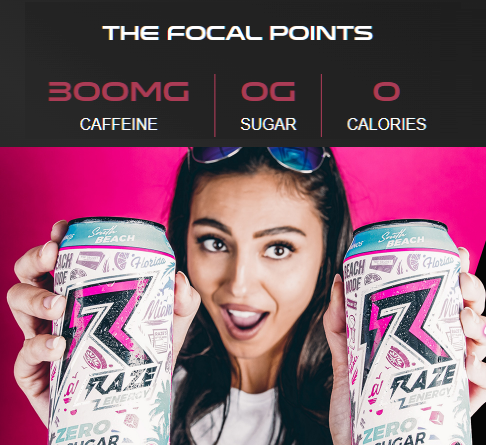 12 PACK
HYDRATING ENERGY†
RAPID RESTORATIVE RECOVERY†
INTENSIFIED STAMINA†
RAZOR SHARP MENTAL FOCUS†
NO CRASH AT ALL!†
ZERO SUGAR†
Raze Energy takes a giant leap of faith with instilling a high quality formula to bring the consumer a powerful yet sustained, energetic experience to help push your workouts and focus in general to the very next level.
Perfect for anyone at anytime, Raze Energy has become the most popular and best rated energy drink on the market to date with a phenomenal flavor profile that puts most competitors to shame.

Powered by the enhanced REFRESH technology, Raze Energy delivers with a performance enhancing energy drink profile that aids in the most often overlooked categories. We wanted to develop and energy drink that aids in multiple different categories which includes; Targeted focus, enhanced recovery time as glycogen becomes depleted, improved clean energy levels, boost in stamina and hydration.
Most importantly, each can of Raze Energy has absolutely zero calories, zero sugar and zero carbohydrates to give you a smarter and healthier option.
You shouldn't have to settle for an energy drink that contains more sugar and carbohydrates than you can count. Instead, opt for the smart choice with the #1 fan voted energy drink on the market to date with Raze Energy.
RE(FRESH) WITH RAZE
Not only is our RE(FRESH) technology a complete game changer but the wide variety of flavor options and crowd sourced additions to the Raze family make up one of the highest quality energy drink choices you could ever choose from.
With certain flavors being more simplistic all the way to industry first's — there is never a bad option when looking for the perfect flavor.
†THESE STATEMENTS HAVE NOT BEEN EVALUATED BY THE FOOD AND DRUG ADMINISTRATION. THIS PRODUCT IS NOT INTENDED TO DIAGNOSE, TREAT, CURE, OR PREVENT ANY DISEASE.