-Optimum Immunity + Probiotic Gummies Tangerine - 2 x 60 Gummies TWINPACK *Expiration date 4/23
Item #: ON9993
UPC: 748927064414
IMMUNITY + PROBIOTIC GUMMIES
VITAMIN C 80 MG
PROBIOTIC PER SERVING 2 BILLION CFU
IMMUNE + PROBIOTIC SUPPORT
Gummies support immune function, provide antioxidant support, and support a balanced belly.
Includes 60 gummies, a 30-day supply Gummies contain a blend of Vitamin A, C, E with added Echinacea and Zinc to help support immunity
Containthe probiotic Bacillus Coagulans
Includes 2 billion CFU (colony forming units at end of shelf life) of probiotic per serving
Soft, pectin-based gummies
Gluten Free, Soy Free, Dairy Free, Vegetarian
Serving size 2 gummies, suggest taking 1-2 servings per day
Shelf-stable
HOW TO USE
Take 2 Gummies any time. Chew completely before swallowing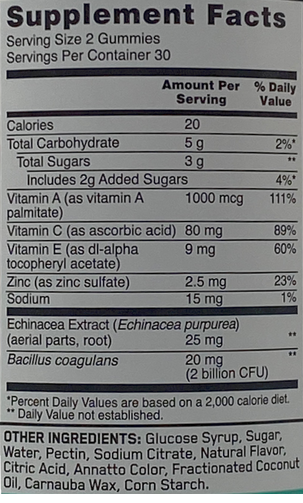 More items you might like
Loading...