Axe & Sledge Home Made Bar Lemon Cookie Crunch - 12 Bars **Use by date 2/23
Item #: AXS82
UPC: 750258226119
Free Shipping w/$45 A&S order -Excluded from coupons
All-natural whole-foods-based high protein snack
Nothing is more satisfying than a delicious protein bar. Unfortunately, the majority of protein bars are filled with low-quality ingredients you can barely pronounce, fake fibers, and artificial sweeteners that leave you regretting even taking one bite. Not to mention, protein bars are notorious for having a rock-hard texture and are severely lacking in the flavor department.
If only there was a solution…
Introducing the home made bar!
The home made bar is exactly the opposite of nearly every other protein bar on the market, in a good way! It's made with all-natural ingredients that are easily digested, such as nut butter, soluble tapioca fiber, and honey.
The home made bar also uses four high-quality protein sources, including:
Whey protein isolate
Whey protein concentrate
Egg white protein
Bovine collagen
If that's not enough, the home made bar is gluten-free and naturally flavored, and sweetened with honey, stevia, and monk fruit extract.
Although using the highest-quality ingredients was paramount for the home made bar, we also took the time to make sure it tasted delicious, had a soft texture, and a well-balanced macronutrient profile.
Double chocolate brownie home made bar contains:
250 calories
17 grams of protein
13 grams of total fat
24 grams of carbohydrates (7 grams of dietary fiber)
The home made bar contains just the right amount of fiber and protein to keep you full for hours, without causing any gastrointestinal distress. If seth feroce can eat the home made bar with no issues, then anyone can! Similar to home made, our premium meal replacement powder, the home made bar can be used as a meal replacement or a snack. Overall, the home made bar is a wholesome and nutritious snack that's designed to fuel the hardest workers in the gym.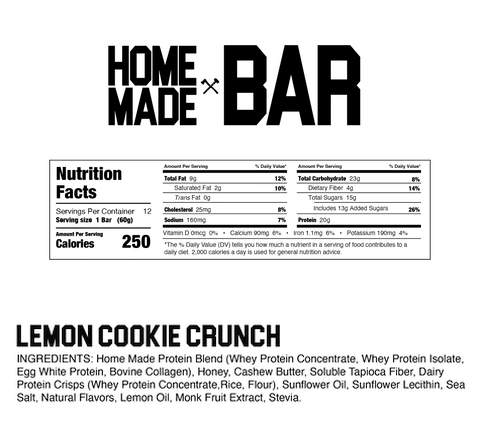 Important note: this product is sold by weight not volume.
Warning: consult with a physician prior to using this product if you are taking medication or have a medical condition. Don't use if pregnant or lactating. Discontinue use two weeks prior to surgery. Keep out of reach of children. Keep the container tightly closed in a cool, dry, and dark place.
California prop 65 warning: consuming this product can expose you to chemicals including lead, which is known in the state of california to cause cancer and birth defects, or other reproductive harm. For more information, go to www.P65warnings.Ca.Gov
These statements have not been evaluated by the food and drug administration. This product is not intended to diagnose, treat, cure, or prevent any disease.

Allergy information
Contains: tree nuts (cashews), eggs, milk.
Allergen warning: may contain traces of peanuts, soy, wheat, and other tree nuts. May contain shell and/or pit fragments.