Dymatize Complete Plant Protein Vanilla - 1.2 Lb (15 Servings)
Item #: DZ785
UPC: 705016361526

Dymatize Complete plant protein
A deliciously smooth and creamy plant-based protein* with a complete amino acid profile. Dymatize complete plant protein™ is a lactose-free, performance-driven protein powder that's engineered to support your muscles and help your body recover with high-quality plant-based protein. Because it's not just a workout. It's a lifestyle and you're not changing it for anyone — or any protein that doesn't meet you on the same level.
Protein 25g
Calories ≤160
Sugar‡ 0g
Bcaas 4.9g
Leucine 2.3g
*Typical amounts per serving
*made from a blend of five plant-based proteins: pea, brown rice, watermelon seed, pumpkin seed, and chickpea.
‡not a low calorie food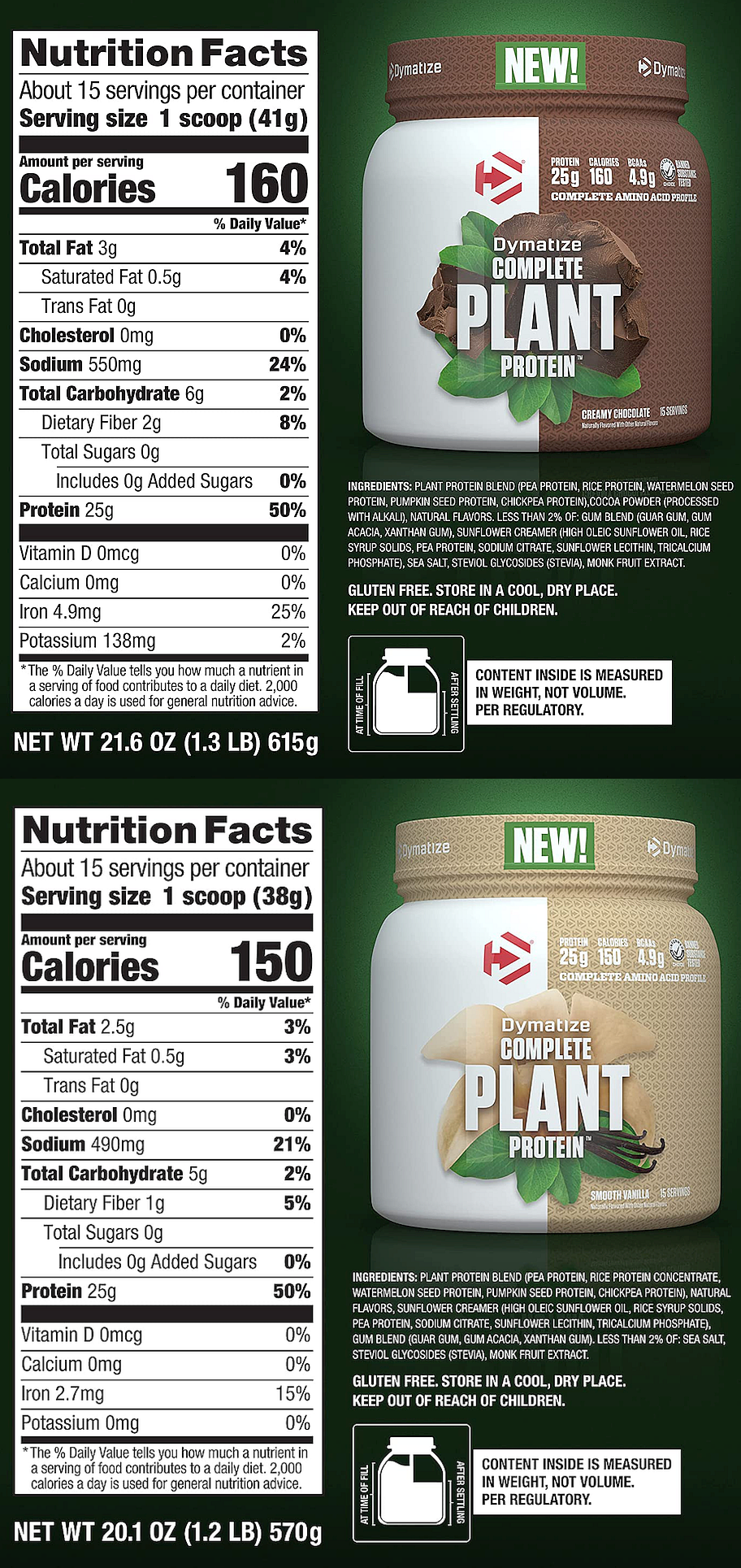 Amino Acid Profile
AMINO ACID PROFILE

AMOUNT PER SERVING

ALANINE

1.10371

Non-Essential

ARGININE

2.297265

Conditionally Essential

ASPARTIC ACID

2.86825

Non-Essential

CYSTINE

0.279545

Conditionally Essential

GLUTAMINE & GLUTAMIC ACID

4.57301

Conditionally Essential

GLYCINE

1.108125

Conditionally Essential

HISTIDINE

0.62537

Essential

ISOLEUCINE (BCAA)

1.26179

Essential

LEUCINE (BCAA)

2.36145

Essential

LYSINE

1.66426

Essential

METHIONINE

0.423325

Essential

PHENYALANINE

1.37863

Essential

PROLINE

1.123445

Non-Essential

SERINE

1.310585

Non-Essential

THREONINE

0.9634

Essential

TRYPTOPHAN

0.29317

Essential

TYROSINE

1.07836

Conditionally Essential

VALINE (BCAA)

1.36623

Essential