BPI Sports Smart Burn Cotton Candy - 50 Serv (2 x 25 Servings) TWINPACK
Item #: BP2112
UPC: 810516032613
Smart Burn combines six ingredients to create a fat-destroying compound that breaks down even the most stubborn fat and converts it to energy .
In addition to the caffeine in green tea, Smart Burn also contains 150mg of caffeine anhydrous. The ingredient Dynamine also provides a fast-acting lift to energy & focus.
Muscle is your metabolic engine – the more muscle you have, the more calories your body is able to burn. By helping to preserve lean muscle mass, conjugated linoleic acid (CLA) may help boost metabolism.
Smart Burn contains the ingredient Dynamine, which delivers a fast-acting mood boost.
Smart burn is a blend of six ingredients that combine to create a potent, fat-burning compound.*
Target even the most stubborn areas, like the hips, lower abdomen and thighs, and convert that unwanted fat into energy.*
The delicious cotton candy flavored powder mixes easily with water, contains no artificial colors and is manufactured in a FDA-compliant, cGMP facility right here in the USA.
BPI Sports Smart Burn contains Carnitine, CLA, green tea leaf Extract, caffeine and the patented ingredient dynamin. Carnitine helps burn fat for energy, while CLA may prevent fat storage and preserve lean muscle, which helps boost metabolism. The caffeine in Green tea is linked to fat burning, energy, focus and alertness. Finally, the patented ingredient dynamin provides fast-acting, high-impact energy, mood Enhancement and focus.*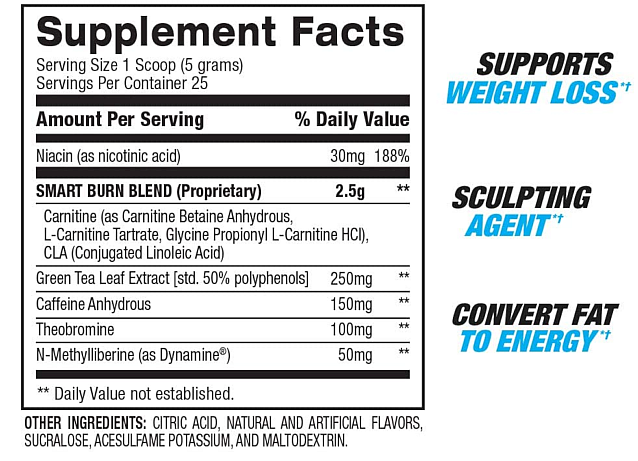 *These statements have not been evaluated by the Food and Drug Administration. These products are not intended to diagnose, treat, cure or prevent any disease.