Kaged Muscle PRE-KAGED Stimulant Free Fruit Punch - 20 Servings
Item #: KM336
UPC: 850006414659
PRE-KAGED STIMULANT FREE
Pre-Kaged is the Ultimate Pre-Workout to provide the best focus, pump, and stamina in the gym. Full label disclosure combined with premium, patented ingredients to crush your next workout! Also suitable for Vegan/Vegetarian Diets.
HOW TO USE
Directions: As a dietary supplement, mix 1 scoop with 12-16 oz of cold water in a shaker bottle 30-45 minutes before workout. Continue to shake bottle lightly between sips and drink entirely within 25 minutes of mixing.
Lift Heavier. Push Longer.
Crush Your Goals.
Enhance Endurance with NO Caffeine
Trigger Incredible Pumps
Heighten Mental Focus
Third-Party Tested + Banned Substance Free
Suitable for Vegan/Vegetarian Diets
TRIGGERS BIGGER, LONGER-LASTING MUSCLE PUMPS*
Every serving of PRE-KAGED Stimulant Free delivers a massive dose of pure L-citrulline. This scientifically superior vasodilator helps drive nutrient rich blood and oxygen deep into your muscles for dense, hard muscle pumps.*
PRE-KAGED also includes Spectra™, a patented blend of 29 fruit and veggie superfoods that not only provides important antioxidants, but it also supports nitric oxide production.*

FORMULATED TO INCREASE MUSCLE, STRENGTH & PERFORMANCE*
PRE-KAGED is an award-winning pre-workout brand that delivers a unique combination of patented ingredients, scientifically tested to deliver increases in muscle size, strength, and athletic performance.* This includes Patented Creatine HCl™, patented CarnoSyn® beta-alanine with self-affirmed GRAS status, and patented BetaPower®, a purified betaine extract.
THE INDUSTRY'S LARGEST, MOST FULLY DOSED SCOOP
Featuring max-dose ingredients, and a massive 32g per serving, just one scoop of PRE-KAGED Stimulant Free does it all: increased endurance, intense focus, massive, long-lasting pumps, and so much more.

THE KAGED MUSCLE DIFFERENCE
We choose to use patented, gold-standard ingredients that often cost up to 10x more than their generic knock-offs because they're cleaner, they're backed by science, and they're just better for you. Think of us as healthy meets hardcore.
Kaged Muscle is a health-forward brand, and our supplements are formulated for performance-minded men and women who not only want real results, but also want clean products that provide incredible value for their money.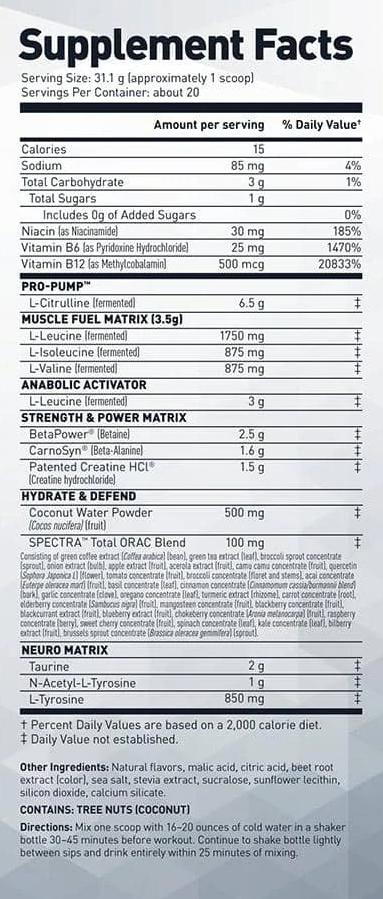 *These statements have not been evaluated by the Food and Drug Administration. This product is not intended to diagnose, treat, cure, or prevent any disease.