Pro Supps Hyde Xtreme Watermelon Rush - 30 Servings
Item #: PK596
UPC: 818253021730
25% Off w/code DPS10
Out of Stock
Delivers Extreme Energy

Enhances Mental Focus

Maximizes Power & Strength
Extreme and Sustained Energy and Focus for Maximum Performance†

Increases Blood Flow for Intense Pumps and Vascularity†

Powerful Strength and Intensity Matrix†

Intense Combination of High-Powered Thermogenic Compounds†

Features 2 Patented Research-Backed Ingredients

Zero Sugar, Zero Carbs, Zero Calories, Gluten Free
Hyde Xtreme is your pre-workout powder solution that will power even the toughest workout. Our unique formula is loaded with Yohimbe and features a 420mg caffeine matrix with TeaCrine® for laser sharp focus, and is further powered by Beta Alanine, Creatine, Citrulline and Nitrosigine®. One scoop of this intense pre-workout formula delivers extreme energy with increased power, strength, endurance and pumps. It's easy to see why men and women all over the world have made this the top pre-workout on the market for eight years running. Don't settle for just any energy pre-workout; leave no doubt with Hyde® Xtreme.†
WHAT IS HYDE XTREME?
Hyde Xtreme is the leader in energy pre-workout powder supplementation. It is extreme energy and focus that won't quit on you halfway through your workout. This formula features scientifically researched ingredients to promote pumps, vascularity, strength and mental focus, plus an intense 420mg caffeine matrix to deliver the most focused, intense workout experience.

HOW IS THE NEW HYDE XTREME DIFFERENT FROM THE ORIGINAL HYDE?
Hyde Xtreme is designed utilizing the same tried and true extreme energy and focus formula that you have grown to love with the addition of the premium, research validated ingredients Nitrosigine and TeaCrine which deliver increased and sustained pumps, vascularity, energy, & training motivation.

CAN I STACK HYDE XTREME AND HYDE MAX PUMP?
Absolutely! Hyde Xtreme and Hyde Max Pump were designed to perform individually and even better as a stack! By combining both, you harness the power of extreme energy and focus with pumps, thermogenesis and nootropics.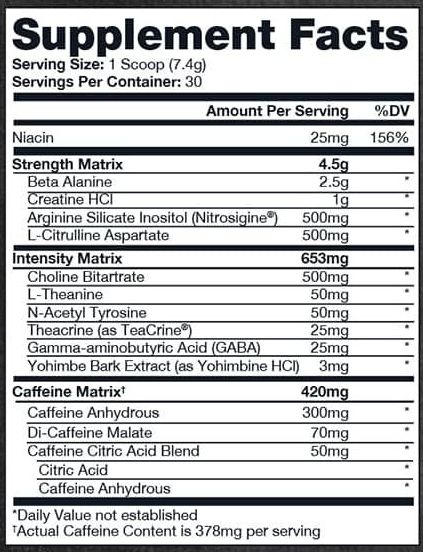 This product is intended for healthy adults, 18 years of age or older. Consult a physician prior to using this, or any other dietary supplement. Do not take this product if you are pregnant or nursing, if you have or suspect you may have a medical condition, or if you are taking any prescription or over-the-counter medications. Do not exceed recommended serving. Exceeding recommended serving may cause adverse health effects. This product contains 378mg of caffeine, the equivalent of approximately 4 cups of coffee and may not be suiheadingle for individuals who are sensitive to the effects of caffeine. Too much caffeine may cause nervousness, irriheadingility, sleeplessness, and occasional rapid heartbeat. Immediately discontinue use and consult a qualified medical professional if you experience any adverse effects. KEEP OUT OF REACH OF CHILDREN.