Exphy Energy Collagen+ Protein Energy Bites Almond Cacao Espresso - 6 Bites
Item #: XE001
UPC: 810025670474
20% Off Special Offer
Out of Stock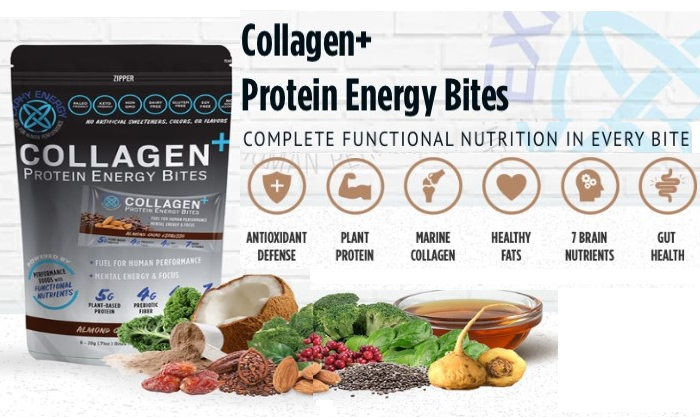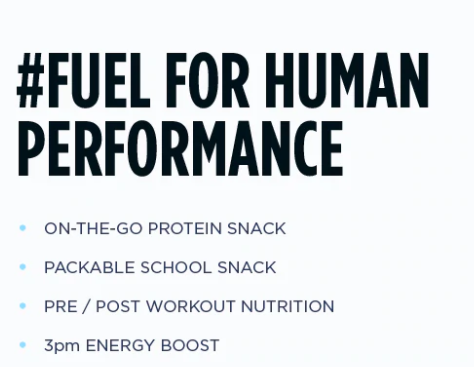 #FUEL FOR HUMAN PERFORMANCE
Our Nutrient Dense Functional
Ingredients
Plant-based protein
Sourced from Pea Protein, the Amino Acids in protein are the building blocks for:
Contractile Proteins
Structural Proteins
Collagen Production
Polypeptide- Hormones
Transporter Molecules
Enzymes
Marine collagen
Sourced from Wild-Caught Alaskan Cod, marine collagen provides the body with the building blocks for the biosynthesis of collagen connective tissue; which can strengthen & support tendons, ligaments & cartilage, while enhancing skin elasticity & hydration, and the integrity of our gut lining health.
Organic coffee fruit extract
Sourced from the Coffee Cherry (aka, Coffee Fruit), the fruit's extract is high in antioxidants & polyphenol compounds such as Proanthocyanins & Chlorogenic Acid, Coffee Fruit Concentrate has been shown to increase BDNF (a neuro-protein) levels...BDNF increases resistance to neuronal degeneration, aids in neurogenesis & synaptic plasticity.
Organic cacao nibs + cocoa
Rich source of Brain-Boosting compounds, flavonoids & antioxidants, shown to boost mood & exhibit anti-inflammatory properties (research shows cocoa polyphenols can reduce levels of inflammatory markers such as IL-6 & TNF-alpha.)
High in Quercetin – a brain nutrient that may help delay the decline of cognitive health.
Organic dates
Are a good source of Fiber, Antioxidants, Vitamins & Minerals and other nutrients; including Flavonoids, Carotenoids & Phenolic Acid.
Low-Glycemic source of carbs to fuel your training & Glycogen Re-synthesis.
Organic maca powder
Maca Powder is a plant-based, nutrient dense adaptogen (containing various polyphenols) that may improve mood, reduce anxiety & symptoms of depression.
May also improve cognitive function & memory.
Chia seeds
An ancient Mayan superfood, Chia Seeds are an excellent source of Omega-3 fatty acids, protein, essential minerals, antioxidants & fiber (which can promote the formation of SCFA & improve colon health)
Chia seeds are a complete protein, meaning they contain all the essential amino acids.
Almonds + almond butter
Good source of healthy fats & natural vitamin E, which is naturally found in the brain & linked to memory.
Almonds also contribute to the protein contained in the Bites.
Organic prebiotic fiber
Chicory Root is high in the prebiotic fiber Inulin- a type of fructo-oligosaccharide, that feeds the good bacteria in your gut, promoting overall gut health Source of antioxidants that may have liver protective effects, and of chlorogenic acid.
Organic Maple Syrup
A natural sweetener that actually contains some minerals & 24 different antioxidants.
Has a lower glycemic index than table sugar.
Source of maple polyphenols.
Organic Kale, Spinach & Broccoli
Organic greens are high in vitamins & other nutrients; including Lutein & Zeaxanthin – which help with crystalized intelligence, memory & processing speed. Also a good source of natural vitamin E and vitamin K (a fat-soluble vitamin), which is essential for forming sphingolipids – a type of fat that is densely packed into brain cells.
Coconut Oil
Coconut Oil is rich in MCTs (medium-chain triglycerides), which:
The liver readily converts into Ketones, which are a valuable alternate fuel source for brain cells.
May improve cognition & display neuro-protective properties
May help attenuate oxidative damage.
Coffee
Coffee Beans are high in antioxidants & other essential nutrients. Has been shown to improve brain function, including: energy & alertness, memory, mood & overall mental function.
Caffeine also stimulates the sympathetic nervous system, thereby increasing lipolysis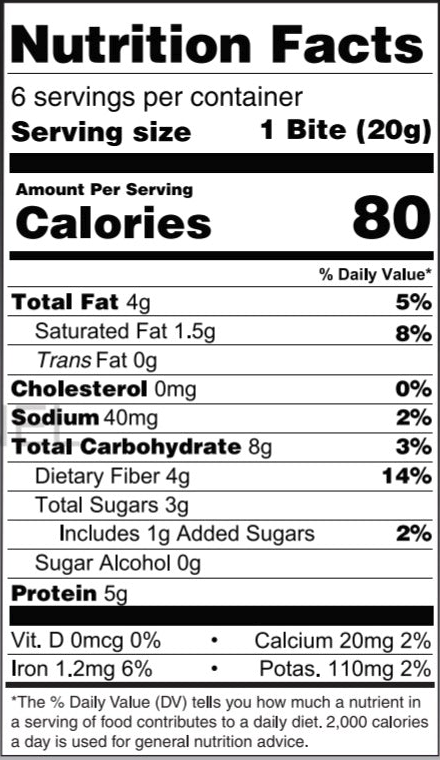 Copyright 2019 - 2023 DPS Nutrition
[{"u":"\/b\/486002\/3d-energy-drink.htm","n":"3D Energy Drink"},{"u":"\/b\/486038\/5-hour-energy.htm","n":"5 Hour Energy"},{"u":"\/b\/466\/5-nutrition.htm","n":"5% Nutrition"},{"u":"\/b\/486028\/ab-fx.htm","n":"AB Fx"},{"u":"\/b\/5\/american-bodybuilding.htm","n":"ABB American Bodybuilding"},{"u":"\/b\/486069\/abe-nation.htm","n":"ABE Nation"},{"u":"\/b\/486041\/abl-pharma.htm","n":"ABL Pharma"},{"u":"\/b\/486075\/afterdark.htm","n":"AfterDark"},{"u":"\/b\/486018\/alani-nu-energy-drink.htm","n":"Alani Nu"},{"u":"\/b\/411\/allmax-nutrition.htm","n":"AllMax Nutrition"},{"u":"\/b\/446\/alpha-gainz.htm","n":"Alpha Gainz"},{"u":"\/b\/486023\/alpha-lion.htm","n":"Alpha Lion"},{"u":"\/b\/4\/alri.htm","n":"ALRI"},{"u":"\/b\/486053\/anabar.htm","n":"Anabar"},{"u":"\/b\/188\/animal-products.htm","n":"Animal"},{"u":"\/b\/486070\/animal-factory.htm","n":"Animal Factory"},{"u":"\/b\/9\/ansi.htm","n":"ANSI Nutrition"},{"u":"\/b\/461\/apollon-nutrition.htm","n":"Apollon Nutrition"},{"u":"\/b\/204\/aps-nutrition.htm","n":"APS Nutrition"},{"u":"\/b\/486049\/arms-race-nutrition.htm","n":"Arms Race Nutrition"},{"u":"\/b\/486007\/axe-sledge.htm","n":"Axe and Sledge"},{"u":"\/b\/486037\/axis-labs.htm","n":"Axis Labs"},{"u":"\/b\/486060\/bang-energy.htm","n":"Bang Energy"},{"u":"\/b\/486031\/barebells-protein-bars.htm","n":"Barebells Protein Bars"},{"u":"\/b\/15\/beverly-international.htm","n":"Beverly International"},{"u":"\/b\/449\/black-magic-supply-co..htm","n":"Black Magic Supply Co."},{"u":"\/b\/471\/black-market-labs.htm","n":"BlackMarket Labs"},{"u":"\/b\/391\/blackstone-labs.htm","n":"Blackstone Labs"},{"u":"\/b\/486009\/body-fortress.htm","n":"Body Fortress\u00a0"},{"u":"\/b\/1\/ab-fx-cream.htm","n":"Body FX Ab-Fx"},{"u":"\/b\/486039\/bpi-sports.htm","n":"BPI Sports"},{"u":"\/b\/17\/bsn.htm","n":"BSN"},{"u":"\/b\/470\/bucked-up.htm","n":"Bucked Up"},{"u":"\/b\/474\/built-bar.htm","n":"Built Bars"},{"u":"\/b\/486047\/cbum.htm","n":"CBum"},{"u":"\/b\/296\/cellucor.htm","n":"Cellucor"},{"u":"\/b\/486017\/celsius-rtd.htm","n":"Celsius RTD"},{"u":"\/b\/457\/chemix.htm","n":"Chemix"},{"u":"\/b\/486019\/chike-nutrition.htm","n":"Chike Nutrition"},{"u":"\/b\/155\/competitive-edge-labs.htm","n":"Competitive Edge Labs CEL"},{"u":"\/b\/214\/con-cret.htm","n":"Con-Cret ProMera Sports"},{"u":"\/b\/486064\/condemned-labz.htm","n":"Condemned Labz"},{"u":"\/b\/21\/controlled-labs.htm","n":"Controlled Labs"},{"u":"\/b\/312\/convenient-nutrition.htm","n":"Convenient Nutrition"},{"u":"\/b\/142\/core-nutritionals.htm","n":"Core Nutritionals"},{"u":"\/b\/23\/cytosport.htm","n":"Cytosport"},{"u":"\/b\/355\/deluxe-whey.htm","n":"Deluxe Whey Protein"},{"u":"\/b\/27\/diesel-nutrition.htm","n":"Diesel Nutrition"},{"u":"\/b\/30\/dps-nutrition.htm","n":"Dps Nutrition"},{"u":"\/b\/32\/dymatize.htm","n":"Dymatize"},{"u":"\/b\/33\/eas.htm","n":"EAS"},{"u":"\/b\/34\/eclipse.htm","n":"Eclipse Sports Supplements"},{"u":"\/b\/194\/efx-sports.htm","n":"EFX Sports"},{"u":"\/b\/486071\/ephlabs.htm","n":"EHPlabs"},{"u":"\/b\/408\/epg.htm","n":"EPG Extreme Products Group"},{"u":"\/b\/322\/evomuse.htm","n":"EvoMuse"},{"u":"\/b\/486032\/exphy-energy-protein-bites.htm","n":"Exphy Energy Protein Bites"},{"u":"\/b\/315\/finaflex.htm","n":"Finaflex"},{"u":"\/b\/486079\/fit-bar.htm","n":"Fit Bar"},{"u":"\/b\/486048\/fit-butters.htm","n":"Fit Butters"},{"u":"\/b\/412\/fit-crunch.htm","n":"Fit Crunch Bars"},{"u":"\/b\/41\/gaspari-nutrition.htm","n":"Gaspari Nutrition"},{"u":"\/b\/43\/gat.htm","n":"GAT Sport"},{"u":"\/b\/464\/g-code-nutrition.htm","n":"GCode Nutrition"},{"u":"\/b\/486010\/ghost-energy-drink.htm","n":"Ghost Drinks"},{"u":"\/b\/44\/gift-certificates.htm","n":"Gift Certificates"},{"u":"\/b\/482\/glaxon.htm","n":"Glaxon"},{"u":"\/b\/486080\/gorilla-mind.htm","n":"Gorilla Mind"},{"u":"\/b\/486058\/gorilla-wear.htm","n":"Gorilla Wear"},{"u":"\/b\/486059\/grizzly-fitness.htm","n":"Grizzly Fitness"},{"u":"\/b\/485\/hanks-protein-plus.htm","n":"Hank's Protein Plus"},{"u":"\/b\/343\/hardrock-supplements.htm","n":"HardRock Supplements"},{"u":"\/b\/46\/hi-tech-pharmaceuticals.htm","n":"Hi Tech Pharmaceuticals"},{"u":"\/b\/126\/liv-52.htm","n":"Himalaya Liver Care"},{"u":"\/b\/486062\/hypd-supps.htm","n":"Hypd Supps"},{"u":"\/b\/434\/dermacrine-topical.htm","n":"Iconic Formulations"},{"u":"\/b\/146\/i-force-nutrition.htm","n":"iForce Nutrition"},{"u":"\/b\/472\/innovapharm.htm","n":"InnovaPharm"},{"u":"\/b\/486076\/inspired-nutra.htm","n":"Inspired Nutra"},{"u":"\/b\/447\/iron-legion.htm","n":"Iron Legion"},{"u":"\/b\/415\/isopure.htm","n":"Isopure"},{"u":"\/b\/486045\/jnx-sports.htm","n":"JNX Sports"},{"u":"\/b\/486074\/jocko-fuel.htm","n":"Jocko Fuel"},{"u":"\/b\/486068\/jst-wrk-energy.htm","n":"JST WRK Energy"},{"u":"\/b\/486056\/jym-supplement-science.htm","n":"JYM Supplement Science"},{"u":"\/b\/407\/kaged-muscle.htm","n":"Kaged Muscle"},{"u":"\/b\/486051\/klout.htm","n":"Klout"},{"u":"\/b\/56\/labrada.htm","n":"Labrada Nutrition"},{"u":"\/b\/483\/legendary-foods.htm","n":"Legendary Foods"},{"u":"\/b\/379\/lenny-larrys-cookies.htm","n":"Lenny & Larry's Cookies"},{"u":"\/b\/486067\/life-extension.htm","n":"Life Extension"},{"u":"\/b\/486057\/liquid-grip.htm","n":"Liquid Grip"},{"u":"\/b\/486044\/liquid-i.v..htm","n":"Liquid I.V."},{"u":"\/b\/486043\/lmnt-elemental-labs.htm","n":"LMNT Elemental Labs"},{"u":"\/b\/58\/man-sports.htm","n":"Man Sports"},{"u":"\/b\/427\/merica-labz.htm","n":"Merica Labz"},{"u":"\/b\/59\/met-rx.htm","n":"Met-Rx"},{"u":"\/b\/286\/metabolic-nutrition.htm","n":"Metabolic Nutrition"},{"u":"\/b\/60\/mhp.htm","n":"MHP"},{"u":"\/b\/61\/molecular-nutrition.htm","n":"Molecular Nutrition"},{"u":"\/b\/385\/muscle-addiction.htm","n":"Muscle Addiction"},{"u":"\/b\/486054\/muscle-milk.htm","n":"Muscle Milk"},{"u":"\/b\/64\/muscle-sandwich.htm","n":"Muscle Sandwich"},{"u":"\/b\/277\/musclemeds.htm","n":"MuscleMeds"},{"u":"\/b\/242\/muscle-pharm.htm","n":"MusclePharm"},{"u":"\/b\/66\/muscletech.htm","n":"MuscleTech"},{"u":"\/b\/417\/mutant.htm","n":"Mutant"},{"u":"\/b\/486003\/myogenix.htm","n":"Myogenix"},{"u":"\/b\/68\/natures-best.htm","n":"Natures Best"},{"u":"\/b\/72\/now-foods.htm","n":"Now Foods"},{"u":"\/b\/486063\/nutraheal.htm","n":"NutraHeal"},{"u":"\/b\/371\/nutrakey.htm","n":"Nutrakey"},{"u":"\/b\/486078\/nutrapur.htm","n":"NutraPUR"},{"u":"\/b\/348\/nuts-n-more.htm","n":"Nuts 'n More"},{"u":"\/b\/486034\/ohana-liquid-protein.htm","n":"Ohana Liquid Protein"},{"u":"\/b\/442\/one-bars.htm","n":"ONE Bars"},{"u":"\/b\/77\/optimum-nutrition.htm","n":"Optimum Nutrition - ON"},{"u":"\/b\/78\/ostrim.htm","n":"Ostrim"},{"u":"\/b\/486066\/panda-supps.htm","n":"Panda Supps"},{"u":"\/b\/398\/performax-labs.htm","n":"Performax Labs"},{"u":"\/b\/253\/pes-performance-enhancing-supplements.htm","n":"PEScience"},{"u":"\/b\/127\/power-crunch-bars.htm","n":"Power Crunch Bars"},{"u":"\/b\/486073\/powered-by-plants.htm","n":"Powered by Plants"},{"u":"\/b\/486027\/ap-sports-regimen.htm","n":"Prime Bites"},{"u":"\/b\/414\/primeval-labs.htm","n":"Primeval Labs"},{"u":"\/b\/221\/professional-supplements.htm","n":"Pro Supps"},{"u":"\/b\/486050\/professor-nutz-peanut-butter.htm","n":"Professor Nutz Peanut Butter"},{"u":"\/b\/486033\/project-ad.htm","n":"Project AD"},{"u":"\/b\/85\/promax.htm","n":"Promax Bars"},{"u":"\/b\/435\/psycho-pharma.htm","n":"Psycho Pharma"},{"u":"\/b\/331\/pure-protein.htm","n":"Pure Protein"},{"u":"\/b\/220\/purus-labs.htm","n":"Purus Labs"},{"u":"\/b\/260\/quest-bar.htm","n":"Quest Nutrition"},{"u":"\/b\/486008\/raw-nutrition.htm","n":"Raw Nutrition"},{"u":"\/b\/418\/redcon1.htm","n":"RedCon1"},{"u":"\/b\/486061\/redline.htm","n":"Redline"},{"u":"\/b\/486013\/repp-sports.htm","n":"Repp Sports"},{"u":"\/b\/486012\/revive-md.htm","n":"Revive"},{"u":"\/b\/486065\/rule-1.htm","n":"Rule 1"},{"u":"\/b\/452\/ryse-supplements.htm","n":"RYSE"},{"u":"\/b\/91\/serious-nutrition-solutions.htm","n":"SNS Serious Nutrition Solutions"},{"u":"\/b\/210\/species-nutrition.htm","n":"Species Nutrition"},{"u":"\/b\/486052\/sport-shaker.htm","n":"SportShaker"},{"u":"\/b\/486055\/storm.htm","n":"Storm"},{"u":"\/b\/486035\/train-naked-labs.htm","n":"Train Naked Labs"},{"u":"\/b\/108\/ultimate-nutrition.htm","n":"Ultimate Nutrition"},{"u":"\/b\/109\/universal-nutrition.htm","n":"Universal Nutrition & Animal"},{"u":"\/b\/130\/usp-labs.htm","n":"Usp Labs"},{"u":"\/b\/486077\/vaughns-treats.htm","n":"Vaughn's Treats"},{"u":"\/b\/216\/vigor-labs.htm","n":"Vigor Labs"},{"u":"\/b\/113\/vpx-sports.htm","n":"Vpx Sports"},{"u":"\/b\/463\/xtreme-performance-gels.htm","n":"XPG Xtreme Performance Gels"},{"u":"\/b\/137\/scivation.htm","n":"Xtend"}]
[[{"id":2073,"u":"\/d\/2073\/creatine-specials.htm","n":"Creatine Specials"},{"id":2074,"u":"\/d\/2074\/definition.htm","n":"Definition"},{"id":2075,"u":"\/d\/2075\/apigenin.htm","n":"Apigenin"},{"id":2076,"u":"\/d\/2076\/glutathione.htm","n":"Glutathione"},{"id":2077,"u":"\/d\/2077\/spilanthes-acmella.htm","n":"Spilanthes acmella"},{"id":2078,"u":"\/d\/2078\/inflammation.htm","n":"Inflammation"},{"id":2079,"u":"\/d\/2079\/fadogia-agrestis.htm","n":"Fadogia Agrestis"},{"id":2081,"u":"\/d\/2081\/sabroxy.htm","n":"Sabroxy"},{"id":2082,"u":"\/d\/2082\/l-ornithine-l-aspartate.htm","n":"L-Ornithine L-Aspartate"},{"id":2083,"u":"\/d\/2083\/food-based.htm","n":"Food Based"},{"id":2084,"u":"\/d\/2084\/gda.htm","n":"GDA"},{"id":2085,"u":"\/d\/2085\/p-5-p.htm","n":"P-5-P"},{"id":2086,"u":"\/d\/2086\/nitrosigine.htm","n":"Nitrosigine"},{"id":2087,"u":"\/d\/2087\/ripfactor.htm","n":"RipFACTOR"},{"id":2088,"u":"\/d\/2088\/mushroom.htm","n":"Mushroom"},{"id":2089,"u":"\/d\/2089\/whole-food-meal-replacement.htm","n":"Whole Food Meal Replacement"},{"id":2090,"u":"\/d\/2090\/glycerol.htm","n":"Glycerol"},{"id":2091,"u":"\/d\/2091\/psyllium-husk.htm","n":"Psyllium husk"},{"id":2092,"u":"\/d\/2092\/paractin.htm","n":"Paractin"},{"id":2093,"u":"\/d\/2093\/boswella.htm","n":"Boswella"},{"id":2095,"u":"\/d\/2095\/saccharomyces-boulardii.htm","n":"Saccharomyces Boulardii"},{"id":2096,"u":"\/d\/2096\/arjunapure.htm","n":"ArjunaPure"},{"id":2097,"u":"\/d\/2097\/paraxanthine.htm","n":"Paraxanthine"},{"id":2098,"u":"\/d\/2098\/cistanche.htm","n":"Cistanche"},{"id":2099,"u":"\/d\/2099\/r-lipoic-acid.htm","n":"R-Alpha Lipoic Acid"},{"id":2100,"u":"\/d\/2100\/minerals.htm","n":"Minerals"},{"id":2101,"u":"\/d\/2101\/veggies.htm","n":"Veggies"},{"id":2102,"u":"\/d\/2102\/carnivor.htm","n":"Carnivor"},{"id":2103,"u":"\/d\/2103\/beef-liver.htm","n":"Beef Liver"},{"id":2104,"u":"\/d\/2104\/aloe-vera.htm","n":"Aloe Vera"},{"id":2105,"u":"\/d\/2105\/dgl.htm","n":"DGL"},{"id":2106,"u":"\/d\/2106\/liver.htm","n":"Liver"},{"id":2107,"u":"\/d\/2107\/pregnenolone.htm","n":"Pregnenolone"},{"id":2108,"u":"\/d\/2108\/shilajit.htm","n":"Shilajit"},{"id":2109,"u":"\/d\/2109\/nmn.htm","n":"NMN"},{"id":2110,"u":"\/d\/2110\/nsf-certified.htm","n":"NSF Certified"},{"id":2111,"u":"\/d\/2111\/peptistrong.htm","n":"PeptiStrong"},{"id":2049,"u":"\/d\/2049\/pets.htm","n":"Pets"},{"id":2050,"u":"\/d\/2050\/protein-drinks.htm","n":"Protein Drinks"},{"id":2052,"u":"\/d\/2052\/turkesterone.htm","n":"Turkesterone"},{"id":2053,"u":"\/d\/2053\/inositol.htm","n":"Inositol"},{"id":2054,"u":"\/d\/2054\/reds.htm","n":"Reds"},{"id":2055,"u":"\/d\/2055\/goji.htm","n":"Goji"},{"id":2056,"u":"\/d\/2056\/pomegranate.htm","n":"Pomegranate"},{"id":2048,"u":"\/d\/2048\/bbq-sauce.htm","n":"BBQ Sauce"},{"id":2057,"u":"\/d\/2057\/pastries.htm","n":"Pastries"},{"id":2058,"u":"\/d\/2058\/free-shipping-brands.htm","n":"FREE shipping Brands"},{"id":2060,"u":"\/d\/2060\/brands-at-25-30-off.htm","n":"Brands at 25-30% OFF"},{"id":2062,"u":"\/d\/2062\/chlorophyll.htm","n":"Chlorophyll"},{"id":2064,"u":"\/d\/2064\/chlorella.htm","n":"Chlorella"},{"id":2065,"u":"\/d\/2065\/new-brands.htm","n":"New Brands"},{"id":2066,"u":"\/d\/2066\/gummies.htm","n":"Gummies"},{"id":2067,"u":"\/d\/2067\/epa.htm","n":"EPA"},{"id":2068,"u":"\/d\/2068\/lions-mane.htm","n":"Lion's Mane"},{"id":2069,"u":"\/d\/2069\/hair-skin-nails.htm","n":"Hair, Skin & Nails"},{"id":2070,"u":"\/d\/2070\/symplocos-racemosa-sr10x.htm","n":"Symplocos Racemosa (SR10X)"},{"id":2071,"u":"\/d\/2071\/cocoabuterol.htm","n":"Cocoabuterol"},{"id":2018,"u":"\/d\/2018\/candy.htm","n":"Candy"},{"id":2019,"u":"\/d\/2019\/pantothenic-acid.htm","n":"Pantothenic Acid"},{"id":2020,"u":"\/d\/2020\/vitamin-b-5.htm","n":"Vitamin B-5"},{"id":2021,"u":"\/d\/2021\/electrolytes.htm","n":"Electrolytes"},{"id":2023,"u":"\/d\/2023\/kanna.htm","n":"Kanna"},{"id":2024,"u":"\/d\/2024\/paradoxine.htm","n":"Paradoxine"},{"id":2026,"u":"\/d\/2026\/pine-pollen.htm","n":"Pine Pollen"},{"id":2027,"u":"\/d\/2027\/pea.htm","n":"PEA"},{"id":2028,"u":"\/d\/2028\/copper.htm","n":"Copper"},{"id":2029,"u":"\/d\/2029\/cats-claw.htm","n":"Cat's Claw"},{"id":2030,"u":"\/d\/2030\/andrographis.htm","n":"Andrographis"},{"id":2031,"u":"\/d\/2031\/female-support.htm","n":"Female support"},{"id":2032,"u":"\/d\/2032\/peak-02.htm","n":"Peak 02"},{"id":2033,"u":"\/d\/2033\/blood-pressure.htm","n":"Blood Pressure"},{"id":2034,"u":"\/d\/2034\/kidney-health.htm","n":"Kidney Health"},{"id":2035,"u":"\/d\/2035\/smilax.htm","n":"Smilax"},{"id":2036,"u":"\/d\/2036\/eucommia-ulmoides.htm","n":"Eucommia ulmoides"},{"id":2037,"u":"\/d\/2037\/womens-formulas.htm","n":"Women's formulas"},{"id":2039,"u":"\/d\/2039\/male-formulas.htm","n":"Male formulas"},{"id":2040,"u":"\/d\/2040\/serrapeptase.htm","n":"Serrapeptase"},{"id":2041,"u":"\/d\/2041\/amentoflavone.htm","n":"Amentoflavone"},{"id":2042,"u":"\/d\/2042\/brownie-bars.htm","n":"Brownie bars"},{"id":2043,"u":"\/d\/2043\/citrus-bergamot.htm","n":"Citrus Bergamot"},{"id":2045,"u":"\/d\/2045\/l-baiba.htm","n":"L-BAIBA"},{"id":2046,"u":"\/d\/2046\/mitoburn.htm","n":"Mitoburn"},{"id":2047,"u":"\/d\/2047\/thyroid-support.htm","n":"Thyroid Support"},{"id":1557,"u":"\/d\/1557\/5-htp.htm","n":"5-HTP"},{"id":1558,"u":"\/d\/1558\/7-keto.htm","n":"7-Keto"},{"id":1795,"u":"\/d\/1795\/akg-alpha-ketoglutarate.htm","n":"AAKG"},{"id":1560,"u":"\/d\/1560\/accessories.htm","n":"Accessories"},{"id":1561,"u":"\/d\/1561\/acetyl-l-carnitine.htm","n":"Acetyl-L-Carnitine"},{"id":1937,"u":"\/d\/1937\/adrenal-care.htm","n":"Adrenal Care"},{"id":1765,"u":"\/d\/1765\/agmatine.htm","n":"Agmatine"},{"id":1830,"u":"\/d\/1830\/almond-butter.htm","n":"Almond Butter"},{"id":1932,"u":"\/d\/1932\/almonds.htm","n":"Almonds"},{"id":1832,"u":"\/d\/1832\/alpha-gpc.htm","n":"Alpha GPC"},{"id":1562,"u":"\/d\/1562\/alpha-lipoic-acid.htm","n":"Alpha-Lipoic Acid"},{"id":1563,"u":"\/d\/1563\/amino-acids.htm","n":"Amino Acids"},{"id":1564,"u":"\/d\/1564\/antioxidants.htm","n":"Antioxidants"},{"id":1962,"u":"\/d\/1962\/anxiety-support.htm","n":"Anxiety Support"},{"id":1951,"u":"\/d\/1951\/appetite-control.htm","n":"Appetite Control"},{"id":1913,"u":"\/d\/1913\/apple-cider-vinegar.htm","n":"Apple Cider Vinegar"},{"id":1800,"u":"\/d\/1800\/arachidonic-acid.htm","n":"Arachidonic Acid"},{"id":1567,"u":"\/d\/1567\/arginine-ethyl-ester.htm","n":"Arginine"},{"id":1868,"u":"\/d\/1868\/ashwagandha.htm","n":"Ashwagandha"},{"id":1568,"u":"\/d\/1568\/astaxanthin.htm","n":"Astaxanthin"},{"id":1970,"u":"\/d\/1970\/astragalus.htm","n":"Astragalus"},{"id":1957,"u":"\/d\/1957\/bacopa-extract.htm","n":"Bacopa Extract"},{"id":1998,"u":"\/d\/1998\/bar-deals.htm","n":"Bar Deals"},{"id":1569,"u":"\/d\/1569\/bars.htm","n":"Bars"},{"id":1570,"u":"\/d\/1570\/bcaa-recovery-aminos-branch-chained-amino-acids.htm","n":"BCAA"},{"id":1825,"u":"\/d\/1825\/bee-pollen.htm","n":"Bee Pollen"},{"id":1851,"u":"\/d\/1851\/beef-protein.htm","n":"Beef Protein"},{"id":1955,"u":"\/d\/1955\/beet-root.htm","n":"Beet Root"},{"id":1952,"u":"\/d\/1952\/berberine.htm","n":"Berberine"},{"id":1999,"u":"\/d\/1999\/bergamot.htm","n":"Bergamot"},{"id":1572,"u":"\/d\/1572\/beta-alanine.htm","n":"Beta-Alanine"},{"id":1995,"u":"\/d\/1995\/beta-sitosterol.htm","n":"Beta-Sitosterol"},{"id":1976,"u":"\/d\/1976\/betaine-hcl.htm","n":"Betaine"},{"id":1912,"u":"\/d\/1912\/biotin.htm","n":"Biotin"},{"id":1760,"u":"\/d\/1760\/blowout-products.htm","n":"Blowouts & Overstocks"},{"id":2008,"u":"\/d\/2008\/bone-broth.htm","n":"Bone Broth"},{"id":2001,"u":"\/d\/2001\/borage-oil.htm","n":"Borage Oil"},{"id":1577,"u":"\/d\/1577\/boron.htm","n":"Boron"},{"id":1808,"u":"\/d\/1808\/bromelain.htm","n":"Bromelain"},{"id":1816,"u":"\/d\/1816\/bulbine-natalensis.htm","n":"Bulbine Natalensis"},{"id":1578,"u":"\/d\/1578\/caffeine-energy-preworkout-stay-alert-capsules.htm","n":"Caffeine"},{"id":1579,"u":"\/d\/1579\/calcium.htm","n":"Calcium"},{"id":1872,"u":"\/d\/1872\/calcium-d-glucarate.htm","n":"Calcium D-Glucarate"},{"id":1580,"u":"\/d\/1580\/carb-products.htm","n":"Carbohydrate Products"},{"id":1581,"u":"\/d\/1581\/casein.htm","n":"Casein Protein"},{"id":1956,"u":"\/d\/1956\/cereal.htm","n":"Cereal"},{"id":1997,"u":"\/d\/1997\/chips.htm","n":"Chips"},{"id":1783,"u":"\/d\/1783\/cholesterol-support.htm","n":"Cholesterol Support"},{"id":1831,"u":"\/d\/1831\/choline.htm","n":"Choline"},{"id":1584,"u":"\/d\/1584\/chondroitin.htm","n":"Chondroitin"},{"id":1585,"u":"\/d\/1585\/chromium.htm","n":"Chromium"},{"id":1772,"u":"\/d\/1772\/cinnamon.htm","n":"Cinnamon"},{"id":1588,"u":"\/d\/1588\/cissus.htm","n":"Cissus"},{"id":1589,"u":"\/d\/1589\/citrulline.htm","n":"Citrulline"},{"id":1590,"u":"\/d\/1590\/cla.htm","n":"CLA"},{"id":1591,"u":"\/d\/1591\/clothing.htm","n":"Clothing"},{"id":1920,"u":"\/d\/1920\/coffee.htm","n":"Coffee"},{"id":1938,"u":"\/d\/1938\/collagen.htm","n":"Collagen"},{"id":1864,"u":"\/d\/1864\/colostrum.htm","n":"Colostrum"},{"id":1846,"u":"\/d\/1846\/cookies.htm","n":"Cookies"},{"id":1593,"u":"\/d\/1593\/coenzyme-q10.htm","n":"CoQ10 Coenzyme Q10"},{"id":1996,"u":"\/d\/1996\/cortisol-support.htm","n":"Cortisol Support"},{"id":1597,"u":"\/d\/1597\/creatine.htm","n":"Creatine"},{"id":1596,"u":"\/d\/1596\/creatine-hcl.htm","n":"Creatine HCl"},{"id":1759,"u":"\/d\/1759\/curcumin.htm","n":"Curcumin"},{"id":1941,"u":"\/d\/1941\/cycle-support.htm","n":"Cycle Support"},{"id":1758,"u":"\/d\/1758\/d-aspartic-acid.htm","n":"DAA - D-Aspartic Acid"},{"id":1885,"u":"\/d\/1885\/dandelion-root.htm","n":"Dandelion Root"},{"id":1983,"u":"\/d\/1983\/deer-antler.htm","n":"Deer Antler"},{"id":1598,"u":"\/d\/1598\/dessicated-liver.htm","n":"Dessicated Liver"},{"id":1972,"u":"\/d\/1972\/dextrose.htm","n":"Dextrose"},{"id":1974,"u":"\/d\/1974\/dha.htm","n":"DHA"},{"id":1599,"u":"\/d\/1599\/dhea.htm","n":"DHEA"},{"id":1775,"u":"\/d\/1775\/digestive-aids.htm","n":"Digestive Aids"},{"id":1821,"u":"\/d\/1821\/dim.htm","n":"DIM"},{"id":1766,"u":"\/d\/1766\/diuretics.htm","n":"Diuretics"},{"id":1601,"u":"\/d\/1601\/dmae.htm","n":"DMAE"},{"id":1945,"u":"\/d\/1945\/e-sports-gaming-supplements.htm","n":"E Sports Gaming Supplements"},{"id":1907,"u":"\/d\/1907\/eaas.htm","n":"EAA's Essential Amino Acids"},{"id":1602,"u":"\/d\/1602\/ecdysterone.htm","n":"Ecdysterone"},{"id":1991,"u":"\/d\/1991\/echinacea.htm","n":"Echinacea"},{"id":1604,"u":"\/d\/1604\/efa.htm","n":"EFA"},{"id":1605,"u":"\/d\/1605\/egg-protein.htm","n":"Egg Protein"},{"id":1988,"u":"\/d\/1988\/elderberry.htm","n":"Elderberry"},{"id":1756,"u":"\/d\/1756\/endurance.htm","n":"Endurance"},{"id":1980,"u":"\/d\/1980\/energy-drinks.htm","n":"Energy Drinks"},{"id":1744,"u":"\/d\/1744\/energy-products.htm","n":"Energy Products"},{"id":1977,"u":"\/d\/1977\/epiandrosterone.htm","n":"Epiandrosterone"},{"id":1981,"u":"\/d\/1981\/epicatechin.htm","n":"Epicatechin"},{"id":1786,"u":"\/d\/1786\/anti-estrogen.htm","n":"Estrogen Control"},{"id":1753,"u":"\/d\/1753\/fat-loss-products.htm","n":"Fat Loss Products"},{"id":1611,"u":"\/d\/1611\/fenugreek.htm","n":"Fenugreek"},{"id":1612,"u":"\/d\/1612\/fiber.htm","n":"Fiber"},{"id":1614,"u":"\/d\/1614\/fish-oil.htm","n":"Fish Oil"},{"id":1615,"u":"\/d\/1615\/flax-seed.htm","n":"Flax Seed"},{"id":1856,"u":"\/d\/1856\/focus.htm","n":"Focus"},{"id":1616,"u":"\/d\/1616\/folic-acid.htm","n":"Folic Acid"},{"id":1617,"u":"\/d\/1617\/forskolin.htm","n":"Forskolin"},{"id":1993,"u":"\/d\/1993\/fruits.htm","n":"Fruits"},{"id":1619,"u":"\/d\/1619\/gaba.htm","n":"GABA"},{"id":1948,"u":"\/d\/1948\/gaming.htm","n":"Gaming"},{"id":1620,"u":"\/d\/1620\/gift-certificates.htm","n":"Gift Certificates"},{"id":1621,"u":"\/d\/1621\/ginkgo-biloba.htm","n":"Ginkgo Biloba"},{"id":2011,"u":"\/d\/2011\/glucomannan.htm","n":"Glucomannan"},{"id":1625,"u":"\/d\/1625\/glucosamine-sulfate.htm","n":"Glucosamine"},{"id":1915,"u":"\/d\/1915\/glucose-disposal.htm","n":"Glucose Support"},{"id":1626,"u":"\/d\/1626\/glutamine.htm","n":"Glutamine"},{"id":1883,"u":"\/d\/1883\/gotu-kola.htm","n":"Gotu Kola"},{"id":1802,"u":"\/d\/1802\/grape-seed-extract.htm","n":"Grape Seed Extract"},{"id":1781,"u":"\/d\/1781\/green-coffee-bean-extract.htm","n":"Green Coffee Bean Extract"},{"id":1631,"u":"\/d\/1631\/green-tea.htm","n":"Green Tea"},{"id":1632,"u":"\/d\/1632\/greens-food.htm","n":"Greens"},{"id":2009,"u":"\/d\/2009\/gut-health.htm","n":"Gut Health"},{"id":1986,"u":"\/d\/1986\/heart-health.htm","n":"Heart Health"},{"id":1939,"u":"\/d\/1939\/higenamine.htm","n":"Higenamine"},{"id":1640,"u":"\/d\/1640\/hmb.htm","n":"HMB"},{"id":1643,"u":"\/d\/1643\/horny-goat-weed.htm","n":"Horny Goat Weed"},{"id":1774,"u":"\/d\/1774\/humanofort.htm","n":"Humanofort"},{"id":1879,"u":"\/d\/1879\/hyaluronic-acid.htm","n":"Hyaluronic Acid"},{"id":1882,"u":"\/d\/1882\/hydration.htm","n":"Hydration"},{"id":1975,"u":"\/d\/1975\/immune-support.htm","n":"Immune Support"},{"id":1969,"u":"\/d\/1969\/indole-3-carbinol-i3c.htm","n":"Indole-3-Carbinol I3C"},{"id":1909,"u":"\/d\/1909\/intra-workout.htm","n":"Intra Workout"},{"id":1648,"u":"\/d\/1648\/iron.htm","n":"Iron"},{"id":1649,"u":"\/d\/1649\/isolate-whey-protein.htm","n":"Isolate Protein"},{"id":1933,"u":"\/d\/1933\/jerky.htm","n":"Jerky"},{"id":1789,"u":"\/d\/1789\/joint-formulas.htm","n":"Joint Formulas"},{"id":1918,"u":"\/d\/1918\/keto-products.htm","n":"Keto Products"},{"id":1652,"u":"\/d\/1652\/kre-alkalyn.htm","n":"Kre-Alkalyn"},{"id":1828,"u":"\/d\/1828\/krill-oil.htm","n":"Krill Oil"},{"id":1961,"u":"\/d\/1961\/ksm-66.htm","n":"KSM-66","i":"dept\/logo-img-4x_1595877971-0.jpg"},{"id":1653,"u":"\/d\/1653\/l-arginine.htm","n":"L-Arginine"},{"id":1654,"u":"\/d\/1654\/l-carnitine.htm","n":"L-Carnitine"},{"id":1655,"u":"\/d\/1655\/l-dopa.htm","n":"L-Dopa"},{"id":2016,"u":"\/d\/2016\/l-glycine.htm","n":"L-Glycine"},{"id":1656,"u":"\/d\/1656\/l-leucine.htm","n":"L-Leucine"},{"id":1657,"u":"\/d\/1657\/l-lysine.htm","n":"L-Lysine"},{"id":1835,"u":"\/d\/1835\/l-ornithine.htm","n":"L-Ornithine"},{"id":1921,"u":"\/d\/1921\/l-phenylalanine.htm","n":"L-Phenylalanine"},{"id":2010,"u":"\/d\/2010\/l-theanine.htm","n":"L-Theanine"},{"id":1923,"u":"\/d\/1923\/l-tryptophan.htm","n":"L-Tryptophan"},{"id":1659,"u":"\/d\/1659\/l-tyrosine.htm","n":"L-Tyrosine"},{"id":2005,"u":"\/d\/2005\/lecithin.htm","n":"Lecithin"},{"id":1768,"u":"\/d\/1768\/libido.htm","n":"Libido"},{"id":1761,"u":"\/d\/1761\/liver-detox.htm","n":"Liver Protection"},{"id":1662,"u":"\/d\/1662\/longjack.htm","n":"Longjack"},{"id":1922,"u":"\/d\/1922\/lutein.htm","n":"Lutein"},{"id":1663,"u":"\/d\/1663\/lycopene.htm","n":"Lycopene"},{"id":1664,"u":"\/d\/1664\/maca.htm","n":"Maca"},{"id":1954,"u":"\/d\/1954\/macadamia-nut-oil.htm","n":"Macadamia Nut Oil"},{"id":1854,"u":"\/d\/1854\/magnesium.htm","n":"Magnesium"},{"id":1973,"u":"\/d\/1973\/maltodextrin.htm","n":"Maltodextrin"},{"id":1897,"u":"\/d\/1897\/mct-oil.htm","n":"MCT"},{"id":1764,"u":"\/d\/1764\/meal-replacement-mrps.htm","n":"Meal Replacement MRP's"},{"id":1668,"u":"\/d\/1668\/melatonin.htm","n":"Melatonin"},{"id":1672,"u":"\/d\/1672\/milk-thistle.htm","n":"Milk Thistle"},{"id":1989,"u":"\/d\/1989\/mk-7-vitamin-k.htm","n":"MK-7 Vitamin K"},{"id":1675,"u":"\/d\/1675\/msm.htm","n":"MSM"},{"id":1673,"u":"\/d\/1673\/mucuna.htm","n":"Mucuna"},{"id":1674,"u":"\/d\/1674\/multivitamins.htm","n":"Multi Vitamins"},{"id":1827,"u":"\/d\/1827\/n-acetyl-cysteine-nac.htm","n":"NAC N-Acetyl Cysteine"},{"id":1896,"u":"\/d\/1896\/nadh.htm","n":"NADH"},{"id":1979,"u":"\/d\/1979\/nattokinase.htm","n":"Nattokinase"},{"id":1898,"u":"\/d\/1898\/natural-protein.htm","n":"Natural Protein"},{"id":1806,"u":"\/d\/1806\/new-products.htm","n":"New & Coming Soon"},{"id":1874,"u":"\/d\/1874\/niacin.htm","n":"Niacin"},{"id":1676,"u":"\/d\/1676\/no2-nitric-oxide.htm","n":"NO2 Nitric Oxide Boosters"},{"id":1966,"u":"\/d\/1966\/nootropics.htm","n":"Nootropics"},{"id":1833,"u":"\/d\/1833\/oatmeal.htm","n":"Oatmeal"},{"id":1678,"u":"\/d\/1678\/omega-3.htm","n":"Omega-3 Fish Oil"},{"id":1860,"u":"\/d\/1860\/optimum-nutrition-specials.htm","n":"Optimum Nutrition - Specials"},{"id":1894,"u":"\/d\/1894\/paba.htm","n":"PABA"},{"id":1992,"u":"\/d\/1992\/paleo.htm","n":"Paleo"},{"id":1788,"u":"\/d\/1788\/pancake-mix.htm","n":"Pancake Mix"},{"id":1787,"u":"\/d\/1787\/post-cycle-support.htm","n":"PCT Post Cycle Support"},{"id":1826,"u":"\/d\/1826\/pea-protein.htm","n":"Pea Protein"},{"id":1763,"u":"\/d\/1763\/peanut-butter-products.htm","n":"Peanut Butter Products"},{"id":1968,"u":"\/d\/1968\/phosphatidic-acid-pa.htm","n":"Phosphatidic acid (PA)"},{"id":1684,"u":"\/d\/1684\/phosphatidyl-serine.htm","n":"Phosphatidylserine"},{"id":1861,"u":"\/d\/1861\/plant-protein.htm","n":"Plant Based Protein"},{"id":1743,"u":"\/d\/1743\/recovery.htm","n":"Post Workout - Recovery"},{"id":1687,"u":"\/d\/1687\/potassium.htm","n":"Potassium"},{"id":1754,"u":"\/d\/1754\/preworkout-formulas.htm","n":"Pre Workout"},{"id":1971,"u":"\/d\/1971\/pre-workout-stimulant-free.htm","n":"Pre Workout - Stimulant Free"},{"id":1940,"u":"\/d\/1940\/prebiotic.htm","n":"Prebiotic"},{"id":2006,"u":"\/d\/2006\/primrose-oil.htm","n":"Primrose Oil"},{"id":1814,"u":"\/d\/1814\/probiotic.htm","n":"Probiotic"},{"id":1942,"u":"\/d\/1942\/prolactin-control.htm","n":"Prolactin control"},{"id":1750,"u":"\/d\/1750\/prostate-formulas.htm","n":"Prostate Formulas"},{"id":1959,"u":"\/d\/1959\/protein-blends.htm","n":"Protein Blends"},{"id":1880,"u":"\/d\/1880\/protein-deals.htm","n":"Protein Special Offers"},{"id":1689,"u":"\/d\/1689\/protein-powders.htm","n":"Protein Powders"},{"id":1762,"u":"\/d\/1762\/pudding.htm","n":"Pudding"},{"id":1960,"u":"\/d\/1960\/pump-products.htm","n":"Pump products"},{"id":1904,"u":"\/d\/1904\/pycnogenol.htm","n":"Pycnogenol"},{"id":1934,"u":"\/d\/1934\/quercetin.htm","n":"Quercetin"},{"id":1691,"u":"\/d\/1691\/raspberry-ketone.htm","n":"Raspberry Ketones"},{"id":1692,"u":"\/d\/1692\/ready-to-drink-rtd.htm","n":"Ready To Drink RTD's"},{"id":1935,"u":"\/d\/1935\/recovery.htm","n":"Recovery"},{"id":1863,"u":"\/d\/1863\/red-yeast-rice.htm","n":"Red Yeast Rice"},{"id":1771,"u":"\/d\/1771\/relora.htm","n":"Relora"},{"id":1693,"u":"\/d\/1693\/resveratrol.htm","n":"Resveratrol"},{"id":1839,"u":"\/d\/1839\/rhodiola.htm","n":"Rhodiola"},{"id":2002,"u":"\/d\/2002\/ribose.htm","n":"Ribose"},{"id":1695,"u":"\/d\/1695\/same.htm","n":"SAMe"},{"id":1696,"u":"\/d\/1696\/saw-palmetto.htm","n":"Saw Palmetto"},{"id":1785,"u":"\/d\/1785\/sexual-health.htm","n":"Sexual Health"},{"id":1699,"u":"\/d\/1699\/shaker-bottles.htm","n":"Shaker Bottles"},{"id":1701,"u":"\/d\/1701\/silymarin.htm","n":"Silymarin"},{"id":1752,"u":"\/d\/1752\/sleep-products.htm","n":"Sleep Products"},{"id":1927,"u":"\/d\/1927\/snacks.htm","n":"Snacks"},{"id":1994,"u":"\/d\/1994\/spirulina.htm","n":"Spirulina"},{"id":1705,"u":"\/d\/1705\/stevia.htm","n":"Stevia"},{"id":1982,"u":"\/d\/1982\/stinging-nettle.htm","n":"Stinging Nettle"},{"id":1706,"u":"\/d\/1706\/straps.htm","n":"Straps"},{"id":1963,"u":"\/d\/1963\/stress-support.htm","n":"Stress Support"},{"id":1914,"u":"\/d\/1914\/super-food.htm","n":"Superfoods"},{"id":1658,"u":"\/d\/1658\/l-taurine.htm","n":"Taurine"},{"id":1784,"u":"\/d\/1784\/testosterone-boosters.htm","n":"Testosterone Support"},{"id":1889,"u":"\/d\/1889\/teacrine.htm","n":"Theacrine"},{"id":1845,"u":"\/d\/1845\/tonalin.htm","n":"Tonalin"},{"id":1844,"u":"\/d\/1844\/tongkat-ali.htm","n":"Tongkat Ali"},{"id":1984,"u":"\/d\/1984\/topicals.htm","n":"Topicals"},{"id":1713,"u":"\/d\/1713\/tribulus.htm","n":"Tribulus"},{"id":1848,"u":"\/d\/1848\/tudca.htm","n":"TUDCA"},{"id":1811,"u":"\/d\/1811\/turmeric.htm","n":"Turmeric"},{"id":1876,"u":"\/d\/1876\/twinpack-specials.htm","n":"TWINPACK Specials"},{"id":1936,"u":"\/d\/1936\/ubiquinol.htm","n":"Ubiquinol"},{"id":1870,"u":"\/d\/1870\/uc-ii.htm","n":"UC II"},{"id":1717,"u":"\/d\/1717\/vanadyl-sulfate.htm","n":"Vanadyl Sulfate"},{"id":1946,"u":"\/d\/1946\/vaso-6.htm","n":"VASO6"},{"id":1873,"u":"\/d\/1873\/vegan-protein.htm","n":"Vegan"},{"id":1721,"u":"\/d\/1721\/vitamin-b.htm","n":"Vitamin B"},{"id":2000,"u":"\/d\/2000\/vitamin-b-1.htm","n":"Vitamin B-1"},{"id":1809,"u":"\/d\/1809\/vitamin-b-12.htm","n":"Vitamin B-12"},{"id":1794,"u":"\/d\/1794\/vitamin-b-6.htm","n":"Vitamin B-6"},{"id":1722,"u":"\/d\/1722\/vitamin-c.htm","n":"Vitamin C"},{"id":1723,"u":"\/d\/1723\/vitamin-d.htm","n":"Vitamin D"},{"id":1724,"u":"\/d\/1724\/vitamin-e.htm","n":"Vitamin E"},{"id":1926,"u":"\/d\/1926\/vitamin-k.htm","n":"Vitamin K"},{"id":1725,"u":"\/d\/1725\/waxy-maize.htm","n":"Waxy Maize"},{"id":1757,"u":"\/d\/1757\/weight-gainers.htm","n":"Weight Gainers"},{"id":1726,"u":"\/d\/1726\/whey-protein.htm","n":"Whey Protein"},{"id":1727,"u":"\/d\/1727\/whey-protein-isolate.htm","n":"Whey Protein Isolate"},{"id":1731,"u":"\/d\/1731\/wraps.htm","n":"Wraps & Straps"},{"id":1847,"u":"\/d\/1847\/zinc.htm","n":"Zinc"},{"id":1735,"u":"\/d\/1735\/zma.htm","n":"ZMA"}]]