Primeval Labs VasoGorge - 125 Cap
Item #: PL309
UPC: 850023652492
30% Off Special Offer
Out of Stock
What is VasoGorge?
VasoGorge is a stimulant-free, pump pre workout utilizing a multi-pathway approach for greater vasodilation, blood flow, and muscle pumps.*
VasoGorge can be used standalone or stacked with your favorite pre workout supplement to enhance nutrient delivery, nitric oxide production, performance, and stamina.*
VasoGorge At-a-Glance
Stimulant-free

Stackable

1500mg Nitrosigine® for improved blood flow, energy, & focus*

250mg pine bark extract for polyphenols and nitric oxide support*

Pink Himalayan salt for hydration and muscle contractility*
VasoGorge Up-Close
Nitrosigine®
Nitrosigine is a patented complex of arginine and silicon that supports greater nitric oxide (NO) levels. This, in turn, promotes greater blood flow, nutrient delivery, and vasodilation in working muscles.*

Additionally, silicon is known to help strengthen and improve the flexibility of arterial walls. Complexed together, offer superior results compared to either ingredient taken alone.*
Nitrosigine is backed by 30 research studies, and has been found to increase blood levels of arginine for up to six hours and elevates blood levels of silicon with a single dose.*
Altogether, this makes Nitrosigine an exceptional pump and performance ingredient!
Pine Bark Extract
Pine bark extract is a rich source of polyphenols (including procyanidins, phenolic acids, and bioflavonoids) that have been found to stimulate various enzymes in the body, such as superoxide dismutase (SOD) and endothelial nitric oxide synthase (eNOS).*
This provides a separate and complementary mechanism to that of Nitrosigine. Combining the two supports greater nitric oxide (NO) production which leads to an increase in blood flow and oxygen supply to muscles.*
Pink Himalayan Salt
Himalayan pink salt is a type of rock salt harvested from an area near the foothills of the Himalayas that offers a premium source of sodium as well as several key trace minerals, including potassium, magnesium, and calcium.*
These minerals support hydration, cell volumization and muscle function*
FAQ
Can I Stack VasoGorge with Other Supplements?
VasoGorge contains no stimulants. It can be used as a standalone pre workout or stacked with your favorite stimulant-based pre workout, such as Primeval Labs Ape Sh*t or Ape Sh*t Cutz, for added pumps, performance, and cardiovascular support.*
When Should I Take VasoGorge?
As a dietary supplement, take one full serving (5 capsules) 20-30 minutes before training with 12-16 ounces of water. Never exceed one serving per day.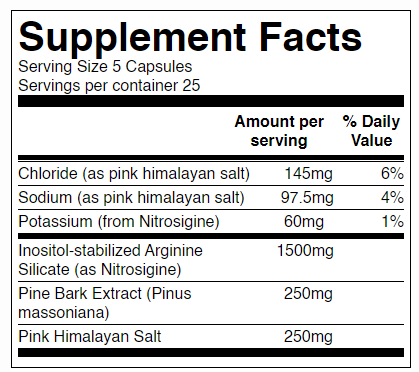 Other Ingredients:
Gelatin (capsule), Rice Powder, L-Leucine, Calcium Silicate, Magnesium Stearate, Silicon Dioxide
*Percent Daily Values are based on a 2,000 calorie diet. ** Daily Value not established.
Suggested Use:
As a dietary supplement take one full serving (5 capsules) 20-30 minutes before workout with 12-16 fluid ounces of water. Never exceed 1 serving per day.
Warnings:
Read entire label and obtain clearance from a licensed healthcare practitioner before use. This product is to be used by health adults only. Do not use if you have or could develop any medical condition or are taking any prescription drugs. Do not use if you are pregnant, nursing or may become pregnant. Do not use more than the recommended dosage. Discontinue use and consult a physician if any adverse reactions occur. Keep lid tightly closed and in a cool, dry place. As with all supplements, KEEP OUT OF THE REACH OF CHILDREN AND ANIMALS.
Disclaimer:
*These statements have not been evaluated by the Food and Drug Administration. This product is not intended to diagnose, treat, cure, or prevent any disease.