Kaged Muscle In-Kaged Blue Raspberry - 20 Servings
Item #: KM074
UPC: 850006414963
AFTER YEARS OF RESEARCH AND DEVELOPMENT, I AM PROUD TO SHARE WITH YOU A "PARADIGM SHIFT" IN INTRA WORKOUT SCIENCE.
IT'S TIME FOR SOMETHING DIFFERENT

There was one GOAL that the Kaged Muscle R&D Team had when formulating IN-KAGED: To have the ULTIMATE Hydration and Endurance sports drink on the market.
INTRA Workout is one of the most critical, yet overlooked windows of opportunity to reload your anabolic fuel tank.
As you lift weights, the amount of amino acids metabolized increases to meet energy needs.
The harder you lift, the more you sweat out electrolytes and minerals that your body needs for muscular contraction and muscular growth. When magnesium levels are low during exercise, research has shown fatigue increases.*
As you train, your muscles build up waste products that can cause fatigue.*
During an intense workout or race you need to give it 100% in order to finish strong.
IN-KAGED was formulated to supply electrolytes and fight fatigue while enhancing mental clarity during training.
Think of your INTRA-Workout drink like a pit stop for a Formula 1® race car. Without stopping to refuel and add new tires the car would not finish the race.
The preparation, during and post-workout process is very similar to a Formula 1® race team preparing for a race.
Before the race starts the car is tuned/fueled and prepared for the track (similar to taking a PRE-Workout).
During the race the driver must stop for new tires and to refuel (INTRA- Workout FUEL).
After the race the car is rebuilt for the next race (POST-Workout FUEL).
If you want to GAIN THE COMPETITIVE ADVANTAGE, you need to prepare for your workouts like Kris Gethin and world class Formula 1® Teams.
WHY KAGED MUSCLE
IN-KAGED?
Each serving contains over 14 g of premium ingredients that you will feel from the first dose!
5 g of BCAA (MICROPURE, FERMENTED, Proven 2:1:1 Ratio), 3 g of PURE L-Citrulline (Fermented, Made in the USA), 1.6 g of Patented Carnosyn® - beta-alanine, 500 mg of Tender Coconut Water powder, 1 g of Taurine, 500 mg of L-Tyrosine, and 124 mg of PurCaf™ – organic caffeine.
MORE CITRULLINE (THAN LEADING COMPETITOR)
PATENTED CARNOSYN (BETA-ALANINE)
FERMENTED BCAAs
NEURO SUPPORT
NATURAL FLAVORS
ORGANIC CAFFEINE
NO ARTIFICIAL COLORS
TASTES AMAZING

3 PROBLEMS WITH MOST
INTRA-WORKOUT PRODUCTS ON THE MARKET
They don't include an efficacious dosage of PURE L-Citrulline for Nitric Oxide Support*
They don't include beta-alanine
They don't offer neuro support, to keep you stay focused and in the zone*
Plus they are loaded with artificial flavors, colors, and low-quality GMO ingredients that I WILL NOT put in my body any longer!
LET'S TALK LOGIC FOR A SECOND
You train to failure and eat clean all day – why then drink a "health drink" loaded with:
ARTIFICIAL FLAVORS
SOY LECITHIN
PROPRIETARY "SECRET SAUCE"
ARTIFICIAL COLORS (Red 40, Yellow 6)
ACESULFAME POTASSIUM
UNPROVEN GENERIC INGREDIENTS?
You WOULDN'T add any of these ingredients to your chicken, broccoli, and rice to make it taste good…so why drink this crap as INTRA-Workout FUEL?
WHY IN-KAGED VS.
OTHER INTRA-WORKOUT PRODUCTS?
The answer is simple – all our ingredients meet Micropure™ standards which means they are 3rd party tested for purity and potency! In return for a premium price, KAGED MUSCLE's manufacturers commit to strict ethical and environmental standards, ensuring our ingredients are manufactured with care.
KEY INGREDIENTS IN IN-KAGED
Premium, MICROPURE BCAAs in the proven 2:1:1 ratio to help fuel skeletal muscles
MICROPURE BCAAs are Non-GMO, manufactured by vegetable fermentation and are microencapsulated by a patented technology that maximizes absorption and solubility.
L-Citrulline delivers natural nitric oxide support. This ingredient works from the very first dose! MICROPURE Citrulline is manufactured in the United States by a patented vegetable fermentation process.
Once you train with Citrulline, you will never train without it!
Carnosyn® beta-alanine delivers a bio-friendly form of beta-alanine, a naturally occurring beta amino acid essential for the synthesis of muscle carnosine.*
Tender Coconut Water Powder
It is one of nature's superfoods that has electrolytes and minerals that help to rehydrate the body.* Our coconut water is carefully manufactured and freeze dried in the beautiful country of Bali exclusively for Kaged Muscle.
Taurine
Taurine is an amino acid that supports neurological development and helps regulate the level of water and mineral salts in the blood. Scientists have discovered that taurine levels in muscle cells are critical for muscle force and strength. That means keeping muscular taurine levels high during workouts is essential for maintaining strength. Taurine's positive effects on fatigue may be due to its antioxidant properties. In addition, taurine can aid muscle size by drawing more fluid into muscle cells.
L-Tyrosine
L-Tyrosine is an amino acid and a precursor of catecholamine neurotrans-mitters, including L-dopa, dopamine, epinephrine, and norepinephrine. These neurotransmitters are responsible for supporting emotional well-being and mental function. L-Tyrosine plays a role in promoting healthy neurotrans-mitter function in response to environmental and emotional stress.
PURCAF
PURCAF™ is a premium, organic certified, 90% pure caffeine extract derived from water extracted green coffee beans for unpolluted plant-based energy. Time to kick synthetic caffeine to the curb and make the switch to green energy. PurCaf™ is manufactured by a solvent free process and is exclusive to Kaged Muscle.
* These statements have not been evaluated by the Food and Drug Administration. This product is not intended to diagnose, treat, cure, or prevent any disease.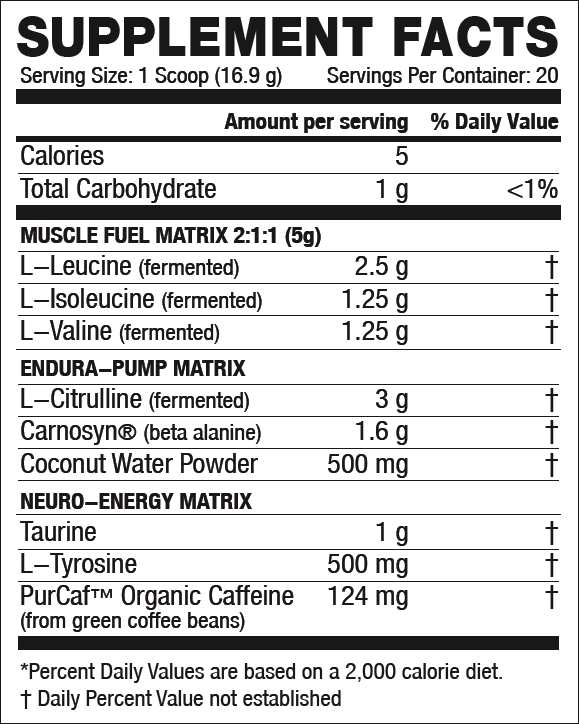 More items you might like
Loading...