Met-Rx Protein Plus Powder Chocolate - 2 Lb
Item #: ME138
UPC: 786560009591
20% Off w/code DPS10
Out of Stock
Packed with protein and milk chocolate flavor, MET-Rx Protein Plus milk chocolate protein powder gives you the competitive advantage when it comes to quality protein supplements. MET-Rx's Protein Plus protein powder supplements contain 43g per serving of protein featuring the exclusive METAMYOSYN protein blend. Combining premium whey protein isolates and casein proteins, plus L-Glutamine. The protein sources within this blend supply naturally occurring Branched Chain Amino Acids - Isoleucine, Leucine and Valine. Combining fast-acting whey protein with the slow-acting casein results in a prolonged absorption rate to extend the delivery of amino acids to muscles*. Milk protein is a natural source of both whey and casein. And with 0g of trans fats and great milk chocolate taste, Protein Plus protein powder has everything you need.
Greater than 5:1 Protein to Carbs ratio

Over 4g BCAAs from protein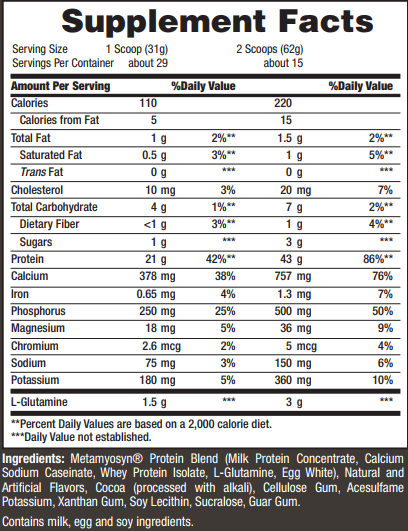 More items you might like
Loading...