Metabolic Nutrition Myogrow - 60 Cap
Item #: MB123
UPC: 764779301019
-20% Off Special w/code DPS10
MyoGrow® is the natural answer for unlocking your true anabolic potential. Formulated using the most powerful muscle building ingredients that nature has to offer, MyoGrow assists in increasing protein synthesis, regulating cortisol, reducing inflammation and reducing myostatin to create the ideal environment for increases in muscle and strength. Natural and non-toxic, MyoGrow is ideal for both men and women who are looking to boost strength and amplify muscle growth.*
FORMULATED USING ONLY SCIENTIFICALLY RESEARCHED AND PROVEN INGREDIENTS, MYOGROW IS DESIGNED TO:
100% Natural and Non-Toxic Anabolic Formula*
Amplify Protein Synthesis for Increased Muscle Growth and Strength*
Aid in Regulating Cortisol Levels for Fat-Loss and Muscle Preservation*
Reduce Inflammation and Recovery Time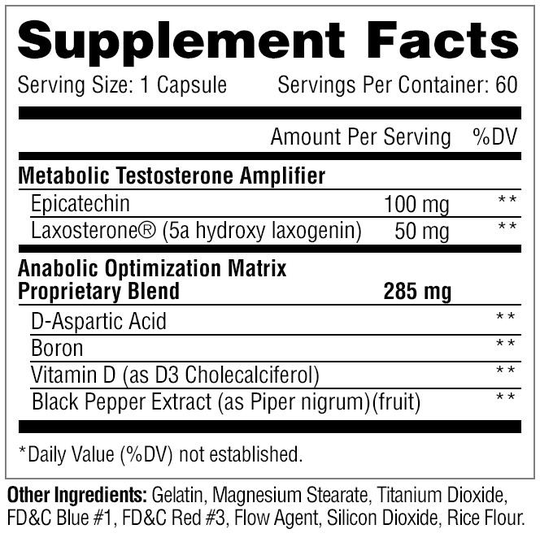 WARNING
THIS PRODUCT IS ONLY INTENDED TO BE CONSUMED BY HEALTHY, ADULT MEN, 18 YEARS OF AGE OR OLDER. Do not use if you are pregnant or nursing. Consult a medical doctor if you have a medical condition or if you are taking medications. Discontinue use and call a physician or licensed qualified health care professional immediately if you experience any negative side effects, severe headache, or other unusual symptoms. Do not exceed recommended serving. Discontinue use two weeks prior to surgery. The consumer assumes total liability of this product if used in a manner inconsistent with label guidelines. Store product at room temperature. Do not expose to excessive heat and moisture. KEEP OUT OF REACH OF CHILDREN.
Copyright 2019 - 2023 DPS Nutrition
[{"u":"\/b\/486002\/3d-energy-drink.htm","n":"3D Energy Drink"},{"u":"\/b\/486038\/5-hour-energy.htm","n":"5 Hour Energy"},{"u":"\/b\/466\/5-nutrition.htm","n":"5% Nutrition"},{"u":"\/b\/486028\/ab-fx.htm","n":"AB Fx"},{"u":"\/b\/5\/american-bodybuilding.htm","n":"ABB American Bodybuilding"},{"u":"\/b\/486041\/abl-pharma.htm","n":"ABL Pharma"},{"u":"\/b\/486018\/alani-nu-energy-drink.htm","n":"Alani Nu Energy Drink"},{"u":"\/b\/411\/allmax-nutrition.htm","n":"AllMax Nutrition"},{"u":"\/b\/446\/alpha-gainz.htm","n":"Alpha Gainz"},{"u":"\/b\/486023\/alpha-lion.htm","n":"Alpha Lion"},{"u":"\/b\/4\/alri.htm","n":"ALRI"},{"u":"\/b\/486053\/anabar.htm","n":"Anabar"},{"u":"\/b\/188\/animal-products.htm","n":"Animal"},{"u":"\/b\/9\/ansi.htm","n":"ANSI Nutrition"},{"u":"\/b\/486027\/ap-sports-regimen.htm","n":"AP Prime Bites"},{"u":"\/b\/461\/apollon-nutrition.htm","n":"Apollon Nutrition"},{"u":"\/b\/204\/aps-nutrition.htm","n":"APS Nutrition"},{"u":"\/b\/486049\/arms-race-nutrition.htm","n":"Arms Race Nutrition"},{"u":"\/b\/486007\/axe-sledge.htm","n":"Axe and Sledge"},{"u":"\/b\/486037\/axis-labs.htm","n":"Axis Labs"},{"u":"\/b\/486060\/bang-energy.htm","n":"Bang Energy"},{"u":"\/b\/486031\/barebells-protein-bars.htm","n":"Barebells Protein Bars"},{"u":"\/b\/197\/betancourt-nutrition.htm","n":"Betancourt Nutrition"},{"u":"\/b\/15\/beverly-international.htm","n":"Beverly International"},{"u":"\/b\/486026\/biosteel-sports-nutrition.htm","n":"BioSteel Sports Nutrition"},{"u":"\/b\/449\/black-magic-supply-co..htm","n":"Black Magic Supply Co."},{"u":"\/b\/471\/black-market-labs.htm","n":"BlackMarket Labs"},{"u":"\/b\/391\/blackstone-labs.htm","n":"Blackstone Labs"},{"u":"\/b\/1\/ab-fx-cream.htm","n":"Body FX Ab-Fx"},{"u":"\/b\/486039\/bpi-sports.htm","n":"BPI Sports"},{"u":"\/b\/17\/bsn.htm","n":"BSN"},{"u":"\/b\/470\/bucked-up.htm","n":"Bucked Up"},{"u":"\/b\/474\/built-bar.htm","n":"Built Bars"},{"u":"\/b\/486047\/cbum.htm","n":"CBum"},{"u":"\/b\/296\/cellucor.htm","n":"Cellucor"},{"u":"\/b\/486017\/celsius-rtd.htm","n":"Celsius RTD"},{"u":"\/b\/457\/chemix.htm","n":"Chemix"},{"u":"\/b\/486019\/chike-nutrition.htm","n":"Chike Nutrition"},{"u":"\/b\/155\/competitive-edge-labs.htm","n":"Competitive Edge Labs CEL"},{"u":"\/b\/214\/con-cret.htm","n":"Con-Cret ProMera Sports"},{"u":"\/b\/486064\/condemned-labz.htm","n":"Condemned"},{"u":"\/b\/21\/controlled-labs.htm","n":"Controlled Labs"},{"u":"\/b\/312\/convenient-nutrition.htm","n":"Convenient Nutrition"},{"u":"\/b\/142\/core-nutritionals.htm","n":"Core Nutritionals"},{"u":"\/b\/23\/cytosport.htm","n":"Cytosport"},{"u":"\/b\/486046\/darkside-supps.htm","n":"Darkside Supps"},{"u":"\/b\/355\/deluxe-whey.htm","n":"Deluxe Whey Protein"},{"u":"\/b\/27\/diesel-nutrition.htm","n":"Diesel Nutrition"},{"u":"\/b\/30\/dps-nutrition.htm","n":"Dps Nutrition"},{"u":"\/b\/32\/dymatize.htm","n":"Dymatize"},{"u":"\/b\/33\/eas.htm","n":"EAS"},{"u":"\/b\/484\/eat-me-guilt-free.htm","n":"Eat Me Guilt Free"},{"u":"\/b\/34\/eclipse.htm","n":"Eclipse Sports Supplements"},{"u":"\/b\/194\/efx-sports.htm","n":"EFX Sports"},{"u":"\/b\/408\/epg.htm","n":"EPG"},{"u":"\/b\/322\/evomuse.htm","n":"EvoMuse"},{"u":"\/b\/486032\/exphy-energy-protein-bites.htm","n":"Exphy Energy Protein Bites"},{"u":"\/b\/315\/finaflex.htm","n":"Finaflex"},{"u":"\/b\/486048\/fit-butters.htm","n":"Fit Butters"},{"u":"\/b\/412\/fit-crunch.htm","n":"Fit Crunch Bars"},{"u":"\/b\/41\/gaspari-nutrition.htm","n":"Gaspari Nutrition"},{"u":"\/b\/43\/gat.htm","n":"GAT Sport"},{"u":"\/b\/464\/g-code-nutrition.htm","n":"GCode Nutrition"},{"u":"\/b\/486010\/ghost-energy-drink.htm","n":"Ghost Drinks"},{"u":"\/b\/44\/gift-certificates.htm","n":"Gift Certificates"},{"u":"\/b\/482\/glaxon.htm","n":"Glaxon"},{"u":"\/b\/486058\/gorilla-wear.htm","n":"Gorilla Wear"},{"u":"\/b\/486059\/grizzly-fitness.htm","n":"Grizzly Fitness"},{"u":"\/b\/485\/hanks-protein-plus.htm","n":"Hank's Protein Plus"},{"u":"\/b\/343\/hardrock-supplements.htm","n":"HardRock Supplements"},{"u":"\/b\/46\/hi-tech-pharmaceuticals.htm","n":"Hi Tech Pharmaceuticals"},{"u":"\/b\/126\/liv-52.htm","n":"Himalaya Liver Care"},{"u":"\/b\/486062\/hypd-supps.htm","n":"Hypd Supps"},{"u":"\/b\/434\/dermacrine-topical.htm","n":"Iconic Formulations"},{"u":"\/b\/146\/i-force-nutrition.htm","n":"iForce Nutrition"},{"u":"\/b\/472\/innovapharm.htm","n":"InnovaPharm"},{"u":"\/b\/486040\/innovative-labs.htm","n":"Innovative Labs"},{"u":"\/b\/486005\/insane-labz.htm","n":"Insane Labz"},{"u":"\/b\/447\/iron-legion.htm","n":"Iron Legion"},{"u":"\/b\/415\/isopure.htm","n":"Isopure"},{"u":"\/b\/486045\/jnx-sports.htm","n":"JNX Sports"},{"u":"\/b\/486056\/jym-supplement-science.htm","n":"JYM Supplement Science"},{"u":"\/b\/407\/kaged-muscle.htm","n":"Kaged Muscle"},{"u":"\/b\/486051\/klout.htm","n":"Klout"},{"u":"\/b\/56\/labrada.htm","n":"Labrada Nutrition"},{"u":"\/b\/483\/legendary-foods.htm","n":"Legendary Foods"},{"u":"\/b\/379\/lenny-larrys-cookies.htm","n":"Lenny & Larry's Cookies"},{"u":"\/b\/486057\/liquid-grip.htm","n":"Liquid Grip"},{"u":"\/b\/486044\/liquid-i.v..htm","n":"Liquid I.V."},{"u":"\/b\/486043\/lmnt-elemental-labs.htm","n":"LMNT Elemental Labs"},{"u":"\/b\/486024\/macro-life-naturals.htm","n":"Macro Life Naturals"},{"u":"\/b\/58\/man-sports.htm","n":"Man Sports"},{"u":"\/b\/427\/merica-labz.htm","n":"Merica Labz"},{"u":"\/b\/59\/met-rx.htm","n":"Met-Rx"},{"u":"\/b\/286\/metabolic-nutrition.htm","n":"Metabolic Nutrition"},{"u":"\/b\/60\/mhp.htm","n":"MHP"},{"u":"\/b\/486025\/modern-hardcore-nutrition.htm","n":"Modern Hardcore Nutrition"},{"u":"\/b\/61\/molecular-nutrition.htm","n":"Molecular Nutrition"},{"u":"\/b\/385\/muscle-addiction.htm","n":"Muscle Addiction"},{"u":"\/b\/486054\/muscle-milk.htm","n":"Muscle Milk"},{"u":"\/b\/64\/muscle-sandwich.htm","n":"Muscle Sandwich"},{"u":"\/b\/277\/musclemeds.htm","n":"MuscleMeds"},{"u":"\/b\/242\/muscle-pharm.htm","n":"MusclePharm"},{"u":"\/b\/66\/muscletech.htm","n":"Muscletech"},{"u":"\/b\/417\/mutant.htm","n":"Mutant"},{"u":"\/b\/486003\/myogenix.htm","n":"Myogenix"},{"u":"\/b\/486030\/mysource-fiber-g.htm","n":"MySource Fiber G"},{"u":"\/b\/68\/natures-best.htm","n":"Natures Best"},{"u":"\/b\/72\/now-foods.htm","n":"Now Foods"},{"u":"\/b\/486063\/nutraheal.htm","n":"NutraHeal"},{"u":"\/b\/371\/nutrakey.htm","n":"Nutrakey"},{"u":"\/b\/348\/nuts-n-more.htm","n":"Nuts 'n More"},{"u":"\/b\/486022\/obvi.htm","n":"Obvi"},{"u":"\/b\/486034\/ohana-liquid-protein.htm","n":"Ohana Liquid Protein"},{"u":"\/b\/442\/one-bars.htm","n":"ONE Bars"},{"u":"\/b\/77\/optimum-nutrition.htm","n":"Optimum Nutrition - ON"},{"u":"\/b\/78\/ostrim.htm","n":"Ostrim"},{"u":"\/b\/486011\/pb2.htm","n":"PB2 Powdered Peanut Butter"},{"u":"\/b\/398\/performax-labs.htm","n":"Performax Labs"},{"u":"\/b\/253\/pes-performance-enhancing-supplements.htm","n":"PEScience"},{"u":"\/b\/486004\/physically-fit-chxn-snx.htm","n":"Physically FIT CHXN-SNX"},{"u":"\/b\/127\/power-crunch-bars.htm","n":"Power Crunch Bars"},{"u":"\/b\/414\/primeval-labs.htm","n":"Primeval Labs"},{"u":"\/b\/221\/professional-supplements.htm","n":"Pro Supps"},{"u":"\/b\/486050\/professor-nutz-peanut-butter.htm","n":"Professor Nutz Peanut Butter"},{"u":"\/b\/486033\/project-ad.htm","n":"Project AD"},{"u":"\/b\/85\/promax.htm","n":"Promax Bars"},{"u":"\/b\/435\/psycho-pharma.htm","n":"Psycho Pharma"},{"u":"\/b\/331\/pure-protein.htm","n":"Pure Protein"},{"u":"\/b\/220\/purus-labs.htm","n":"Purus Labs"},{"u":"\/b\/486020\/pvl.htm","n":"PVL"},{"u":"\/b\/260\/quest-bar.htm","n":"Quest Nutrition"},{"u":"\/b\/486008\/raw-nutrition.htm","n":"Raw Nutrition"},{"u":"\/b\/418\/redcon1.htm","n":"RedCon1"},{"u":"\/b\/486061\/redline.htm","n":"Redline"},{"u":"\/b\/486013\/repp-sports.htm","n":"Repp Sports"},{"u":"\/b\/486012\/revive-md.htm","n":"Revive MD"},{"u":"\/b\/452\/ryse-supplements.htm","n":"RYSE"},{"u":"\/b\/486042\/snack-house-foods.htm","n":"Snack House Foods"},{"u":"\/b\/91\/serious-nutrition-solutions.htm","n":"SNS Serious Nutrition Solutions"},{"u":"\/b\/210\/species-nutrition.htm","n":"Species Nutrition"},{"u":"\/b\/486052\/sport-shaker.htm","n":"SportShaker"},{"u":"\/b\/486055\/storm.htm","n":"Storm"},{"u":"\/b\/486035\/train-naked-labs.htm","n":"Train Naked Labs"},{"u":"\/b\/108\/ultimate-nutrition.htm","n":"Ultimate Nutrition"},{"u":"\/b\/109\/universal-nutrition.htm","n":"Universal Nutrition & Animal"},{"u":"\/b\/130\/usp-labs.htm","n":"Usp Labs"},{"u":"\/b\/216\/vigor-labs.htm","n":"Vigor Labs"},{"u":"\/b\/113\/vpx-sports.htm","n":"Vpx Sports"},{"u":"\/b\/463\/xtreme-performance-gels.htm","n":"XPG Xtreme Performance Gels"},{"u":"\/b\/137\/scivation.htm","n":"Xtend"},{"u":"\/b\/486016\/discontinued.htm","n":"_Discontinued"}]
[[{"id":2073,"u":"\/d\/2073\/creatine-specials.htm","n":"Creatine Specials"},{"id":2074,"u":"\/d\/2074\/definition.htm","n":"Definition"},{"id":2075,"u":"\/d\/2075\/apigenin.htm","n":"Apigenin"},{"id":2076,"u":"\/d\/2076\/glutathione.htm","n":"Glutathione"},{"id":2077,"u":"\/d\/2077\/spilanthes-acmella.htm","n":"Spilanthes acmella"},{"id":2078,"u":"\/d\/2078\/inflammation.htm","n":"Inflammation"},{"id":2079,"u":"\/d\/2079\/fadogia-agrestis.htm","n":"Fadogia Agrestis"},{"id":2080,"u":"\/d\/2080\/urolithin-b.htm","n":"Urolithin B"},{"id":2081,"u":"\/d\/2081\/sabroxy.htm","n":"Sabroxy"},{"id":2082,"u":"\/d\/2082\/l-ornithine-l-aspartate.htm","n":"L-Ornithine L-Aspartate"},{"id":2083,"u":"\/d\/2083\/food-based.htm","n":"Food Based"},{"id":2084,"u":"\/d\/2084\/gda.htm","n":"GDA"},{"id":2085,"u":"\/d\/2085\/p-5-p.htm","n":"P-5-P"},{"id":2086,"u":"\/d\/2086\/nitrosigine.htm","n":"Nitrosigine"},{"id":2087,"u":"\/d\/2087\/ripfactor.htm","n":"RipFACTOR"},{"id":2088,"u":"\/d\/2088\/mushroom.htm","n":"Mushroom"},{"id":2089,"u":"\/d\/2089\/whole-food-meal-replacement.htm","n":"Whole Food Meal Replacement"},{"id":2090,"u":"\/d\/2090\/glycerol.htm","n":"Glycerol"},{"id":2091,"u":"\/d\/2091\/psyllium-husk.htm","n":"Psyllium husk"},{"id":2092,"u":"\/d\/2092\/paractin.htm","n":"Paractin"},{"id":2093,"u":"\/d\/2093\/boswella.htm","n":"Boswella"},{"id":2049,"u":"\/d\/2049\/pets.htm","n":"Pets"},{"id":2050,"u":"\/d\/2050\/protein-drinks.htm","n":"Protein Drinks"},{"id":2052,"u":"\/d\/2052\/turkesterone.htm","n":"Turkesterone"},{"id":2053,"u":"\/d\/2053\/inositol.htm","n":"Inositol"},{"id":2054,"u":"\/d\/2054\/reds.htm","n":"Reds"},{"id":2055,"u":"\/d\/2055\/goji.htm","n":"Goji"},{"id":2056,"u":"\/d\/2056\/pomegranate.htm","n":"Pomegranate"},{"id":2048,"u":"\/d\/2048\/bbq-sauce.htm","n":"BBQ Sauce"},{"id":2057,"u":"\/d\/2057\/pastries.htm","n":"Pastries"},{"id":2058,"u":"\/d\/2058\/free-shipping-brands.htm","n":"FREE shipping Brands"},{"id":2060,"u":"\/d\/2060\/brands-at-25-30-off.htm","n":"Brands at 25-30% OFF"},{"id":2062,"u":"\/d\/2062\/chlorophyll.htm","n":"Chlorophyll"},{"id":2063,"u":"\/d\/2063\/fadogia-agrestis.htm","n":"Fadogia Agrestis"},{"id":2064,"u":"\/d\/2064\/chlorella.htm","n":"Chlorella"},{"id":2065,"u":"\/d\/2065\/new-brands.htm","n":"New Brands"},{"id":2066,"u":"\/d\/2066\/gummies.htm","n":"Gummies"},{"id":2067,"u":"\/d\/2067\/epa.htm","n":"EPA"},{"id":2068,"u":"\/d\/2068\/lions-mane.htm","n":"Lion's Mane"},{"id":2069,"u":"\/d\/2069\/hair-skin-nails.htm","n":"Hair, Skin & Nails"},{"id":2070,"u":"\/d\/2070\/symplocos-racemosa-sr10x.htm","n":"Symplocos Racemosa (SR10X)"},{"id":2071,"u":"\/d\/2071\/cocoabuterol.htm","n":"Cocoabuterol"},{"id":2018,"u":"\/d\/2018\/candy.htm","n":"Candy"},{"id":2019,"u":"\/d\/2019\/pantothenic-acid.htm","n":"Pantothenic Acid"},{"id":2020,"u":"\/d\/2020\/vitamin-b-5.htm","n":"Vitamin B-5"},{"id":2021,"u":"\/d\/2021\/electrolytes.htm","n":"Electrolytes"},{"id":2023,"u":"\/d\/2023\/kanna.htm","n":"Kanna"},{"id":2024,"u":"\/d\/2024\/paradoxine.htm","n":"Paradoxine"},{"id":2026,"u":"\/d\/2026\/pine-pollen.htm","n":"Pine Pollen"},{"id":2027,"u":"\/d\/2027\/pea.htm","n":"PEA"},{"id":2028,"u":"\/d\/2028\/copper.htm","n":"Copper"},{"id":2029,"u":"\/d\/2029\/cats-claw.htm","n":"Cat's Claw"},{"id":2030,"u":"\/d\/2030\/andrographis.htm","n":"Andrographis"},{"id":2031,"u":"\/d\/2031\/female-support.htm","n":"Female support"},{"id":2032,"u":"\/d\/2032\/peak-02.htm","n":"Peak 02"},{"id":2033,"u":"\/d\/2033\/blood-pressure.htm","n":"Blood Pressure"},{"id":2034,"u":"\/d\/2034\/kidney-health.htm","n":"Kidney Health"},{"id":2035,"u":"\/d\/2035\/smilax.htm","n":"Smilax"},{"id":2036,"u":"\/d\/2036\/eucommia-ulmoides.htm","n":"Eucommia ulmoides"},{"id":2037,"u":"\/d\/2037\/womens-formulas.htm","n":"Women's formulas"},{"id":2038,"u":"\/d\/2038\/beef-sticks.htm","n":"Beef Sticks"},{"id":2039,"u":"\/d\/2039\/male-formulas.htm","n":"Male formulas"},{"id":2040,"u":"\/d\/2040\/serrapeptase.htm","n":"Serrapeptase"},{"id":2041,"u":"\/d\/2041\/amentoflavone.htm","n":"Amentoflavone"},{"id":2042,"u":"\/d\/2042\/brownie-bars.htm","n":"Brownie bars"},{"id":2043,"u":"\/d\/2043\/citrus-bergamot.htm","n":"Citrus Bergamot"},{"id":2044,"u":"\/d\/2044\/spinach-extract.htm","n":"Spinach Extract"},{"id":2045,"u":"\/d\/2045\/l-baiba.htm","n":"L-BAIBA"},{"id":2046,"u":"\/d\/2046\/mitoburn.htm","n":"Mitoburn"},{"id":2047,"u":"\/d\/2047\/thyroid-support.htm","n":"Thyroid Support"},{"id":1557,"u":"\/d\/1557\/5-htp.htm","n":"5-HTP"},{"id":1558,"u":"\/d\/1558\/7-keto.htm","n":"7-Keto"},{"id":1795,"u":"\/d\/1795\/akg-alpha-ketoglutarate.htm","n":"AAKG"},{"id":1560,"u":"\/d\/1560\/accessories.htm","n":"Accessories"},{"id":1561,"u":"\/d\/1561\/acetyl-l-carnitine.htm","n":"Acetyl-L-Carnitine"},{"id":1937,"u":"\/d\/1937\/adrenal-care.htm","n":"Adrenal Care"},{"id":1765,"u":"\/d\/1765\/agmatine.htm","n":"Agmatine"},{"id":1830,"u":"\/d\/1830\/almond-butter.htm","n":"Almond Butter"},{"id":1932,"u":"\/d\/1932\/almonds.htm","n":"Almonds"},{"id":1832,"u":"\/d\/1832\/alpha-gpc.htm","n":"Alpha GPC"},{"id":1562,"u":"\/d\/1562\/alpha-lipoic-acid.htm","n":"Alpha-Lipoic Acid"},{"id":1563,"u":"\/d\/1563\/amino-acids.htm","n":"Amino Acids"},{"id":1564,"u":"\/d\/1564\/antioxidants.htm","n":"Antioxidants"},{"id":1962,"u":"\/d\/1962\/anxiety-support.htm","n":"Anxiety Support"},{"id":1951,"u":"\/d\/1951\/appetite-control.htm","n":"Appetite Control"},{"id":1913,"u":"\/d\/1913\/apple-cider-vinegar.htm","n":"Apple Cider Vinegar"},{"id":1800,"u":"\/d\/1800\/arachidonic-acid.htm","n":"Arachidonic Acid"},{"id":1567,"u":"\/d\/1567\/arginine-ethyl-ester.htm","n":"Arginine"},{"id":1868,"u":"\/d\/1868\/ashwagandha.htm","n":"Ashwagandha"},{"id":1568,"u":"\/d\/1568\/astaxanthin.htm","n":"Astaxanthin"},{"id":1970,"u":"\/d\/1970\/astragalus.htm","n":"Astragalus"},{"id":1957,"u":"\/d\/1957\/bacopa-extract.htm","n":"Bacopa Extract"},{"id":1998,"u":"\/d\/1998\/bar-deals.htm","n":"Bar Deals"},{"id":1569,"u":"\/d\/1569\/bars.htm","n":"Bars"},{"id":1570,"u":"\/d\/1570\/bcaa-recovery-aminos-branch-chained-amino-acids.htm","n":"BCAA"},{"id":1825,"u":"\/d\/1825\/bee-pollen.htm","n":"Bee Pollen"},{"id":1851,"u":"\/d\/1851\/beef-protein.htm","n":"Beef Protein"},{"id":1955,"u":"\/d\/1955\/beet-root.htm","n":"Beet Root"},{"id":1952,"u":"\/d\/1952\/berberine.htm","n":"Berberine"},{"id":1999,"u":"\/d\/1999\/bergamot.htm","n":"Bergamot"},{"id":1572,"u":"\/d\/1572\/beta-alanine.htm","n":"Beta-Alanine"},{"id":1995,"u":"\/d\/1995\/beta-sitosterol.htm","n":"Beta-Sitosterol"},{"id":1976,"u":"\/d\/1976\/betaine-hcl.htm","n":"Betaine"},{"id":1912,"u":"\/d\/1912\/biotin.htm","n":"Biotin"},{"id":1760,"u":"\/d\/1760\/blowout-products.htm","n":"Blowouts & Overstocks"},{"id":2008,"u":"\/d\/2008\/bone-broth.htm","n":"Bone Broth"},{"id":2001,"u":"\/d\/2001\/borage-oil.htm","n":"Borage Oil"},{"id":1577,"u":"\/d\/1577\/boron.htm","n":"Boron"},{"id":1808,"u":"\/d\/1808\/bromelain.htm","n":"Bromelain"},{"id":1816,"u":"\/d\/1816\/bulbine-natalensis.htm","n":"Bulbine Natalensis"},{"id":1578,"u":"\/d\/1578\/caffeine-energy-preworkout-stay-alert-capsules.htm","n":"Caffeine"},{"id":1579,"u":"\/d\/1579\/calcium.htm","n":"Calcium"},{"id":1872,"u":"\/d\/1872\/calcium-d-glucarate.htm","n":"Calcium D-Glucarate"},{"id":1580,"u":"\/d\/1580\/carb-products.htm","n":"Carbohydrate Products"},{"id":1581,"u":"\/d\/1581\/casein.htm","n":"Casein Protein"},{"id":1956,"u":"\/d\/1956\/cereal.htm","n":"Cereal"},{"id":1997,"u":"\/d\/1997\/chips.htm","n":"Chips"},{"id":1783,"u":"\/d\/1783\/cholesterol-support.htm","n":"Cholesterol Support"},{"id":1831,"u":"\/d\/1831\/choline.htm","n":"Choline"},{"id":1584,"u":"\/d\/1584\/chondroitin.htm","n":"Chondroitin"},{"id":1585,"u":"\/d\/1585\/chromium.htm","n":"Chromium"},{"id":1772,"u":"\/d\/1772\/cinnamon.htm","n":"Cinnamon"},{"id":1588,"u":"\/d\/1588\/cissus.htm","n":"Cissus"},{"id":1589,"u":"\/d\/1589\/citrulline.htm","n":"Citrulline"},{"id":1590,"u":"\/d\/1590\/cla.htm","n":"CLA"},{"id":1591,"u":"\/d\/1591\/clothing.htm","n":"Clothing"},{"id":1920,"u":"\/d\/1920\/coffee.htm","n":"Coffee"},{"id":1938,"u":"\/d\/1938\/collagen.htm","n":"Collagen"},{"id":1864,"u":"\/d\/1864\/colostrum.htm","n":"Colostrum"},{"id":1846,"u":"\/d\/1846\/cookies.htm","n":"Cookies"},{"id":1593,"u":"\/d\/1593\/coenzyme-q10.htm","n":"CoQ10 Coenzyme Q10"},{"id":1996,"u":"\/d\/1996\/cortisol-support.htm","n":"Cortisol Support"},{"id":1597,"u":"\/d\/1597\/creatine.htm","n":"Creatine"},{"id":1596,"u":"\/d\/1596\/creatine-hcl.htm","n":"Creatine HCl"},{"id":1759,"u":"\/d\/1759\/curcumin.htm","n":"Curcumin"},{"id":1941,"u":"\/d\/1941\/cycle-support.htm","n":"Cycle Support"},{"id":1758,"u":"\/d\/1758\/d-aspartic-acid.htm","n":"DAA - D-Aspartic Acid"},{"id":1885,"u":"\/d\/1885\/dandelion-root.htm","n":"Dandelion Root"},{"id":1983,"u":"\/d\/1983\/deer-antler.htm","n":"Deer Antler"},{"id":1598,"u":"\/d\/1598\/dessicated-liver.htm","n":"Dessicated Liver"},{"id":1972,"u":"\/d\/1972\/dextrose.htm","n":"Dextrose"},{"id":1974,"u":"\/d\/1974\/dha.htm","n":"DHA"},{"id":1599,"u":"\/d\/1599\/dhea.htm","n":"DHEA"},{"id":1775,"u":"\/d\/1775\/digestive-aids.htm","n":"Digestive Aids"},{"id":1821,"u":"\/d\/1821\/dim.htm","n":"DIM"},{"id":1766,"u":"\/d\/1766\/diuretics.htm","n":"Diuretics"},{"id":1601,"u":"\/d\/1601\/dmae.htm","n":"DMAE"},{"id":1945,"u":"\/d\/1945\/e-sports-gaming-supplements.htm","n":"E Sports Gaming Supplements"},{"id":1907,"u":"\/d\/1907\/eaas.htm","n":"EAA's Essential Amino Acids"},{"id":1602,"u":"\/d\/1602\/ecdysterone.htm","n":"Ecdysterone"},{"id":1991,"u":"\/d\/1991\/echinacea.htm","n":"Echinacea"},{"id":1604,"u":"\/d\/1604\/efa.htm","n":"EFA"},{"id":1605,"u":"\/d\/1605\/egg-protein.htm","n":"Egg Protein"},{"id":1988,"u":"\/d\/1988\/elderberry.htm","n":"Elderberry"},{"id":1756,"u":"\/d\/1756\/endurance.htm","n":"Endurance"},{"id":1980,"u":"\/d\/1980\/energy-drinks.htm","n":"Energy Drinks"},{"id":1744,"u":"\/d\/1744\/energy-products.htm","n":"Energy Products"},{"id":1977,"u":"\/d\/1977\/epiandrosterone.htm","n":"Epiandrosterone"},{"id":1981,"u":"\/d\/1981\/epicatechin.htm","n":"Epicatechin"},{"id":1786,"u":"\/d\/1786\/anti-estrogen.htm","n":"Estrogen Control"},{"id":1753,"u":"\/d\/1753\/fat-loss-products.htm","n":"Fat Loss Products"},{"id":1611,"u":"\/d\/1611\/fenugreek.htm","n":"Fenugreek"},{"id":1612,"u":"\/d\/1612\/fiber.htm","n":"Fiber"},{"id":1614,"u":"\/d\/1614\/fish-oil.htm","n":"Fish Oil"},{"id":1615,"u":"\/d\/1615\/flax-seed.htm","n":"Flax Seed"},{"id":1856,"u":"\/d\/1856\/focus.htm","n":"Focus"},{"id":1616,"u":"\/d\/1616\/folic-acid.htm","n":"Folic Acid"},{"id":1617,"u":"\/d\/1617\/forskolin.htm","n":"Forskolin"},{"id":1993,"u":"\/d\/1993\/fruits.htm","n":"Fruits"},{"id":1619,"u":"\/d\/1619\/gaba.htm","n":"GABA"},{"id":1948,"u":"\/d\/1948\/gaming.htm","n":"Gaming"},{"id":1620,"u":"\/d\/1620\/gift-certificates.htm","n":"Gift Certificates"},{"id":1621,"u":"\/d\/1621\/ginkgo-biloba.htm","n":"Ginkgo Biloba"},{"id":2011,"u":"\/d\/2011\/glucomannan.htm","n":"Glucomannan"},{"id":1625,"u":"\/d\/1625\/glucosamine-sulfate.htm","n":"Glucosamine"},{"id":1915,"u":"\/d\/1915\/glucose-disposal.htm","n":"Glucose Regulation"},{"id":1626,"u":"\/d\/1626\/glutamine.htm","n":"Glutamine"},{"id":1883,"u":"\/d\/1883\/gotu-kola.htm","n":"Gotu Kola"},{"id":1802,"u":"\/d\/1802\/grape-seed-extract.htm","n":"Grape Seed Extract"},{"id":1781,"u":"\/d\/1781\/green-coffee-bean-extract.htm","n":"Green Coffee Bean Extract"},{"id":1631,"u":"\/d\/1631\/green-tea.htm","n":"Green Tea"},{"id":1632,"u":"\/d\/1632\/greens-food.htm","n":"Greens"},{"id":2009,"u":"\/d\/2009\/gut-health.htm","n":"Gut Health"},{"id":1990,"u":"\/d\/1990\/hand-sanitizer.htm","n":"Hand Sanitizer"},{"id":1986,"u":"\/d\/1986\/heart-health.htm","n":"Heart Health"},{"id":1939,"u":"\/d\/1939\/higenamine.htm","n":"Higenamine"},{"id":1640,"u":"\/d\/1640\/hmb.htm","n":"HMB"},{"id":1643,"u":"\/d\/1643\/horny-goat-weed.htm","n":"Horny Goat Weed"},{"id":1774,"u":"\/d\/1774\/humanofort.htm","n":"Humanofort"},{"id":1879,"u":"\/d\/1879\/hyaluronic-acid.htm","n":"Hyaluronic Acid"},{"id":1882,"u":"\/d\/1882\/hydration.htm","n":"Hydration"},{"id":1975,"u":"\/d\/1975\/immune-support.htm","n":"Immune Support"},{"id":1969,"u":"\/d\/1969\/indole-3-carbinol-i3c.htm","n":"Indole-3-Carbinol I3C"},{"id":1909,"u":"\/d\/1909\/intra-workout.htm","n":"Intra Workout"},{"id":1648,"u":"\/d\/1648\/iron.htm","n":"Iron"},{"id":1649,"u":"\/d\/1649\/isolate-whey-protein.htm","n":"Isolate Protein"},{"id":1933,"u":"\/d\/1933\/jerky.htm","n":"Jerky"},{"id":1789,"u":"\/d\/1789\/joint-formulas.htm","n":"Joint Formulas"},{"id":1918,"u":"\/d\/1918\/keto-products.htm","n":"Keto Products"},{"id":1652,"u":"\/d\/1652\/kre-alkalyn.htm","n":"Kre-Alkalyn"},{"id":1828,"u":"\/d\/1828\/krill-oil.htm","n":"Krill Oil"},{"id":1961,"u":"\/d\/1961\/ksm-66.htm","n":"KSM-66","i":"dept\/logo-img-4x_1595877971-0.jpg"},{"id":1653,"u":"\/d\/1653\/l-arginine.htm","n":"L-Arginine"},{"id":1654,"u":"\/d\/1654\/l-carnitine.htm","n":"L-Carnitine"},{"id":1655,"u":"\/d\/1655\/l-dopa.htm","n":"L-Dopa"},{"id":2016,"u":"\/d\/2016\/l-glycine.htm","n":"L-Glycine"},{"id":1656,"u":"\/d\/1656\/l-leucine.htm","n":"L-Leucine"},{"id":1657,"u":"\/d\/1657\/l-lysine.htm","n":"L-Lysine"},{"id":1835,"u":"\/d\/1835\/l-ornithine.htm","n":"L-Ornithine"},{"id":1921,"u":"\/d\/1921\/l-phenylalanine.htm","n":"L-Phenylalanine"},{"id":2010,"u":"\/d\/2010\/l-theanine.htm","n":"L-Theanine"},{"id":1923,"u":"\/d\/1923\/l-tryptophan.htm","n":"L-Tryptophan"},{"id":1659,"u":"\/d\/1659\/l-tyrosine.htm","n":"L-Tyrosine"},{"id":2005,"u":"\/d\/2005\/lecithin.htm","n":"Lecithin"},{"id":1768,"u":"\/d\/1768\/libido.htm","n":"Libido"},{"id":1761,"u":"\/d\/1761\/liver-detox.htm","n":"Liver Protection"},{"id":1662,"u":"\/d\/1662\/longjack.htm","n":"Longjack"},{"id":1922,"u":"\/d\/1922\/lutein.htm","n":"Lutein"},{"id":1663,"u":"\/d\/1663\/lycopene.htm","n":"Lycopene"},{"id":1664,"u":"\/d\/1664\/maca.htm","n":"Maca"},{"id":1954,"u":"\/d\/1954\/macadamia-nut-oil.htm","n":"Macadamia Nut Oil"},{"id":1854,"u":"\/d\/1854\/magnesium.htm","n":"Magnesium"},{"id":1973,"u":"\/d\/1973\/maltodextrin.htm","n":"Maltodextrin"},{"id":1897,"u":"\/d\/1897\/mct-oil.htm","n":"MCT"},{"id":1764,"u":"\/d\/1764\/meal-replacement-mrps.htm","n":"Meal Replacement MRP's"},{"id":1668,"u":"\/d\/1668\/melatonin.htm","n":"Melatonin"},{"id":1672,"u":"\/d\/1672\/milk-thistle.htm","n":"Milk Thistle"},{"id":1989,"u":"\/d\/1989\/mk-7-vitamin-k.htm","n":"MK-7 Vitamin K"},{"id":1675,"u":"\/d\/1675\/msm.htm","n":"MSM"},{"id":1673,"u":"\/d\/1673\/mucuna.htm","n":"Mucuna"},{"id":1674,"u":"\/d\/1674\/multivitamins.htm","n":"Multi Vitamins"},{"id":1827,"u":"\/d\/1827\/n-acetyl-cysteine-nac.htm","n":"NAC N-Acetyl Cysteine"},{"id":1896,"u":"\/d\/1896\/nadh.htm","n":"NADH"},{"id":1979,"u":"\/d\/1979\/nattokinase.htm","n":"Nattokinase"},{"id":1898,"u":"\/d\/1898\/natural-protein.htm","n":"Natural Protein"},{"id":1806,"u":"\/d\/1806\/new-products.htm","n":"New & Coming Soon"},{"id":1874,"u":"\/d\/1874\/niacin.htm","n":"Niacin"},{"id":1676,"u":"\/d\/1676\/no2-nitric-oxide.htm","n":"NO2 Nitric Oxide Boosters"},{"id":1966,"u":"\/d\/1966\/nootropics.htm","n":"Nootropics"},{"id":1833,"u":"\/d\/1833\/oatmeal.htm","n":"Oatmeal"},{"id":1678,"u":"\/d\/1678\/omega-3.htm","n":"Omegas (EPA DHA)"},{"id":1860,"u":"\/d\/1860\/optimum-nutrition-specials.htm","n":"Optimum Nutrition & BSN - Specials"},{"id":1894,"u":"\/d\/1894\/paba.htm","n":"PABA"},{"id":1992,"u":"\/d\/1992\/paleo.htm","n":"Paleo"},{"id":1788,"u":"\/d\/1788\/pancake-mix.htm","n":"Pancake Mix"},{"id":1787,"u":"\/d\/1787\/post-cycle-support.htm","n":"PCT Post Cycle Support"},{"id":1826,"u":"\/d\/1826\/pea-protein.htm","n":"Pea Protein"},{"id":1763,"u":"\/d\/1763\/peanut-butter-products.htm","n":"Peanut Butter Products"},{"id":1968,"u":"\/d\/1968\/phosphatidic-acid-pa.htm","n":"Phosphatidic acid (PA)"},{"id":1684,"u":"\/d\/1684\/phosphatidyl-serine.htm","n":"Phosphatidylserine"},{"id":1861,"u":"\/d\/1861\/plant-protein.htm","n":"Plant Based Protein"},{"id":1743,"u":"\/d\/1743\/recovery.htm","n":"Post Workout - Recovery"},{"id":1687,"u":"\/d\/1687\/potassium.htm","n":"Potassium"},{"id":1754,"u":"\/d\/1754\/preworkout-formulas.htm","n":"Pre Workout"},{"id":1971,"u":"\/d\/1971\/pre-workout-stimulant-free.htm","n":"Pre Workout - Stimulant Free"},{"id":1940,"u":"\/d\/1940\/prebiotic.htm","n":"Prebiotic"},{"id":2006,"u":"\/d\/2006\/primrose-oil.htm","n":"Primrose Oil"},{"id":1814,"u":"\/d\/1814\/probiotic.htm","n":"Probiotic"},{"id":1942,"u":"\/d\/1942\/prolactin-control.htm","n":"Prolactin control"},{"id":1750,"u":"\/d\/1750\/prostate-formulas.htm","n":"Prostate Formulas"},{"id":1959,"u":"\/d\/1959\/protein-blends.htm","n":"Protein Blends"},{"id":1880,"u":"\/d\/1880\/protein-deals.htm","n":"Protein Special Offers"},{"id":1689,"u":"\/d\/1689\/protein-powders.htm","n":"Protein Powders"},{"id":1762,"u":"\/d\/1762\/pudding.htm","n":"Pudding"},{"id":1960,"u":"\/d\/1960\/pump-products.htm","n":"Pump products"},{"id":1904,"u":"\/d\/1904\/pycnogenol.htm","n":"Pycnogenol"},{"id":1934,"u":"\/d\/1934\/quercetin.htm","n":"Quercetin"},{"id":1691,"u":"\/d\/1691\/raspberry-ketone.htm","n":"Raspberry Ketones"},{"id":1692,"u":"\/d\/1692\/ready-to-drink-rtd.htm","n":"Ready To Drink RTD's"},{"id":1935,"u":"\/d\/1935\/recovery.htm","n":"Recovery"},{"id":1863,"u":"\/d\/1863\/red-yeast-rice.htm","n":"Red Yeast Rice"},{"id":1771,"u":"\/d\/1771\/relora.htm","n":"Relora"},{"id":1693,"u":"\/d\/1693\/resveratrol.htm","n":"Resveratrol"},{"id":1839,"u":"\/d\/1839\/rhodiola.htm","n":"Rhodiola"},{"id":2002,"u":"\/d\/2002\/ribose.htm","n":"Ribose"},{"id":1695,"u":"\/d\/1695\/same.htm","n":"SAMe"},{"id":1696,"u":"\/d\/1696\/saw-palmetto.htm","n":"Saw Palmetto"},{"id":1785,"u":"\/d\/1785\/sexual-health.htm","n":"Sexual Health"},{"id":1699,"u":"\/d\/1699\/shaker-bottles.htm","n":"Shaker Bottles"},{"id":1701,"u":"\/d\/1701\/silymarin.htm","n":"Silymarin"},{"id":1752,"u":"\/d\/1752\/sleep-products.htm","n":"Sleep Products"},{"id":1927,"u":"\/d\/1927\/snacks.htm","n":"Snacks"},{"id":1994,"u":"\/d\/1994\/spirulina.htm","n":"Spirulina"},{"id":1705,"u":"\/d\/1705\/stevia.htm","n":"Stevia"},{"id":1982,"u":"\/d\/1982\/stinging-nettle.htm","n":"Stinging Nettle"},{"id":1706,"u":"\/d\/1706\/straps.htm","n":"Straps"},{"id":1963,"u":"\/d\/1963\/stress-support.htm","n":"Stress Support"},{"id":1914,"u":"\/d\/1914\/super-food.htm","n":"Superfoods"},{"id":1658,"u":"\/d\/1658\/l-taurine.htm","n":"Taurine"},{"id":1784,"u":"\/d\/1784\/testosterone-boosters.htm","n":"Testosterone Support"},{"id":1889,"u":"\/d\/1889\/teacrine.htm","n":"Theacrine"},{"id":1845,"u":"\/d\/1845\/tonalin.htm","n":"Tonalin"},{"id":1844,"u":"\/d\/1844\/tongkat-ali.htm","n":"Tongkat Ali"},{"id":1984,"u":"\/d\/1984\/topicals.htm","n":"Topicals"},{"id":1713,"u":"\/d\/1713\/tribulus.htm","n":"Tribulus"},{"id":1848,"u":"\/d\/1848\/tudca.htm","n":"TUDCA"},{"id":1811,"u":"\/d\/1811\/turmeric.htm","n":"Turmeric"},{"id":1876,"u":"\/d\/1876\/twinpack-specials.htm","n":"TWINPACK Specials"},{"id":1936,"u":"\/d\/1936\/ubiquinol.htm","n":"Ubiquinol"},{"id":1870,"u":"\/d\/1870\/uc-ii.htm","n":"UC II"},{"id":1717,"u":"\/d\/1717\/vanadyl-sulfate.htm","n":"Vanadyl Sulfate"},{"id":1946,"u":"\/d\/1946\/vaso-6.htm","n":"VASO6"},{"id":1873,"u":"\/d\/1873\/vegan-protein.htm","n":"Vegan"},{"id":1721,"u":"\/d\/1721\/vitamin-b.htm","n":"Vitamin B"},{"id":2000,"u":"\/d\/2000\/vitamin-b-1.htm","n":"Vitamin B-1"},{"id":1809,"u":"\/d\/1809\/vitamin-b-12.htm","n":"Vitamin B-12"},{"id":1794,"u":"\/d\/1794\/vitamin-b-6.htm","n":"Vitamin B-6"},{"id":1722,"u":"\/d\/1722\/vitamin-c.htm","n":"Vitamin C"},{"id":1723,"u":"\/d\/1723\/vitamin-d.htm","n":"Vitamin D"},{"id":1724,"u":"\/d\/1724\/vitamin-e.htm","n":"Vitamin E"},{"id":1926,"u":"\/d\/1926\/vitamin-k.htm","n":"Vitamin K"},{"id":1725,"u":"\/d\/1725\/waxy-maize.htm","n":"Waxy Maize"},{"id":1757,"u":"\/d\/1757\/weight-gainers.htm","n":"Weight Gainers"},{"id":1726,"u":"\/d\/1726\/whey-protein.htm","n":"Whey Protein"},{"id":1727,"u":"\/d\/1727\/whey-protein-isolate.htm","n":"Whey Protein Isolate"},{"id":1731,"u":"\/d\/1731\/wraps.htm","n":"Wraps & Straps"},{"id":1847,"u":"\/d\/1847\/zinc.htm","n":"Zinc"},{"id":1735,"u":"\/d\/1735\/zma.htm","n":"ZMA"}]]