Metabolic Nutrition Zinc - 90 Cap
Item #: MB118
UPC: 764779590093
-20% Off Special w/code DPS10
What Is Metabolic Nutrition Zinc?
Zinc is essential to the normal function of many organs and systems within the body including the skeletal, immune, neurological and endocrine systems.†
How Does It Work?
Zinc is also a necessary mineral co-factor for hundreds of enzymatic reactions related to protein and carbohydrate metabolism, RNA and DNA synthesis and intercellular signaling. † Zinc is beneficial for boosting immune function and antioxidant support.†
Ingredients:
Zinc (as Zinc Oxide / Citrate / Gluconate)
Who Should Take It?
Metabolic Nutrition provides a purified, all natural, highly concentrated Zinc formula for maximum effectiveness and absorption†… specifically developed for individuals who want to maximize their health and wellness. †
How Do I Take Metabolic Nutrition Zinc?
Dosage and Directions:
As a dietary supplement, take one (1) capsule once a day. For best results, take with a meal.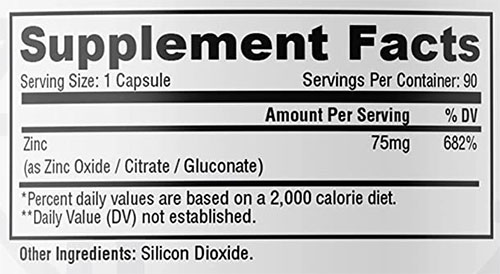 †THESE STATEMENTS HAVE NOT BEEN EVALUATED BY THE FOOD AND DRUG ADMINISTRATION. THESE PRODUCTS ARE NOT INTENDED TO DIAGNOSE, TREAT, CURE OR PREVENT ANY DISEASES.