GAT PumpTropic Strawberry Mango - 40 Servings
Item #: GA159
UPC: 816170023509

MEGA-PUMP & LASER FOCUS
Potent Enhancing Powder † [Stimulant-Free]
PUMPTROPIC is GAT SPORT's scientifically advanced athletic performance and nootropic formula designed for optimized muscle "Hyperemia (mega-pumps)" and "laser focus" to provide complete mind-to-muscle, dialed-in glycogen-packed training sessions. PUMPTROPIC may also be used for activities requiring heightened cognitive functioning, focus and concentration such as gaming or even studying for exams. PUMPTROPIC is great as a stand-alone, stim-free pre-workout, or "stacked". See below regarding stacking.*
STRENGTH
PUMPTROPIC is powered by 1500 mg of clinically validated Nitrosigine to enhance nitric oxide levels and pump as well as shortening recovery time. The Cell Swell Matrix with HydroPrime Glycerol, Betaine Anhydrous and Orthophosphates work to enhance muscle cell volume, overall hydration and maximize athletic performance. L-Tyrosine, a Cholinesterase Blend and Lion's Mane helps maximize focus and concentration. Nitrosigine facilitates powerful pumps but also doubles as a performance enhancer that helps raise perceived energy and awareness.*

STACKABILITY Stack PUMPTROPIC with NITRAFLEX!
If you're looking for the ultimate in stimulation, accelerated energy, focus and physical results, PUMPTROPIC is the perfect stackable product with any of the NITRAFLEX family of performance pre-workouts. Whether you choose to add 1 or 2 scoops, PumpTropic is the ultimate pump and focus catalyst to turn up the volume on your pre-workout stack! NITRAFLEX, NITRAFLEX BURN, NITRAFLEX+C, try them all with PUMPTROPIC for the most seethingly intense, muscle building, nitric oxide maximizing pump, each and every time!*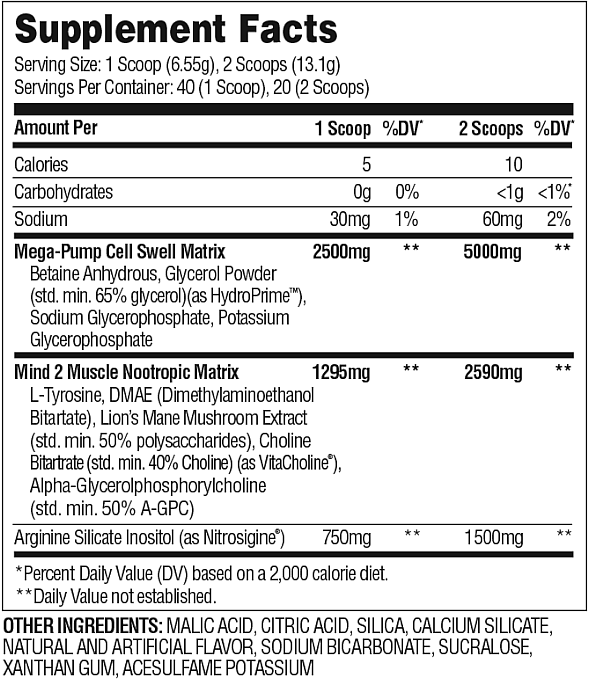 * Statements on this website have not been evaluated by the Food and Drug Administration. Products are not intended to diagnose, treat, cure, or prevent any disease.