5% Nutrition Immune Defender - 120 Cap
Item #: 5P083
UPC: 850006755448
30% Off w/code DPS10
Out of Stock
5% Nutrition has met the challenge to create an advanced immune defense formula that will promote maximum immune health and function. We combined vitamins, minerals, herbs, and powerful nutrients to create the most comprehensive immune health product on the market. Now more than ever, your health should not be taken lightly. Whether you're a bodybuilder, powerlifter, or just want to be the healthiest you can be, get the ultimate in protection with Immune Defender.
Take a look at these ingredients:
Vitamin C – 1000mg - Vitamin C is the vitamin people turn to when it comes to immune support, and for good reason; it's a potent antioxidant that's important for a healthy immune system. Many companies use 500 mg or even 250 mg, but not 5% Nutrition. We gave it a potent 1g dose.(1)
Vitamin D3 – 125 mcg - You might not think about Vitamin D when it comes to immune health. However, you can trust that we put it in Immune Defender for a specific purpose. White blood cells are one of the most important components of your immune system.(2) Vitamin D supports the immune defense properties of white blood cells.(3) Additionally, Vitamin D deficiency may result in respiratory tract infections. Deficiency can be a problem during certain times of the year, such as in the winter. Also, many people aren't spending a lot of time in the sun anymore, which can also cause significant deficiency.(4) This means that in an advanced immune product, Vitamin D should be a primary ingredient.
Zinc Citrate – 30mg - Zinc is an important trace mineral that has a wide range of benefits. Research suggests that it can help shorten the duration of a cold as well as protect against respiratory tract infections. A zinc deficiency weakens the entire immune system.(5,6,7) Typically, zinc is not absorbed well by the body, therefore it needs to be combined with another compound. While there are several forms, Zinc Citrate is one of the best forms of immune support.
Elderberry Fruit Extract – 500mg – This ingredient is a common and effective cold and flu ingredient. It's a medicinal herb that is typically used to fight infections, such as bronchitis, sinusitis, the flu, and the common cold. The berries are high in antioxidants, flavonoids, polyphenols, and vitamins. No wonder it's such a popular immune enhancer.(8)
Reishi Mushroom – 400 mg - This is a medicinal mushroom that has a long history of use in enhancing the immune system, stress reduction, and helps lower fatigue.
Echinacea – 250mg - This herb is a common cold and flu ingredient that effectively supports immune health and helps the body fight respiratory infections. No effective immune formula should be without it.(9)
Turmeric Powder – 105 mg - Turmeric has a positive impact on immune system health and function. One way it does this is by supporting white blood cell health. That means Turmeric works synergistically with vitamin D.
Olive Leaf Extract – 50 mg - Olive leaf contains an active ingredient called oleuropein. This active ingredient has strong anti-inflammatory and antioxidant properties.(10) It's in Immune Defender because of its antimicrobial and antiviral benefits which can help fight respiratory tract infections.
N-Acetyl L-Cysteine – 50 mg - N-Acetyl L-Cysteine promotes antioxidant production by increasing the amount of glutathione in the body, one of the most effective known antioxidants. Glutathione supports immune health and also combats oxidative stress. Additionally, it can help decrease cellular damage.(11)
Ginger Root Extract – 50 mg - Many people think of Ginger as a relief for stomach discomfort, or even a spice for food. However, Ginger supports normal immune health and function as well.
Odorless Garlic Extract 4:1 – 25 mg - Garlic is one of the most popular immune system boosters around. Many people take garlic whenever they experience the slightest cold or flu symptoms. It supports immune health by binding to cold and flu invaders, destroying them. It also works well with zinc to promote overall immune health. Of course, we use only the best odorless garlic.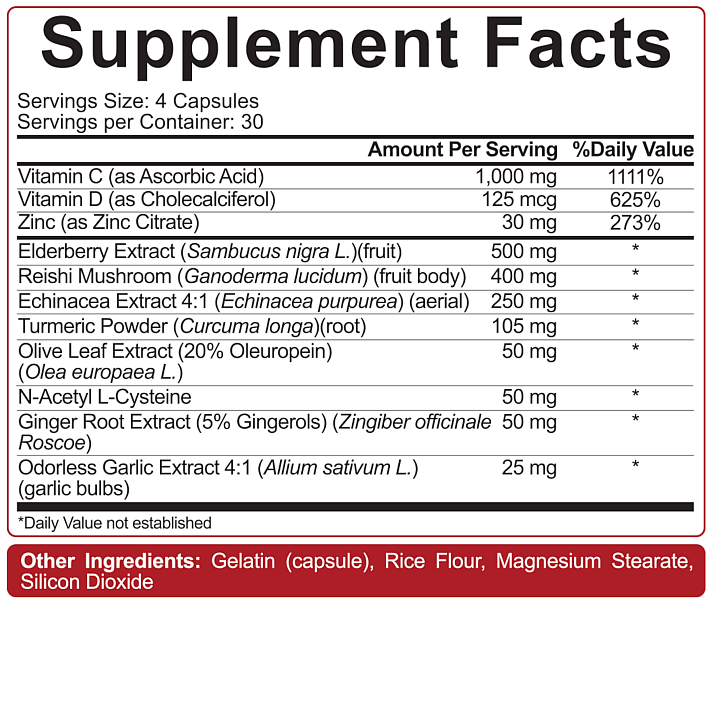 REFERENCES
https://www.ncbi.nlm.nih.gov/pmc/articles/PMC5707683/
https://health.howstuffworks.com/human-body/systems/immune/immune-system9.htm
https://www.ncbi.nlm.nih.gov/pmc/articles/PMC6164750/
Martineau, Adrian R, et al; "Vitamin D Supplementation to Prevent Acute Respiratory Tract Infections: Systematic Review and Meta-Analysis of Individual Participant Data."; The BMJ; British Medical Journal Publishing Group; 15 Feb. 2017; https://www.bmj.com/content/356/bmj.i6583
https://www.ncbi.nlm.nih.gov/pmc/articles/PMC5418896/
Prasad A. S. (2009). Zinc: role in immunity, oxidative stress and chronic inflammation. Current opinion in clinical nutrition and metabolic care, 12(6), 646–652. https://doi.org/10.1097/MCO.0b013e3283312956
https://www.ncbi.nlm.nih.gov/pmc/articles/PMC2820120/
Ulbricht, C., Basch, E., Cheung, L., Goldberg, H., Hammerness, P., Isaac, R., Khalsa, K. P., Romm, A., Rychlik, I., Varghese, M., Weissner, W., Windsor, R. C., & Wortley, J. (2014). An evidence-based systematic review of elderberry and elderflower (Sambucus nigra) by the Natural Standard Research Collaboration. Journal of dietary supplements, 11(1), 80–120. https://doi.org/10.3109/19390211.2013.859852
https://www.ncbi.nlm.nih.gov/pmc/articles/PMC4058675/
https://www.ncbi.nlm.nih.gov/pmc/articles/PMC4227229/
Cascella, R., Evangelisti, E., Zampagni, M., Becatti, M., D'Adamio, G., Goti, A., Liguri, G., Fiorillo, C., & Cecchi, C. (2014). S-linolenoyl glutathione intake extends life-span and stress resistance via Sir-2.1 upregulation in Caenorhabditis elegans. Free radical biology & medicine, 73, 127–135. https://doi.org/10.1016/j.freeradbiomed.2014.05.004
PRODUCT WARNINGS
† These statements have not been evaluated by the Food and Drug Administration. This product is not intended to diagnose, treat, cure, or prevent any disease.
WARNING: Consuming this product can expose you to chemicals including lead, which is known to the State of California to cause cancer, birth defects or other reproductive harm. For more information go to www.P65Warnings.ca.gov/food.
Disclaimer: Results may vary from person to person. Always consult with a qualified healthcare professional prior to beginning any diet or exercise program or taking any dietary supplement. The content on our website is for informational and educational purposes only and is not intended as medical advice or to replace a relationship with a qualified healthcare professional.