InnovaPharm Triphala - 120 Cap
Item #: INV31
UPC: 636946251857
Free Shipping w/$50 Innovapharm order -Excluded from coupons
TRIPHALA IS RICH IN TANNINS, POLYPHENOLS, AND FLAVONOIDS, WHICH ARE POTENT ANTIOXIDANTS.†
SUPREME DIGESTIVE TONIC
Potent bioactives naturally-occuring in Triphala, such as quercetin and gallic acid, promote the growth of Bifidobacteria and Lactobacillus species while inhibiting the growth of undesirable gut residents such as E. coli. Triphala-derived polyphenols are also transformed by the human gut microbiota into metabolites such as urolithins, which have the potential to prevent oxidative damage.†
LONGEVITY AND REJUVENATION
Triphala has also been noted to increase the activities of antioxidant enzymes, such as superoxide dismutase, catalase, glutathione-S-transferase, and glutathione peroxidase, as well as reduce the expression of inflammatory mediators such as IL-17, COX-2, and RANKL through inhibition of NF-KB activation.†
WE LIKE SCIENCE, DO YOU LIKE SCIENCE?
THE MAGIC THAT GOES IN EVERY SERVING
Though you may not have heard of it, triphala is an herbal concoction of three medicinal plants that has been used as a healing remedy for over 1,000 years.†
Triphala is classified as a tridoshic rasayana in Ayurvedic medicine as it promotes longevity and rejuvenation in individuals of all constitutions and ages.†
In Sanskrit, Triphala literally means "three fruits".
It consists of three dried fruits native to India, including:
Emblica officinalis (Family Euphorbiaceae)
Terminalia bellerica (Family Combretaceae)
Terminalia chebula (Family Combretaceae)
With ever-growing interest in gut health and the role the microbiome plays in the function and wellness of the body, Triphala has become increasingly popular around the world.†
Research indicates that Triphala promotes efficient digestion, absorption, elimination, and rejuvenation.†
Other findings suggest that the bioactive compounds naturally present in Triphala also induces enteroprotective effects, which are likely due, at least in part, to the high antioxidant content of the supplement.†
As if that's not enough, additional studies suggest that Triphala may also:
Promote proper digestion and absorption of food†
Maintain homeostasis of the endocrine system†
Support cardiovascular health†
Relax bile ducts†
To top it off, Triphala is also being investigated for its anti-obesogenic and antidiabetic potential. More specifically, Triphala may help inhibit starch digestion and absorption, thereby decreasing postprandial elevations in blood sugar, and it may also inhibit glycation enzymes.†
InnovaPharm Triphala contains 1500mg of the highest quality triphala powder, including 40% tannins in each capsule (most triphala extracts contain 20% or less).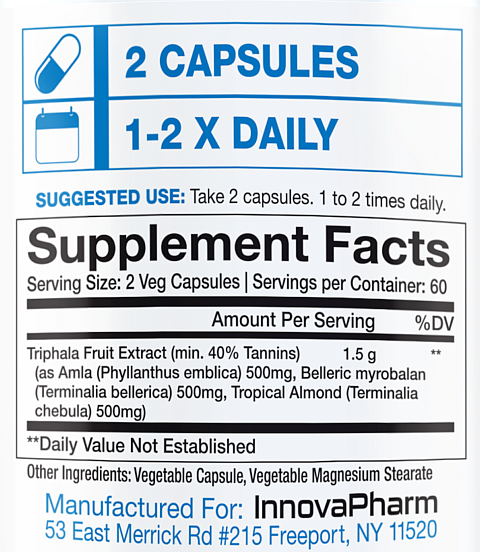 †These statements have not been evaluated by the Food and Drug Administration. This product is not intended to diagnose, treat, cure, or prevent any disease.