Himalaya LiverCare - 180 Cap
Item #: LV003
UPC: 605069005111
20% Off Special Offer
Out of Stock
LiverCare Liver Supplement
Get the benefits of a best-selling liver cleanse and detox formula without Milk Thistle Non-GMO Project verified with Capers, Chicory, Arjuna and other herbal ingredients Empowers the metabolic capacity of your liver and supports toxin-eliminating bile production*
Addresses free radical damage in your body and promotes your cellular lifespan*
Increases your body's nitrogen retention, a key indicator of protein creation*
Recommended Use
Adults take 1 capsule twice daily before meals Adults take 1 capsule twice daily before meals
What's In It?
Ayurveda's wisdom helped craft the holism of LiverCare®, which works in multiple capacities to free the body of toxins and waste*.
The blend of herbs in LiverCare protect from free-radical damage, promote cellular lifespan and supports optimal detox performance by empowering the liver's capacity.*
LiverCare protects normal liver enzyme levels and reduces bilirubin in the blood, both of which are key indicators of liver performance.*
Not only is LiverCare one of the best-known supplements around for liver detox and liver cleanse, it also supports the metabolic capacity of your liver to promote liver performance. In addition, LiverCare protects liver cells from free radical damage and promotes nitrogen retention, which your body needs to create new protein and muscle.*
The Caper Bush in LiverCare promotes cleansing and keeps things moving to eliminate waste. Chicory supports the health of the small intestine and promotes bile release for gentle daily detox. And Yarrow has been used all throughout history for cleansing, detox and gastrointestinal comfort.*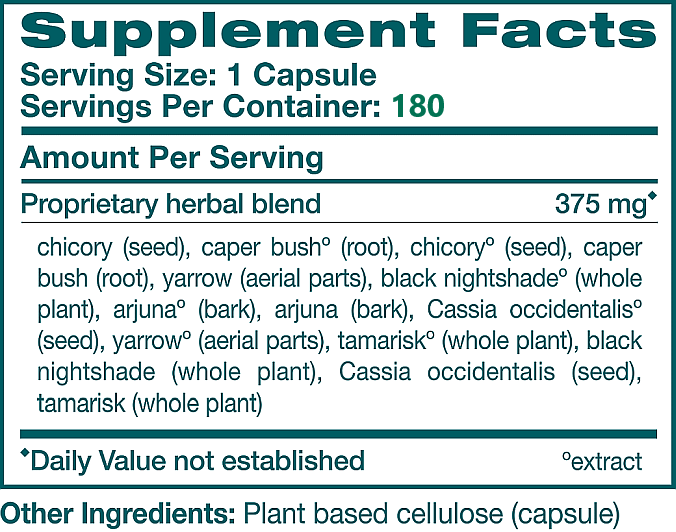 *THESE STATEMENTS HAVE NOT BEEN EVALUATED BY THE FOOD AND DRUG ADMINISTRATION. THIS PRODUCT IS NOT INTENDED TO DIAGNOSE, TREAT, CURE OR PREVENT ANY DISEASE.
More items you might like
Loading...