Kaged Muscle Casein Protein Vanilla - 2 Lb
Item #: KM236
UPC: 855894008959
-20% Off Special w/code DPS10
Out of Stock
TIME-RELEASE PROTEIN
KASEIN
FEED YOUR MUSCLES WHILE YOU SLEEP WITH THIS GAME-CHANGING ANTI-CATABOLIC PROTEIN*
Anti-Catabolic
Improve Muscle Recovery
Maximize Muscle Gains
PREMIUM MICELLAR CASEIN ISOLATE
Kaged Muscle KASEIN is an ultra-premium cold-processed Micellar Casein Isolate that is carefully manufactured from by an innovative microfiltration process. This filtration method preserves the structural integrity of the protein ensuring that the finished product maintains its natural micellar structure as it is found in milk.
Casein proteins are pH sensitive causing them to thicken in the acidic environment of the stomach. The proteins' ability to form a gel in the stomach slows down the digestion rate allowing for a sustained release of amino acids. This makes casein ideal for nighttime or prolonged periods throughout the day without protein.
FEED YOUR MUSCLES WHILE YOU SLEEP
Kaged Muscle KASEIN is a game-changing anti-catabolic protein that you can't ignore if you are serious about doing all you can to add size and strength. During the night your body goes the longest period of time without food. Fasting for 6-8 hours, the body starts going into a catabolic state as it has gone a long duration of time without any nutrients. KASEIN slowly and continuously feeds your muscles a steady supply of essential amino acids for several hours. This plays an important part in maintaining a positive nitrogen balance and long-term anabolic state which can help avoid muscle protein breakdown.* The effects of this slow amino acid release have been investigated in a number of studies and are known to be very effective at promoting an anti-catabolic environment.*
SAY GOODBYE TO OLD SCHOOL GRITTY & SANDY TEXTURED CASEIN PROTEIN POWDERS
Not only did the Kaged Muscle R&D team build a top quality Micellar Casein, but they also took it the next level by nailing amazing milkshake-like flavors for both our vanilla and chocolate options – without using artificial flavors or colors. These flavors are like nothing else you have ever tried! Our R&D team spent over 6 months just working on the flavor systems alone. There's no reason why you cannot get the results you crave while enjoying the taste of your supplements at the same time.
WHY KAGED MUSCLE KASEIN VS. OTHER CASEIN SUPPLEMENTS?
The answer is simple: all our ingredients meet Kaged Muscle Micropure™ standards which means they are third-party tested for purity and potency. In return for a premium price, Kaged Muscle's vendors and manufacturers commit to strict ethical, quality, and testing standards, ensuring our ingredients are manufactured with care. Micropure™ Micellar Casein Isolate is the first of a new generation of dairy ingredients which combine top quality nutrition and enhanced functionality. The starting point for this ultra-premium slow-release protein is the clean raw milk source used. It is then gently processed by an innovative low-temperature ceramic microfiltration method that preserves the natural micellar structure.
Amounts per serving

KEY BENEFITS OF KASEIN
100% Micellar Casein Isolate
Lactose <1 gram per serving
Banned substance free
No Soy Lecithin
Tastes Amazing
No Artificial Flavors
Gluten Free
No Artificial Colors
Third-Party Tested
Sustained Release
Directions For Kasein:
As a dietary supplement, mix 1 scoop in 10–14 ounces of cold water or your favorite beverage. Take one serving before bed or during prolonged periods of time without protein.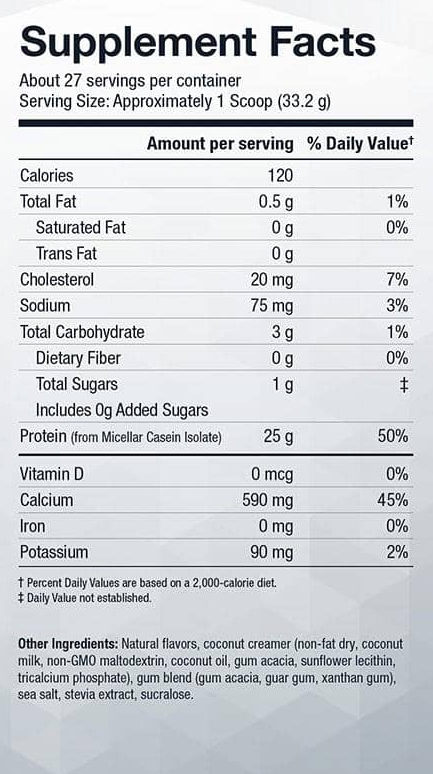 Exposure to moisture or heat may cause powder to clump or harden. Store in a cool, dry place, avoid direct sunlight, humidity and high temperatures. Replace lid securely after use. This product contains a silica gel pack. Do not eat. Contents may settle during shipping. Sold by weight, not volume.
Notice:
Use this product as a food supplement only. Do not use for weight reduction.
Warnings:
Consult your physician prior to using this product if you are pregnant, nursing, under 18 years of age, taking medication or have a medical condition. Immediately discontinue use and contact your physician if any adverse reactions occur. Keep out of reach of children.