Pro Supps HYDE Max Pump Stim-Free Pre-Workout Fruit Punch - 25 Servings
Item #: PK591
UPC: 810034811516
25% Off w/code DPS10
Out of Stock
Designed for MAXIMUM PUMP, strength and power, HYDEMax Pump maximizes blood flow to carry essential nutrients to muscle tissue for increased volume, vascularity and performance. Now get more pump than you ever thought possible and in a stim-free pre workout, so you can take on its own, or stacked with another HYDEpreworkout for extreme performance.
HYDEMax Pump has 4,000mg of high quality L-Citrulline and 1,000mg of Arginine Nitrate (NO3-T™) for the development of plasma arginine which converts to Nitric Oxide for increased blood flow, maximum muscle pump and oxygen uptake.
With increased blood flow to muscle tissue, HYDEMax Pump also contains 3,200mg of Beta-Alanine to help push past the point of exhausting for more reps, and Creatine HCl for increased muscle volume. †
WHAT IS HYDE MAX PUMP?
HYDE Max Pump is part of the HYDE family of pre-workouts. It is a pump preworkout that is also stim-free.

WHO CAN TAKE HYDE MAX PUMP?
Anyone looking for a great workout experience with great pumps and no stimulants

CAN I STACK HYDE MAX PUMP WITH OTHER HYDE PRE-WORKOUTS?
Yes

WHAT IS THE DIFFERENCE BETWEEN ALL THE HYDE PRODUCTS?
All HYDE products were designed to be best in class, high power pre-workouts, developed with different consumer experiences in mind.
HYDE Ready to Drink was formulated with one thought in mind, to be flat-out the most powerful pre-workout on the go. Designed for those who live life in the fast lane, this formula features the extreme energy power that our Mr. HYDE pre-workouts are known for, in an easy RTD format.
HYDE Icon is the ultimate in premium performance-based pre-workouts. Our complex formula was a passion project designed by our science team with extensive research to deliver to most unique, un-matched performance-focused workout experience. Loaded with 8 patented ingredients it was developed for those seeking to improve performance, increase strength, endurance, energy and pumps, while enhancing recovery and focus.
HYDE Xtreme is an industry leading pre-workout formulated with the most powerful energy matrix on the planet. Designed for those who like to go HARD at the gym, with double the energy of the leading brand, this unique formula delivers on extreme energy and focus, intense pumps, power and enhanced endurance.
HYDE Test Surge is a spin-off of our legendary NitroX formula. We've taken what has proven to be the most powerful energy formula and loaded it with a scientifically validated ingredient matrix developed to support testosterone production. Built for those who are looking to improve their performance in and out of the gym, this formula delivers on hard-hitting energy, explosive power and drive, as well as increased stamina and libido.
HYDE Signature was developed to be a versatile pre-workout that enhances energy & focus while keeping performance in mind. While staying true to the HYDE brand and providing the user with an intense energy experience, the stimulant matrix in this formula allows the flexibility of scaling up or down the dosed, based on your needs and tolerance. Formulated for performance athletes, coaches, trainers and fitness enthusiast looking to level up their training performance with a HYDE product that is Informed Choice Certified and banned substance tested.†
HYDE Pre Workout is a pre workout formula made of high-quality ingredients, and top of the line, yet straight down the middle formula for high intensity performance athletes training daily. HYDE Pre Workout is designed to provide energy, pumps and focus to help you go beyond your perceived goals in your training sessions.
HYDE Max Pump is a pre workout pump formula that is stim-free. Created for hard trainers wanting maximum blood flow without the caffeine jitters.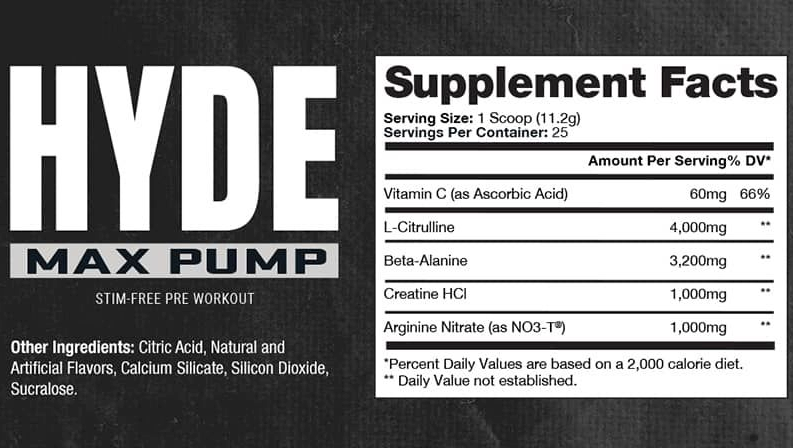 WARNING: This product is intended for healthy adults, 18 years of age or older. Consult a physician prior to using if you have any medical condition or take any medications. Use only as directed. KEEP OUT OF REACH OF CHILDREN.