-Optimum Nutrition Whey Protein Isolate Chocolate - 1.5 Lb (20 Servings) ($15.99 w/coupon code DPS10)
Item #: ON392
UPC: 748927058154
20% Off w/code DPS10
Quantity Discounts: Order More & Save!
Order 2 or more for $18.74 each
Order 3 or more for $17.49 each
Optimum Nutrition Whey Protein Isolate, Chocolate, 25g Protein, 20 Servings
1g Sugar
1g Fat
Gluten Free
NO Artificial Flavors, Sweeteners OR Colors
Banned Substance Tested by Informed Choice
130 Calories Per Serving
Fuel Your Body!
Whey is made from cow's milk, a complete protein containing all of the essential amino acids that support lean muscle and exercise recovery. What makes Whey Protein Isolate special? Sophisticated ultra-filtering processes remove much of the carbohydrates, fat and cholesterol from raw whey protein leaving you with an easy-to-mix shake that contains 1 gram of fat (or less) and 1 gram of sugar per serving. Optimum Nutrition takes this protein powder to the next level by providing outstanding taste with no artificial flavors, sweeteners or coloring.
For more than 30 years, Optimum Nutrition has been a trusted partner of athletes and active adults everywhere. Whatever you're working hard to accomplish, we have the knowledge, experience, and superior quality nutrition products to help you become a better version of yourself. Let Optimum Nutrition help you fuel your fitness and nutrition goals, and live your best life.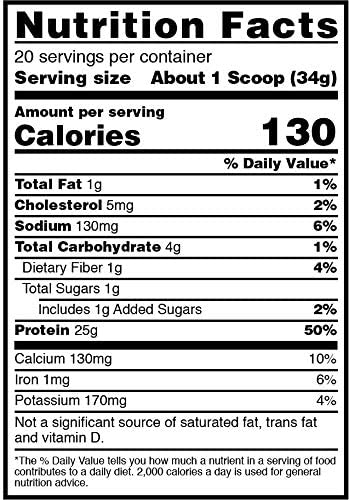 WARNING:
Contains: milk and soy. Note: Use this product as a food supplement only. Do not use for weight reduction.