Axe & Sledge PEAK-02 Unflavored - 60 Servings
Item #: AXS35
UPC: 750258225945
Free Shipping w/$45 A&S order -Excluded from coupons
The basics series is a line of single-ingredient supplements that contain no fillers, excipients, or artificial substances. The basics series is an affordable and convenient way to customize your supplement stack.
Although axe & sledge offers comprehensive supplements that cater to the majority of people's needs, we understand that everyone is different.
So we created a line of products that gives every hard-working m'fer more options and flexibility. Tailoring a supplement stack to your individual needs will help you reach your health and fitness goals even faster.
Increase power output and endurance with peako2®
Peako2® is an organic-certified combination of six adaptogenic mushrooms that are grown in the united states, including:
Cordyceps (cordyceps militaris)
Reishi (ganoderma lucidum)
King trumpet (pleurotus eryngii)
Shiitake (lentinula edodes)
Lion's mane (hericium erinaceus)
Turkey tail (trametes versicolor)
Peako2® is a patented ingredient from compound solutions, one of the leaders in ingredient development and research within the sports nutrition industry.
Peako2® is:
Informed-sport & informed-choice certified
Vegan
Gluten-free
Non-gmo
Grown on organic oats in the usa
Peako2® was specifically designed to help users adapt to and overcome both physical and mental stress, resulting in improved power output and endurance.
Peako2® carries out its performance-enhancing effects by improving oxygen utilization and work capacity, while simultaneously reducing lactate levels. In other words, peak o2® allows you to train harder and for longer.
Peako2® appears to improve submaximal endurance performance as up to 2g/day has been shown to decrease blood lactate levels by 9% when subjects train at the same work rate. This essentially indicates that taking it helps your body exert less stress to meet the demands of exercise.
Peako2®, in doses up to 2g/day, can improve endurance performance as seen by a 25.8 second time to exhaustion performance improvement in the charleston study and a 70-second improvement in the unc study.
Supplementing with peako2® daily may improve:
Energy
Performance
Wellness
Endurance
Learn more about peako2®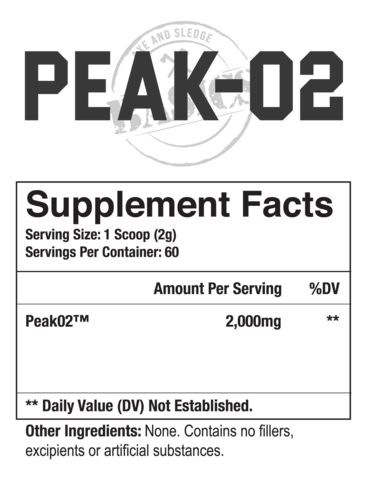 As a dietary supplement, mix 1 scoop with 6 to 8 oz. Of water or your favorite beverage. On training days, consume one serving pre-workout and one serving post-workout. On non-training days, consume two servings throughout the day.
Warning: consult with a physician prior to use if you have a medical condition. Don't use if pregnant or lactating. Keep out of reach of children. Keep container tightly closed in a cool, dry and dark place.
These statements have not been evaluated by the food and drug administration. This product is not intended to diagnose, treat, cure, or prevent any disease.