Ast Muscle Energy BCAA/EAA Hydrating Electrolytes Juicy Grape - 30 Servings
Item #: AS188
UPC: 705077003229
20% Off w/code DPS10
Out of Stock
Muscle Energy
Energy to drive ultra-intense workout sessions.
Recovery to speed muscle repair and growth.
Endurance to power workouts from beginning to end.
0 Sugar – 0 Carbs – 0 Calories
Powerful Muscle Energy!
Introducing Muscle Energy- a powerful new amino acid and hydration formula that will drive your results to the next level. Perfect for pre-workout energy and focus – intra-workout hydration and endurance – and post-workout muscle recovery.
Energy – Recovery – Endurance
Energy to drive ultra-intense workout sessions.
Recovery to speed muscle repair and growth.
Endurance to power workouts from beginning to end.
BCAAs – Essential Amino Acids – Hydrating Electrolytes
Research shows that accelerating recovery from exercise gives you better and faster results. MUSCLE ENERGY is a unique Leucine-rich, BCAA, Essential Amino Acid, Hydrating Electrolyte, Vitamin, and Mineral formula designed to provide your body with critical building blocks you need to fuel muscle energy while you train, support lean muscle growth, provide performance-enhancing hydration, and promote rapid muscle repair and recovery.
Taurine
Taurine increases fat oxidation and works synergistically with BCAA to reduce post-workout muscle soreness1. Taurine also enhances endurance and aerobic performance2 while providing an anti-anxiety effect3. Numerous animal studies suggest taurine provides a "protective-effect" in preventing oxidant-induced declines in testosterone4.
Zinc
MUSCLE ENERGY contains a potent, research-proven 50 milligrams of zinc citrate to support critical muscle-building testosterone production5,6,7,8. Zinc is essential for cell growth and division, strong immune function, enzyme reactions, DNA synthesis, and protein production. Zinc is also critical for decreasing oxidative stress and reduces levels of certain inflammatory proteins in your body9.
Vitamin B6
This is a critical vitamin your body needs to utilize protein for muscle repair and growth. B6 facilitates the utilization of carbohydrates for energy. Vitamin B6 also works within your body to form hemoglobin, the substance in red blood cells that carries oxygen throughout your body to enhance your muscle's working capacity and endurance.
0 Sugar – 0 Carbs – 0 Calories

MUSCLE ENERGY provides you all this muscle-building and energizing power with zero sugar, zero carbohydrates, and zero calories.
New Funnel Scoop
Each container contains a convenient funnel scoop that makes it easy to add a serving to narrow opening water bottles with no mess or wasted powder.
Great Flavors – No Artificial Colorings
MUSCLE ENERGY comes in two great mouthwatering, light, and refreshing flavors – Arctic Berry and Juicy Grape. Simply mix a scoop in 16 to 20 ounces of ice-cold water and you are ready to go. No artificial colorings mean you don't walk around like a complete dork with a purple tongue and lips anymore.
Awesome Results
Have a serving before your workout for an immediate energy boost. Sip on a serving while you train to stay strong, focused, hydrated, and motivated. Cap it off with a serving after you train for ultra-rapid muscle recovery.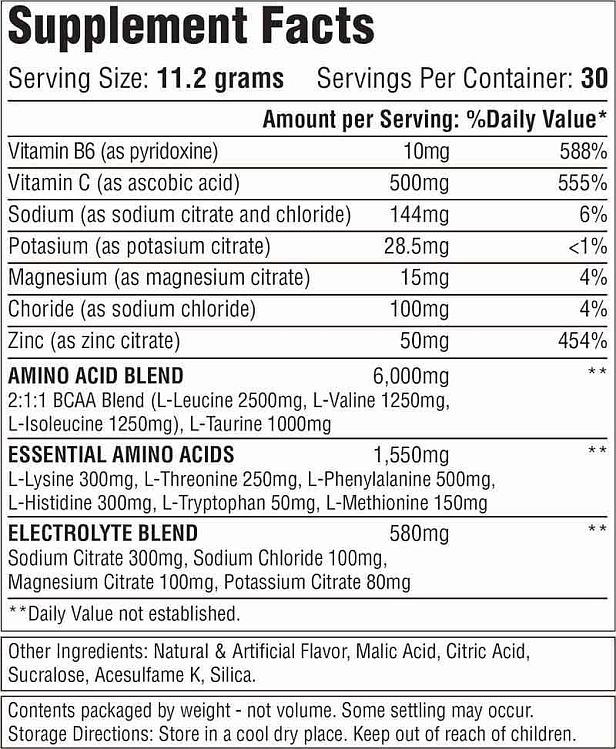 References:
1. Ra SG, et al. Additional effects of taurine on the benefits of BCAA intake for the delayed-onset muscle soreness and muscle damage induced by high-intensity eccentric exercise. Adv Exp Med Biol. (2013)
2. Rutherford JA, Spriet LL, Stellingwerff T. The effect of acute taurine ingestion on endurance performance and metabolism in well-trained cyclists. Int J Sport Nutr Exerc Metab. (2010)
3. Zhang CG, Kim SJ. Taurine induces anti-anxiety by activating strychnine-sensitive glycine receptor in vivo. Ann Nutr Metab. (2007)
4. Yang J, et al. CSD mRNA expression in rat testis and the effect of taurine on testosterone secretion. Amino Acids. (2010)
5. Jalali GR, et al. Impact of oral zinc therapy on the level of sex hormones in male patients on hemodialysis. Ren Fail. (2010)
6. Netter A, Hartoma R, Nahoul K. Effect of zinc administration on plasma testosterone, dihydrotestosterone, and sperm count. Arch Androl. (1981)
7. Shafiei Neek L, Gaeini AA, Choobineh S. Effect of zinc and selenium supplementation on serum testosterone and plasma lactate in cyclist after an exhaustive exercise bout. Biol Trace Elem Res. (2011)
8. Kilic M, et al. The effect of exhaustion exercise on thyroid hormones and testosterone levels of elite athletes receiving oral zinc. Neuro Endocrinol Lett. (2006)
9. Kara E, et al. Effect of zinc supplementation on antioxidant activity in young wrestlers. Biol Trace Elem Res. (2010)