Muscletech Black Onyx Shatter Pumped Jujube Cherry Bomb - 20 Servings
Item #: MM644
UPC: 631656713985
SHATTER PUMPED8 BLACK ONYX
A powerful, non-stimulant pre-workout engineered for the strongest muscle pumps and vascularity.
The only 8-hour pump pre-workout

Featuring exclusive VasoShock-XR to boost markers of nitric oxide
AMPLIFIER
Shatter Pumped8 Black Onyx is the only pre-workout with 4 clinically dosed pump drivers in one scoop for instant impact. The key ingredient VasoShock-XR provides the longest lasting pump. The best part? It's exclusive to MuscleTech®, which means you won't find it anywhere else.
Boosting nitric oxide is crucial for triggering muscle pumps and vascularity. This is why Shatter Pumped8 Black Onyx® is loaded with powerful doses of key N.O. boosting ingredients. With its cutting-edge formula, Shatter Pumped8 Black Onyx® will have you experiencing extreme prolonged muscle pumps.
DELIVERS EXTREME MUSCLE PUMPS
Shatter Pumped8 Black Onyx is the first-ever pre-workout to feature the key ingredient VasoShock-XR, a highly concentrated one-scoop serving and 4 scientifically backed N.O. boosters. What's more, the clinical dose found in 2 scoops of Shatter Pumped8 Black Onyx was shown to elevate key makers of N.O. in blood plasma and saliva.
Our formula includes 4g of pure L-citrulline – that's more than the amount found in 6g of L-citrulline malate. Plus, it has research-inspired VasoDrive-AP®, a unique compound engineered to support muscle pumps. Furthermore, there's the unique Spectra blend of 29 plant-based ingredients, scientifically shown in a separate research study to improve bioavailable N.O. concentration in the blood by 64% compared to placebo.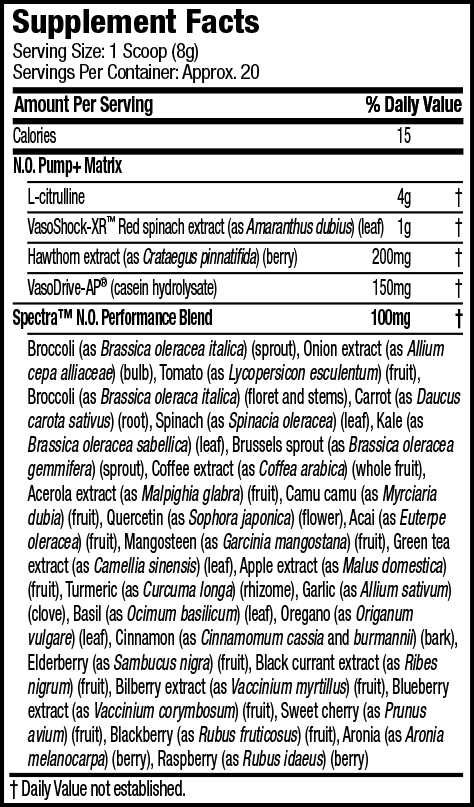 More items you might like
Loading...