EFX Sports Kre-Alkalyn Powder Rainbow Blast - 110 Servings
Item #: KR052
UPC: 737190004586
KRE ALKALYN EFX – FLAVORED
ALL PRODUCTS, CREATINE
WHY USE KRE ALKALYN EFX?
Gain Strength
Build Muscle
Enhance Athletic Performance
WHAT IS KRE ALKALYN EFX?
Creatine Monohydrate Synthesized to pH 12
Invented By Dr. Jeff Golini, PhD
Banned-Substance Free
Manufactured By Us – We Control ALL Production
KRE ALKALYN CRUSHES STRENGTH GAINS STUDY
Twenty-four elite athletes from the Bulgarian National Weightlifting Team† were selected to participate in a double-blind clinical study(1) comparing Kre Alkalyn to standard creatine monohydrate.
After 60 days, the Kre-Alkalyn® group (using 7.5 g per day) experienced an overall average strength increase of 28.25% above those in the unbuffered creatine monohydrate group!
THE POWER BEHIND KRE ALKALYN IS ITS EXCLUSIVE pH
Kre Alkalyn represents a major breakthrough in performance supplementation thanks to its multi-patented, pH-Correct creatine stabilization technology. Our scientist, Dr. Jeff Golini, discovered that "buffering" to pH-12 produced a stable creatine molecule. Kre Alkalyn is the ONLY creatine monohydrate product with a pH level of 12 because its molecules are synthesized with 'buffering' agents using a proprietary manufacturing process.
kre alkalyn efx ph chart
Kre Alkalyn is pH adjusted to accommodate the acidity level of your digestive system. Therefore, the creatine remains fully stable, which means your body assimilates and utilizes it efficiently. Furthermore, there's no need to mega dose Kre Alkalyn the way many athletes sometimes suggest you do with an average creatine monohydrate formula.
DIRECTIONS
SUGGESTED USE: As a dietary supplement, take 1 serving minutes prior to workout and 1 serving after workout.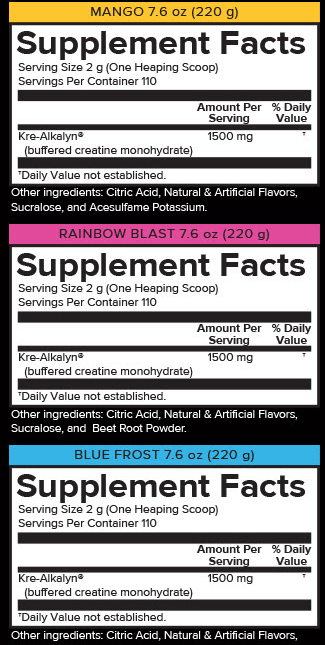 † Elite athletes using 7.5 g of Kre Alkalyn. Individual results may vary.
Referenced: (1) Stoychev K., Terziiski N. (2006). "Comparison of Kre-Alkalyn to Creatine…performance, & safety".
More items you might like
Loading...