Vpx Redline NOO-Fusion Frose Rose - 12 Cans
Item #: PD566
UPC: 610764024169
Noo Fuzion | Potent Mind & Muscle Fuel!
Designed to increase protein synthesis
Promotes physical and mental performance
10,050 mg of active ingredients
The makers of the legendary Bang® energy beverages and trendsetting innovators of the modern-day performance-beverage category present NOO FUZION — an explosive next-generation pre-workout! This ultra-potent, high-performance drink focuses on both mental and physical performance enhancement. Fueled by a staggering 10,050 mg of active ingredients, NOO FUZION is scientifically formulated by Bang Energy's CEO & Master Blaster® Jack Owoc.
NOO FUZION Pre-Workout utilizes a novel scientific approach designed to promote lean muscle growth, energy, focus, recovery and performance. Powered by a 7,000 mg full-spectrum blend of essential amino acids (EAAs), including BCAAs, along with 2,500 mg of betaine anhydrous, NOO FUZION is designed to optimally increase muscle protein synthesis.
But the real secret behind the awesome power of NOO FUZION is NOO FUEL — what Owoc calls COGNITIVE CANDY — which provides the ultimate mind and body experience!
So, the next time you head to the gym, go for a jog or stay up all night gaming or studying for that big exam, pick up a NOO FUZION for that extra boost you need!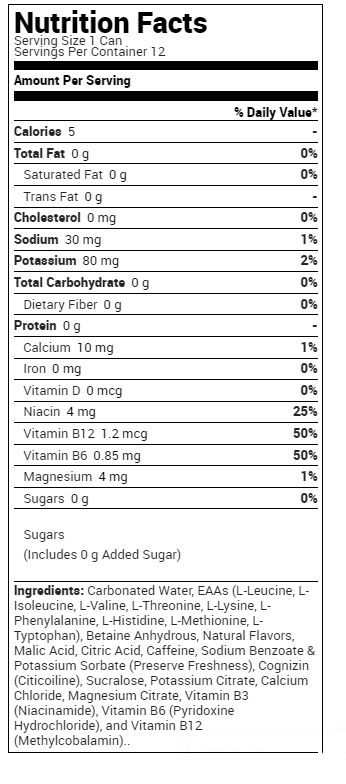 WARNINGS
Too much caffeine may cause nervousness, irritability, sleeplessness, and rapid heartbeat. Not recommended for use by individuals under 18 years of age. Use intended by healthy adults only. One serving of NOO-Fuzion provides 300 mg of caffeine which is more than two cups of coffee. Do not use this product if you are pregnant or nursing. The user of this product assumes all liability if this product is used in a manner not consistent with label guidelines. This product contains caffeine and should not be used with any other products containing caffeine or any drugs. KEEP OUT OF REACH OF CHILDREN.
More items you might like
Loading...